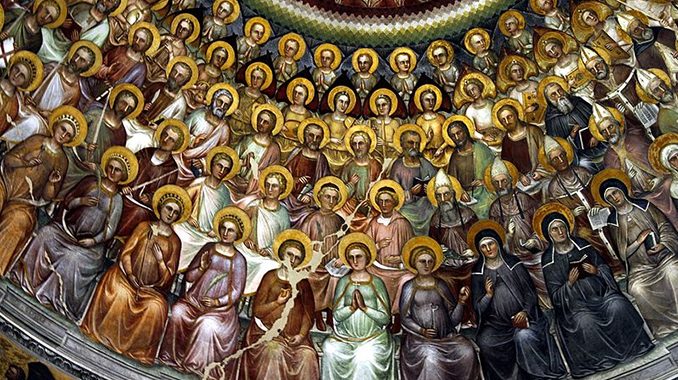 During Holy Week, we tend to forget the saints who may be on the calendar. This is especially true months such as March, which has very few memorials on the universal calendar to begin with.
Time spent looking through the ranks of saints whose feasts fall on those days, however, reveals not only several inspiring stories, but a fruitful accompaniment as we make our way toward Easter.
To begin with is one of the Church's greatest solemnities, the Feast of the Annunciation, on March 25th. This is the day when Christians around the world commemorate the Blessed Virgin's Mary's visitation by the archangel Gabriel. At that time, Gabriel hailed her as "full of grace," and announced to her the good news that she would bear the long-awaited Messiah. Our Lady's fiat, her "yes" – given when she replied, "Be it done unto me according to your word" – is one of history's most important moments.
This Holy Week we also commemorate two priests and one woman religious martyred by the Nazis, Blesseds Emilian Kovch (March 25), Maria Restituta Kafka (March 30), and Giuseppe Girotti (April 1).
Kovch was a Ukrainian rite priest, husband, and father of six (like their Orthodox counterparts, Byzantine Catholic priests can be married).
In 1922, his bishop made him pastor in the village of Peremyshliany, the vast majority of whose 5,000 residents were Jewish. There he stayed for 20 years until the Nazis invaded in their attempt to defeat the entire Soviet Union.
Upon learning what the Nazis were doing to Jews, Father Kovch began baptizing his fellow villagers (at their request) so that the Germans would not take these new "Christians." The Gestapo had seen others in Germany and Poland use this trick, so they told him to stop. He continued nonetheless, issuing roughly 600 in all. Thus in December 1942, they arrested him, and sent him the next August to Majdanek, Poland, where the following March, they executed him.
Of Czech extraction, Sister Restituta began the war as one of Austria's and the world's foremost surgical nurses. A somewhat gruff and earthy woman, she was also fearless. When Germany annexed Austria just prior to the start of World War II, the Nazis took control of her formerly Catholic hospital. When they built a new wing, they dictated no crucifixes be put on the walls of the new rooms. Sister ignored the dictate.
She might have survived the war except someone found an anti-Hitler leaflet in her typewriter. Sentenced to death by guillotine, she went bravely to her death in 1943.
Father Girotti was a Dominican and teacher in his order's Turin seminary. After the fall of Mussolini and the takeover of Italy by the Nazis, he came up with several ingenious ways of saving the Jews. However the Gestapo caught him and sent him to Dachau, where he perished.
Another great martyr whom we celebrate this week is St. Margaret Clitherow (March 25). Margaret lived during the reign of Britain's Queen Elizabeth I. The daughter of the Sheriff of York and wife of a prominent businessman, she converted from Anglicanism to Catholicism in 1574. Authorities arrested her several times for not attending services, hiding priests, and practicing Catholicism. Indeed, her third child William was born in jail.
Jailed yet again in 1586, the Court sentenced her to death. On March 25, which was Good Friday that year, the executioners stripped her naked, placed a fist-sized sharp stone under back, a door over her body, and then progressively heavier stones over her until her back broke. She was pregnant with her fourth child. Her daughter became a religious, her two sons priests.
March 25 is also the feast of another great saint. If you or anyone you know were taught by the Filippini Sisters, then you have St. Lucia Filippini to thank. Lucia's archbishop gave her the mission to train schoolmistresses and open schools for girls. Her efforts proved so successful, Pope Clement XI invited her to Rome in 1707 to found one of her institutes. She died of breast cancer in the town of Montefiascone, famous for its wines. Now her efforts to preach the gospel to all nations through the formation of young students reaches around the world.
One woman who preached the Good News through care for the poor – even though she was herself destitute – is Bl. Jeanne Marie de Maille (March 28). A French noblewoman, she married Baron Robert II de Sillé, a man she chose for his great virtue. They lived chastely for 16 years, when Robert died of battle wounds. His family put her out onto the streets after his death. She prayed in the churches of Tours by day and huddled with dogs for warmth by night. Even amidst this poverty, she strove to help others who were even worse off. Finally given a room in a church, her reputation for sanctity brought her a steady stream of visitors. She died in 1414.
While the next saint was a well-known – and holy – politician in life, his reputation for sanctity did not truly take off until well after his death in 1472.
Amadeus IX of Savoy (March 30) was of the powerful and illustrious House of Savoy, whose duchy straddled the border of what is now France and Italy. Although his family was powerful because of the strategic position their realm held, he was largely sidelined as a duke. This was both because of his epilepsy and the fact that his wife was sister to France's Louis XI, who wielded power during his long periods of incapacity due to his illness.
A civil war with his brother Philip further exhausted him, and he retired to Vercelli, Italy, leaving his duchy under the regency of his wife. There he lived the last three years of his life. Always pious, he lived an exceptionally austere life here as a Franciscan tertiary and performed many righteous and holy deeds, supporting the poor in ways that still impress today.
Two years after his death, the Dominicans hung a painting of him at their church in Turin. Soon miracles were reported by those who prayed before it for Amadeus' intercession. The in 1619 the Duke of Savoy issued coins featuring the image of Amadeus, and St. Francis de Sales turned these into religious medals, which he distributed to great effect. In the next few decades his reputation for sanctity increased so that in 1661, Pope Alexander VII beatified him.
Bl. Amadeus took a lifetime's Passion and three years on Calvary and turned them into an outpouring of love and hope for people with few if any other options than his charity. What are we doing with our troubles and travails in life?
In this Holy Week – as in every week of the year – we have so many wonderful examples of holiness from which to choose. Brothers and sisters, let us dive deep into the pools of these great saints' lives to urge us on to the finish line and the great crown that is the eternal Easter we hope to enjoy in heaven.
---
If you value the news and views Catholic World Report provides, please consider donating to support our efforts. Your contribution will help us continue to make CWR available to all readers worldwide for free, without a subscription. Thank you for your generosity!
Click here for more information on donating to CWR. Click here to sign up for our newsletter.
---