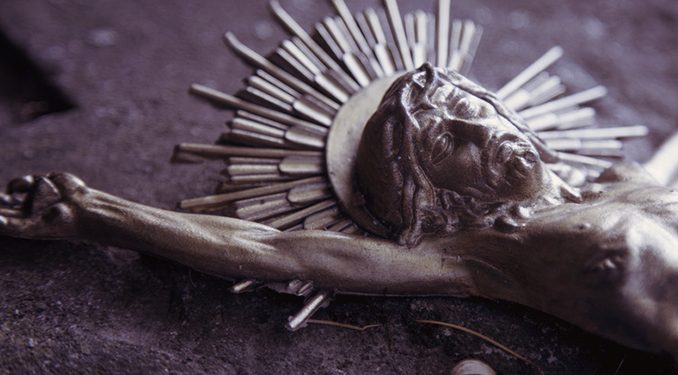 "You should be ashamed to call yourself a Christian," someone recently wrote on my Facebook wall.
The reason? I had posted an article listing police casualties during recent protests across the country. "When are you going to care about the BLACK people that are systematically being murdered by police?" the accuser demanded. The indictment was absurd, given my numerous articles on racial inequality in America, and my willingness to affirm that black lives matter. It was also jarring and insulting, given the accuser barely knew me or my life story. Yet, I have to admit, that person is right about one thing. I should, in a certain way, be ashamed to call myself a Christian.
Shame is at the forefront of the Christian faith. Consider its most sacred image, Christ on the cross, which adorns (or in lieu of liturgical abuses, perhaps more accurately should adorn) every Catholic altar. There, high and unavoidably visible, uneasily rests the God we worship, naked, with nails through his hands and feet. He appears to us on the cross as dead, killed in one of the most dehumanizing, physically painful forms of execution ever conceived. Indeed, the word "excruciating," meaning intensely painful, comes from the Latin excruciare, to crucify.
St. Paul declares, "but we preach Christ crucified, a stumbling block to Jews and folly to Gentiles" (1 Cor 1:23). Stumbling block and folly indeed — how can a man brutally murdered, with a cross of thorns placed upon his head by mocking Roman soldiers, be, as St. Paul says, a source of "power" (1 Cor 1:17)? How could this be an object of veneration? How could it be something worth "boasting" about (Galatians 6:14)?
In Pearl S. Buck's The Good Earth, for which she won the Nobel Prize, a poor and illiterate Chinese farmer is given an image of Christ on the cross by a European missionary. The farmer is befuddled — is the European missionary the brother of this murdered stranger, and he is querying passerby to find the culprit? "Surely this was a very evil man to be thus hung," the farmer's father says. This interpretation isn't too far off the mark for how many Jews would have interpreted Christ's ignominious death — the Torah states that anyone condemned to death and hung on a tree is "accursed by God" (Deut 21:22-23).
The crucified Christ is not simply shameful in-and-of-itself. It elicits shame in the Christian viewer. The Christian in quiet solemnity gazes upon the cross, and perceives the damning truth of the matter. Christ stands crucified precisely because of our sins. He was "put to death for our trespasses" (Rom 4:25a). "He was wounded for our transgressions, he was bruised for our iniquities" (Isa 53:5). "He himself bore our sins in his body on the tree" (1 Pet 2:24).
When I gaze upon the cross, I'm reminded of all my failures, as a Christian, as a son, as a husband, as a father, as a friend, and as a citizen. I'm reminded that my prayer, fasting, and acts of charity fall woefully short. I'm reminded of hidden (and sometimes not so hidden) arrogance, greed, envy, selfishness, pettiness, impatience, and lust. Like the tax collector described in Luke 18:9-14, I feel like I should stand far off, refrain from lifting my eyes, beat my breast and stammer: "God, be merciful to me, a sinner!"
And yet it is in that very moment of shame and regret that the Christian hears another word. Though "we esteemed him stricken, smitten by God, and afflicted…upon him was the chastisement that made us whole, and with his stripes we are healed" (Isa 53:4-5). Christ's death doesn't only cultivate shame in us, it atones for sin, setting right what we had done wrong. Yet more glorious, death does not get the last word — He is raised to new life, "for our justification" (Rom 4:25). In baptism, we are united to Christ both in His death and resurrection, that we might "live with him by the power of God" (2 Cor 13:4).
When the Christian looks to Jesus, he sees not only the crucified man, but the "founder and perfecter of our faith, who for the joy that was set before him endured the cross, despising the shame, and is seated at the right hand of the throne of God." Christianity views shame as both redemptive and transformative. In His shame, Christ most intimately unites Himself to the human condition, and, in His subsequent resurrection, raises it to commune with Him forever in heaven. St. Athanasius asserted, "for the Son of God became man so that we might become God." Shame — a universal human experience — becomes the means by which humanity is redeemed and glorified.
Christians can and should feel shame, not only for their own sins, but those of the larger organisms of which they are a part. For example, the Catechism of the Catholic Church, speaking of ecclesial divisions, notes: "In subsequent centuries much more serious dissensions appeared and large communities became separated from full communion with the Catholic Church — for which, often enough, men of both sides were to blame" (no. 817). This is not to say that Christians should feel personally responsible for other Christians' sins, as if they themselves had committed them. But all Christians can have a sense of shame for our many divisions, especially when Christ calls us to be one (Jn 17:21).
If it can be appropriate for us to feel a sense of shame regarding the failures of our Church, it can also be appropriate to feel shame in reference to our political institutions. As a Virginian, I feel shame for the Old Dominion, the current governor of which endorses anti-Catholic policies, even though I didn't vote for him. As an American, I have a sense of shame for the sin of chattel slavery and Jim Crow segregation, even though I personally played no part in either. This shame emanates not necessarily from guilt of my own wrongdoing but because of my deep attachments to these political bodies. My story as a citizen is indelibly wrapped up in theirs.
It can sting to be excoriated, especially publicly. The saints would tell us, "welcome to the Christian life." Ultimately, I would suppose, that's the point. If Christ endured the shame of the cross for the sake of His glory and our salvation, we must unite ourselves to Him in that experience. If the saints of our Church feel a deep sense of shame and unworthiness before Christ, so should we. As our Scriptures tell us, it is precisely in that process of shame and confession that we find forgiveness and restoration. I am ashamed to call myself a Christian, and am eager to repent and discover the graces to try once more. All Christians should.
---
If you value the news and views Catholic World Report provides, please consider donating to support our efforts. Your contribution will help us continue to make CWR available to all readers worldwide for free, without a subscription. Thank you for your generosity!
Click here for more information on donating to CWR. Click here to sign up for our newsletter.
---