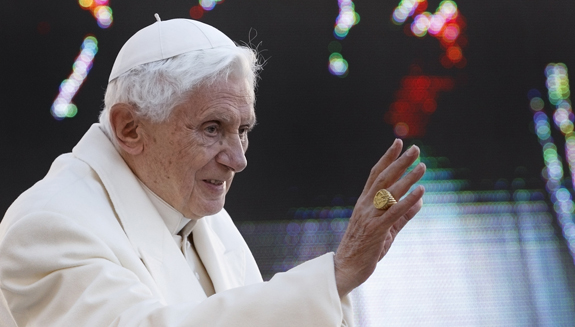 "We hear a great deal of talk about 'servant leadership' from all sorts of prelates and ecclesiastical grandees," said Christopher Wells – an old Vatican hand and a dear friend of many years – in a conversation not too long ago, "Joseph Ratzinger – Benedict XVI – exemplified it."
I don't think I could so much as cavil that assessment, even did I have world enough and time to satisfy the absent desire.
There will be plenty of time for frank and probing assessment of his leadership record. That will be hard work, painful and necessary. Benedict knew he could not escape the judgment of God. He was also sensible of the judgment of history. For now, I have three distinct personal recollections of Benedict XVI, which I hope will illustrate and inform my friend's appraisal of the man who exchanged time for eternity in the small hours of Saturday morning.
One was from early in Benedict XVI's pontificate. I've been racking my brain and reviewing a good bit of "tape" to nail down the precise occasion. My best guess is that it was the visit he made on December 18th, 2005, to the parish that had been his first "titular" church in Rome, Santa Maria Consolatrice. That was, if memory serves, my very first time doing a "solo" commentary live to air for Vatican Radio.
When it came time to deliver the homily, Benedict relied on the pages his handlers had passed to him for the greetings and salutations, then put them aside and delivered a perfectly organized extemporaneous exegesis of the Greek salutation, Χαῖρε! – frequently and by no means incorrectly translated as "Hail!" but more closely meaning "Rejoice!" – with which the angel Gabriel greeted Our Lady.
Another is his visit to Vatican Radio in 2006, to mark the seventy-fifth anniversary of the station's founding. Benedict made the rounds through the four floors of offices, newsrooms, production suites, and broadcast studios. He spent a little time with every group – and there were a lot of us – though he was never one for big crowds or small talk. He didn't mind large crowds, I don't think, but hated to be the center of attention. He leaned into the requirements of office, and even put up admirably with the discomfiture of some excessive zeal.
The last recollection I would like to share is of the time he let his handlers steer him out of the Hall of Benedictions without greeting those of us who had been in the broadcast booths providing live coverage of the Christmas urbi et orbi blessing. I don't remember what year it was, but we had signed off and gone out of the studio just in time to see his secretary steer him away from the lingering crowds and out of the hall. He saw us, I think, but trusted his people to tell him when it was time to go.
The other two anecdotes speak for themselves, but that third one perhaps calls for some elucidation. There's no denying it was a let-down to see him walk away, but there was no question of it being a deliberate snub, nor was there any way to take it personally. To me, it shows how Benedict XVI was not a haughty type who imposed his will, but a worker like others. He knew that he was there to serve, and trusted others – for good and for ill – who were there to help him in his work of service.
About his resignation, I have nothing to say beyond what I have already said, roughly that I thought it was bad for the Church and for the Petrine office. I understood the arguments for it, but I have always considered that it came with a significant downside. His successor was always going to have a hard job. By resigning, Benedict XVI made his successor's job harder. I do not gainsay the decision, and I accept that it was to the good in all the ways and respects the consensus says it was to the good.
Mostly, I miss him.
Pope Francis's remarks at Vespers in Rome captured much of the gratitude for the gift of his life, which strikes me now as the attitude most fitting this moment:
We are moved as we recall him as such a noble person, so kind. And we feel such gratitude in our hearts: gratitude to God for having given him to the Church and to the world; gratitude to him for all the good he accomplished, and above all, for his witness of faith and prayer, especially in these last years of his recollected life. Only God knows the value and the power of his intercession, of the sacrifices he offered for the good of the Church."
As on the day he left office, I can think of nothing to say, except: Let us pray for Bishop Benedict, emeritus of Rome. God only knows how I love him.
---
If you value the news and views Catholic World Report provides, please consider donating to support our efforts. Your contribution will help us continue to make CWR available to all readers worldwide for free, without a subscription. Thank you for your generosity!
Click here for more information on donating to CWR. Click here to sign up for our newsletter.
---