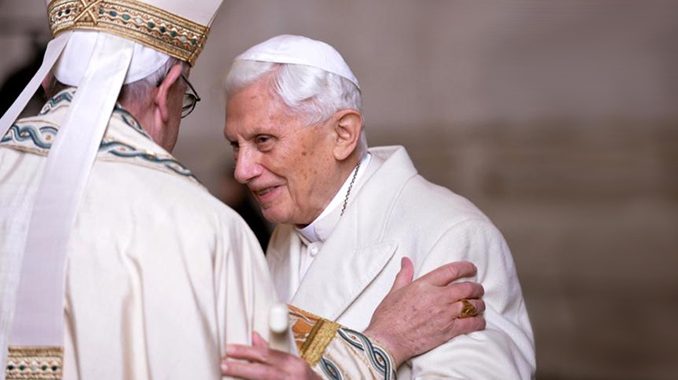 Reaction to the unexpected release of a lengthy text—almost exactly 6,000 words in all—by Pope Emeritus Benedict XVI, titled "The Church and the scandal of sexual abuse", has been both swift and polarized. Some have hailed it as a sort of incisive post-pontificate encyclical and others have denounced it as a sad attempt to preserve a legacy already mixed and trending downward.
My reading is more modest: I think the text, originally penned for a Bavarian publication for priests, is neither a full-scale proclamation on the present crisis, nor a cynical act of political grandstanding. The first is beyond the scope of what Benedict seeks to convey; the latter is outside the horizons of a man who is not, despite the facile claims of certain critics, a politically motivated operator.
The essay is, I believe, a rather personal and, at times, anecdotal reflection on the moral chaos of the past several decades, written by an aged priest and theologian who lived through the tumultuous years about which he writes, and who was at the center of power for decades as the crisis festered and erupted into scandal. As such, it is sometimes uneven in approach, often insightful, and occasionally lacking the sort of specific analysis or criticisms that many might want to read.
Those familiar with my past work know that I hold a deep and abiding admiration for Benedict XVI. I read some of his books in the process of becoming Catholic in 1997 and many of his major works—written both before and during his pontificate—made lasting impressions on me. Writing after news of Benedict's resignation, back in February 2013, I stated that
if we begin by accepting the criteria of the world, we will not only see Benedict's pontificate through warped and soiled lenses, we will struggle to see the bigger picture, not just the panorama of Church history, but of salvation history. … In many cases, Benedict could never "win", and I doubt he was ever blind to his difficult situation. Throughout his pontificate, he has been criticized by many for being heavy-handed and authoritarian. Then again, he has been derided for being weak, timid, and incapable of handling the reins of the wild steed named "the Vatican". Surely only a man of diverse and inscrutable talents could be both so powerful and so weak!
The same paradox seems to hold, again, for reaction of this new essay. But the emphases found therein are quintessentially Ratzingerian, especially the focus on Christological and ecclesiological themes. So, for example, he writes:
Jesus Himself compared the Church to a fishing net in which good and bad fish are ultimately separated by God Himself. There is also the parable of the Church as a field on which the good grain that God Himself has sown grows, but also the weeds that "an enemy" secretly sown onto it. Indeed, the weeds in God's field, the Church, are excessively visible, and the evil fish in the net also show their strength. Nevertheless, the field is still God's field and the net is God's fishing net. And at all times, there are not only the weeds and the evil fish, but also the crops of God and the good fish. To proclaim both with emphasis is not a false form of apologetics, but a necessary service to the Truth.
I think the great strength of this new essay is the latter part, in which Benedict reflects on the nature of the Church, and pushes back strongly against an ecclesiology rooted in pragmatism or shifting fads:
Indeed, the Church today is widely regarded as just some kind of political apparatus. One speaks of it almost exclusively in political categories, and this applies even to bishops, who formulate their conception of the church of tomorrow almost exclusively in political terms. The crisis, caused by the many cases of clerical abuse, urges us to regard the Church as something almost unacceptable, which we must now take into our own hands and redesign. But a self-made Church cannot constitute hope.
It brings to mind the recent tweet by Dr. Jordan Peterson who, in remarking on some articles about the corruption in the Church, said, "Maybe believing Catholics should go on strike, stop attending church." Peterson, of course, is not a priest or bishop; he is not even Catholic. But even the non-Catholic intellectual should understand that Catholics do not view the Church as a political operation or a global business; it is the Mystical Body of Christ, and as such possesses a holiness that confounds those tuned in only to whims of politicians, gurus, and entertainers. And yet, sadly, there are far too many priests and bishops do have and promote an anemic, politicized ecclesiology. Or worse. As Benedict states:
 Today, the accusation against God is, above all, about characterizing His Church as entirely bad, and thus dissuading us from it. The idea of a better Church, created by ourselves, is in fact a proposal of the devil, with which he wants to lead us away from the living God, through a deceitful logic by which we are too easily duped. No, even today the Church is not just made up of bad fish and weeds. The Church of God also exists today, and today it is the very instrument through which God saves us.
Another strong section, albeit shorter, is about moral theology and the response, in the 1990s, to St. John Paul II's encyclical (arguably his most important encyclical) Veritatis Splendor. Again, we should keep in mind that Benedict wrote this essay for priests, intent on reminding them that the Church's moral teaching is not simply a form of sola scriptura—even though the Scriptural roots of moral theology are vital and can never be ignored—but draws deeply on natural law and necessarily involves the living, magisterial authority of the Church.
Benedict presents a stark assessment of the situation since the Council, saying that "Catholic moral theology suffered a collapse that rendered the Church defenseless against these changes in society", by which he means changes in how sexuality was understood and lived out. This section is especially notable because some of the leading theologians of the immediate post-conciliar years (Bernard Häring, C.Ss.R. and Josef Fuchs, S.J. come to mind) who denied, either overtly or in more subtle fashion, the existence of absolute moral norms, have been lauded by Pope Francis. (For a much deeper analysis of the theological roots of the crisis, see Fr. D. Vincent Twomey's August 2018 CWR essay.)
In short, it is evident that Benedict is saying that a devastating (and willful) failure to uphold Catholic moral theology has played a central role in the often lacking, if not outrightly horrible, response by Church leaders to the sexual abuse crisis and many related evils.
The problem, however, is that Benedict is largely silent about the related evils. There is one mention of homosexuality—an acknowledgment that in "various seminaries homosexual cliques were established"—and complete silence on the culture of corruption and cover-up that is now as obvious as it is infuriating. It could be, again, that he is silent on the matter because of his particular audience and focus. Even so, it is a gaping hole, and one that cannot be ignored.
In addition, his analysis of the origins of the evils acts of pedophilia committed by some clergy is oddly narrow, both chronologically and sociologically. While all Catholic agree, I think, that the rejection of God leads to serious evils—genocide, totalitarianism, and sexual abuse, for instance—Benedict's brief presentation at the start, however anecdotal, presents a very lacking picture. We now know that the abuse of children by certain clergy had been a serious problem long before 1968, even if the Sexual Revolution, as Benedict rightly notes, sought to soften attitudes and norms about sex involving adults and minors.
We are all, sadly, far too familiar by now with the inhuman premises and destructive consequences of that particular era.  But why were children being molested by priests in, say, the 1940s and 1950s? And why did bishops in the 1970s and 1980s (and beyond) refuse to address such matters, or did address them with a relativistic, muddled softness? The latter question, I admit, is partially addressed in Benedict's remarks on moral theology, as well as his reflections on the loss of faith in God. Still, it proves to be quite unsatisfactory, even if it is meant to be anecdotal and reflective in nature, rather than rigorously analytical. Yes, we know it is because of evil and the constant work of the devil, as Benedict states. Such, however, has been the case since the Fall itself. One need only to consider the sins of the first-century Corinthians—incest, fornication, and so forth—to know that sexual sins are hardly new or unusual.
But why, in recent decades, has such a large swath of the clergy and bishops given in to the Reign of Gay (or, perhaps, the Regnancy of Pederasty), either as active participants or tacit supporters? Why the failure to directly confront such sins? Why the silence in the face of evils that destroy lives and souls? After all, Benedict concludes that remarking: "It is very important to oppose the lies and half-truths of the devil with the whole truth: Yes, there is sin in the Church and evil." Well, then, let's oppose it!
But, then, we come back to a couple of difficult facts. First, we have both a pope emeritus and a pope, and while the former has promised to keep (mostly) silent and live a life of prayer, he still issues forth significant texts. This is delicate at best, but also puzzling and even problematic. Secondly, while St. John Paul II and Benedict XVI were often vilified and attacked unfairly for their orthodoxy, it is not wrong to study and to critically consider their respective responses to the sexual abuse crisis. In fact, the love of truth and justice requires such a sober (if difficult) task.
Finally, the efforts of Pope Francis to address corruption and a clericalist culture have been, at best, mixed; in fact, he has continually deflected and distracted from addressing many core problems, and has often done so with a sort of petulance and clumsiness that is unbecoming of a pope, never mind an elderly man. Not only is he unwilling to go down the "rabbit hole", he often seems convinced there is no hole to be seen.
Yet, this is not the time for the Church to feel sorry for herself; rather, now is the time for the Church to be herself. And part of that means the Church must provide uncompromising teaching and an unapologetic presentation of the truths about sexuality, life, love, faith, and marriage. As the great historian Christopher Dawson asserted in the 1930s, in his chapter on "Christianity and Sex" in Enquiries into Religion and Culture (Sheed & Ward, 1933):
Hence the restoration of the religious view of marriage which is the Catholic idea is the most important of all the conditions for a solution of our present difficulties. Its importance cannot be measured by practical considerations, for it means the reintroduction of a spiritual principle into the vital centre of human life. Western civilization to-day is threatened with the loss of its freedom and its humanity. it is in danger of substituting dead mechanisms for living culture. Hedonism cannot help, nor yet rationalism. it can be saved only by a renewal of life. … The loss of faith ultimately means not merely moral disorder and suffering, but the loss of social vitality and the decay of physical life.
---
If you value the news and views Catholic World Report provides, please consider donating to support our efforts. Your contribution will help us continue to make CWR available to all readers worldwide for free, without a subscription. Thank you for your generosity!
Click here for more information on donating to CWR. Click here to sign up for our newsletter.
---