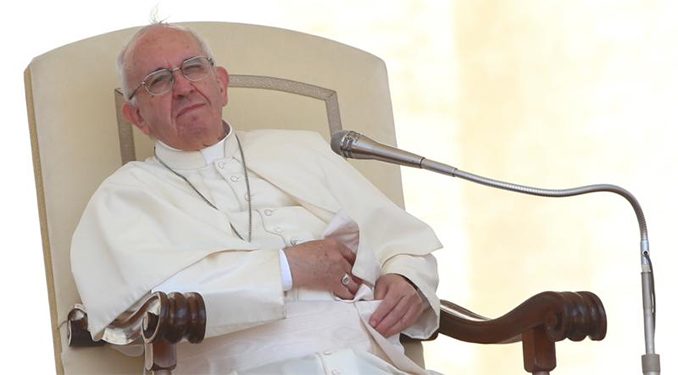 Editor's note: The following was originally posted as a comment on Dr. Edward Feser's October 21st essay "On capital punishment, even the pope's defenders are confused" and is reposted here with kind permission of Dr. Fastiggi.
—————-
With all due respect to Dr. Feser, most of his comments betray a failure to grasp fully the points I made in reply to Eduardo Echeverria's Oct. 15 article on Pope Francis and capital punishment. As I wrote: "Regarding prior teaching on capital punishment, much depends on whether it is definitive or subject to change and development. Not everyone agrees with Feser, Bessette, and Cardinal Dulles that the liceity of the death penalty is settled doctrine. Some believe that the historic recognition of the penalty's legitimacy is more like a sententia communis rather than a definitive teaching."
This is just a simple statement of fact. Not everyone agrees with Feser and Bessette that the legitimacy in principle of capital punishment "is a requirement of Catholic orthodoxy" (By Man Shall His Blood be Shed, p. 122). In their book, Feser and Bessette bring forth many examples manifesting a widespread consensus (sententia communis) in favor of capital punishment's legitimacy in the Catholic tradition. These examples are noteworthy, but they do not, in my opinion, demonstrate a definitive, infallible judgment on the part of the Magisterium in favor of the legitimacy of the death penalty. I explain this in more depth in my article, "Capital Punishment, the Magisterium, and Religious Assent" (Josephinum Journal of Theology Vol. 12, No. 2 [Summer/ Fall, 2005], 192-213.)
Feser's suggestion that Pope Francis is "flirting with doctrinal error," therefore, depends entirely on his claim that the legitimacy of capital punishment "is a requirement of Catholic orthodoxy." In my comments posted in response to Prof. Echeverria's article, I was merely pointing out that this claim of Feser is precisely the issue in dispute. Unless Feser wishes to fall into the fallacy of begging the question (petitio principii) he should not present his claim as a non-arguable conclusion. The Congregation for the Doctrine of the Faith warned about such an attitude in Donum Veritatis, 27: "Even if the doctrine of the faith is not in question, the theologian will not present his own opinions or divergent hypotheses as though they were non-arguable conclusions. Respect for the truth as well as for the People of God requires this discretion (cf. Rom 14:1-15; 1 Cor 8; 10: 23-33). For the same reasons, the theologian will refrain from giving untimely public expression to them."
I don't dispute Prof. Feser's right to argue his position and to make his position known to others. I think, though, it's a bit rash for him to suggest that Pope Francis is "flirting with doctrinal error" because of a particular assessment of the historical evidence in support of the death penalty legitimacy that Feser believes is "conclusive." At the very least, Feser should admit that his assessment of the evidence is not conclusive in the eyes of all but merely a position that he and others find persuasive.
Prof. Feser maintains that my comments about Scripture and the death penalty are "problematical." Once again he fails to understand my position. I simply stated that the Old Testament passages that support capital punishment must be studied carefully to determine whether they are permanent teachings or examples of the judicial law, which is subject to change (cf. St. Thomas Aquinas I-II qq. 99–100, 103–105). Is Prof. Feser opposed to a careful study of these Scriptures? My point is that what Feser considers "conclusive evidence" is not seen as such by other scholars (See, for example, David McClamrock's Sept. 27 review of the Feser-Bessette volume in Today's Catholic from the Diocese of Fort Wayne-South Bend, IN). As for Feser's repeated appeals to Genesis 9:6 and Roman 13:4 in favor of the death penalty, he does not present any magisterial affirmations of his interpretation of these passages that qualify as definitive and infallible judgments. Moreover, Genesis 9:6 is a problematical passage to cite in favor of the State's right to execute criminals because there was no State at that time in the biblical narrative. There was simply Noah and his family.
Feser ignores Pope Benedict XVI's citation of Gen 9:6 against the killing of those who kill. He also ignores my citation of Pius XII who reminds us that "there are but few [Scriptural] texts whose sense has been defined by the authority of the Church; nor are those more numerous about which the teaching of the Holy Fathers is unanimous" (Divino Afflante Spiritu, n. 47). These two citations, however, argue against Feser's position on the conclusive scriptural evidence in favor of capital punishment's legitimacy. Perhaps this is why he ignores them.
Feser's appeal to the "No Scotsman Fallacy" is completely irrelevant because I never stated categorically that popes could never misinterpret Scripture. Feser himself admits that non-definitive papal statements are subject to error; so, to be consistent, he should do the same with all the non-definitive papal statements he cites as "conclusive evidence" for the legitimacy of the death penalty.
The issue is not so much whether prior popes were in error in their scriptural citations. The issue is whether their scriptural appeals qualify as definitive and infallible judgments of the papal Magisterium. There are many examples of popes interpreting scriptural passages in a certain way that the Magisterium did not consider definitive. Bl. Pius IX, for example, in his 1854 bull, Ineffabilis Deus, proclaiming the dogma of the Immaculate Conception (1854), relies upon the Vulgate rendering of Gen 3:15 to speak of the Blessed Virgin Mary as she who crushes the head of the serpent with "her immaculate foot." St. Pius X likewise understands the offspring of Gen 3:15 as Mary who crushes the head of the serpent with her virginal foot (see his 1904 encyclical, Ad diem illum, 33). This consistent magisterial interpretation of Mary as the offspring who crushes the head of the serpent relies on the intensive feminine pronoun, ipsa (she) found in the Vulgate. St. John Paul II, however, approved the revised Nova Vulgata in 1979, which changed the ispa to the neuter ipsum (it) to correspond to the neuter antecedent, semen (seed). Approved Catholic translations of Gen 3:15 today have the masculine pronoun, "he" as corresponding to the antecedent, "offspring" rather than "she." Does this mean that Bl. Pius IX and St. Pius X were in error when they understood the offspring who crushes the head of the serpent as the Blessed Mother? No, this simply means that the subsequent Magisterium did not feel bound by these previous understandings of Gen 3:15. Moreover, it is true that Mary crushes the head of the serpent by her Immaculate Conception and her conception of the Redeemer. This truth, however, does not depend upon Bl. Pius IX and St. Pius X's reading of the offspring in Gen 3:15 as the Blessed Virgin Mary.
Another example of a biblical text understood in a certain way by a pope is Gen 2: 21–23. Pope Leo XIII, in his 1880 encyclical, Arcanum, writes: "We record what is to known to all, and cannot be doubted by any, that God, on the sixth day of creation, having made man from the slime of the earth, and having breathed into his face the breath of life, gave him a companion, whom He miraculously took from the side of Adam when he was locked in sleep" (n. 5). Pope Leo XIII here refers to something "known to all," namely that Eve was formed from the side of the sleeping Adam. Does this mean that Catholics must believe in the literal formation of Eve from the side of the sleeping Adam? Some might argue that this is the case, but St. John Paul II did not feel bound by this interpretation of Leo XIII. In his 1988 apostolic letter, Mulieris dignitatem, the Polish Pontiff states: "The second description of the creation of man (cf. Gen 2:18-25) makes use of different language to express the truth about the creation of man, and especially of woman. In a sense the language is less precise, and, one might say, more descriptive and metaphorical, closer to the language of the myths known at the time."(n. 6).
I don't dispute Prof. Feser's right to ask for clarification regarding Pope Francis' Oct. 11, 2017 statements about the death penalty. In fact, I commend him for seeking this clarification as long as he does so "in an evangelical spirit and with a profound desire to resolve the difficulties" (CDF, Donum Veritatis, 30). Feser, though, claims that submission to non-definitive teachings of the Magisterium is "presumptive rather than absolute." The Congregation for the Doctrine of the faith, however, teaches that "the willingness to submit loyally to the teaching of the Magisterium on matters per se not irreformable must be the rule [regula]" (CDF, Donum Veritatis, n. 24).
It's questionable, however, whether Feser has manifested such a submission even to the teachings of St. John Paul II on the death penalty. He and Prof. Bessette take note of John Paul II's belief that the death penalty "ought very rarely if ever be resorted to," but they describe this teaching as "a mistake, and a serious one" (p. 197). They justify their disagreement with St. John Paul II on the grounds that the Pope was only offering a "prudential judgment," and Catholics are not bound to follow such prudential judgments. In my comments on Prof. Echeverria's article I questioned whether Popes like St. Nicholas I (d. 867) and St. John Paul II (d. 2005) opposed executing criminals on merely prudential grounds. Feser doesn't address this issue, but I think it's becoming even more important during the pontificate of Francis. The claim that Pope Francis is only offering prudential arguments against the death penalty is not persuasive. In his March 20, 2015 letter against the death penalty, Francis argues that capital punishment "is contrary to the meaning of humanitas and divine mercy." He also states that the death penalty "implies the denial of the love of enemies preached in the Gospel." In his Oct. 11, 2017 address, Pope Francis emphasizes capital punishment's opposition to the dignity and sacredness of all human life. These are not prudential arguments, but arguments derived from Catholic principles based on the Gospel.
I understand and appreciate Prof. Feser's desire to respect Catholic tradition, but the teachings of Pope Francis on the death penalty—because they are teachings of the Roman Pontiff—also constitute Catholic tradition. Prof. Feser is concerned that the recent statements of Pope Francis on the death penalty might "undermine rather than reinforce the Magisterium's claim to be a reliable interpreter of scripture." This concern, however, is based on Prof. Feser's belief that his understanding of Scripture points to a definite and irreformable tradition on the death penalty. Many people, including Pope Francis, do not seem bound by Prof. Feser's understanding of Scripture. What Prof. Feser doesn't seem to realize is that his claim that Pope Francis is "flirting with doctrinal error" also can serve to undermine people's confidence in the papal Magisterium.
My main point is that it's not clear that Pope Francis is contradicting any definitive, infallible teaching on the death penalty. Prof. Feser, however, seem to believe that the current Holy Father might be challenging "an irreformable or unchangeable teaching of the Church." So we have two opinions: that of Prof. Feser and that of Pope Francis. Who is right? Because Prof. Feser believes he is right and Pope Francis is (seemingly) wrong, he is seeking clarification. This is Feser's right and privilege. The clarification, though, can only come from the Magisterium, which does its work in communion with the Successor of Peter who happens to be Pope Francis. This means that the odds are stacked against Feser in his quarrel with the Roman Pontiff. In light of this, I feel more confident and peaceful supporting the views of Pope Francis than those of Dr. Feser on the death penalty.
I'm sure Prof. Feser will wish to challenge me on my choice in favor of Francis' view over his. But should a Catholic ever be challenged for agreeing with the Pope? I suppose Feser will argue that such a Catholic should be challenged when the Pope is in error. This, though, begs the question whether Pope Francis is in error. So we're back to square one about how to resolve claims that Pope Francis is in error on the death penalty. What should be clear by now is that the Roman Pontiff has a certain advantage in resolving such disputes over private scholars who challenge him. So unless and until Pope Francis concedes that Dr. Feser was right and he (Francis) was wrong, I'll stick with the Roman Pontiff and trust in the Holy Spirit.
---
If you value the news and views Catholic World Report provides, please consider donating to support our efforts. Your contribution will help us continue to make CWR available to all readers worldwide for free, without a subscription. Thank you for your generosity!
Click here for more information on donating to CWR. Click here to sign up for our newsletter.
---