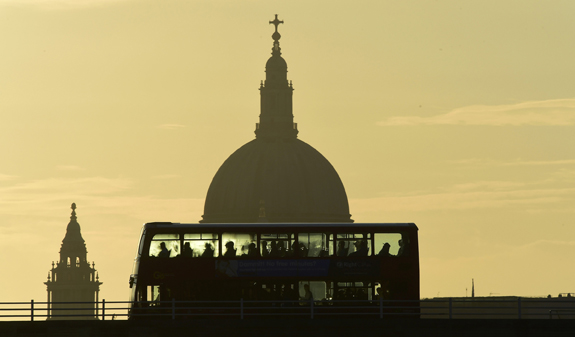 Today it seems like hardly a week goes by in which we don't read about another traditionally Christian country adopting laws hostile to life, the family, or religious liberty. Meanwhile, parish closings have become everyday events in many parts of the Western world. One local church that has in many respects weathered the secularist storm well is the United Kingdom. Although it is one of the least religious countries on earth, now is a heady time for the Catholic Church in the UK, as it is experiencing an impressive revival and, as added bonuses, is witnessing the conversions of disaffected Anglicans and increased Catholic immigration. Currently, a dynamic group of young English Catholics on fire with their faith is campaigning for World Youth Day to be held in London in 2022. Such an event would be likely to strengthen the Church in the United Kingdom, as it has in other host nations, and it would present Catholicism to a nation with ancient Christian roots that is suffering from metaphysical boredom and a flagging state church more influenced by political correctness than by the Gospels.
The most recent two World Youth Days were enormous successes. In 2013, 3.7 million young Catholics attended the closing Mass at Copacabana Beach in Rio de Janeiro, making this the second-largest World Youth Day (after Manila in 1995). This year, between 2 and 3 million young people flocked to Brzegi outside Krakow to celebrate the closing Mass of World Youth Day with Pope Francis in Poland. The next World Youth Day will be held in Panama in 2019, and considering that two-fifths of the world's Catholics live in Latin America (and that Panama is the second-safest and most stable country in Central America after Costa Rica), it's a good bet that the next edition will also be well-attended.
Although the host city of World Youth Day 2022 won't be announced for another three years, the battle has already started. A group of young British World Youth Day volunteers led by Lewis Moore, who volunteered in Krakow this year, is campaigning for London to host the largest cyclical Catholic event in the world in six years.
"We are not affiliated with any community or parish," Moore told Catholic World Report. "You could say that as WYD volunteers, we are our own community of people who desire to bring WYD to London because we know what an amazing event it is and the great, positive effect that it would have on this country."
Moore and his collaborators have already spoken on the subject to the English and Welsh bishops as well as Archbishop Antonio Mennini, the apostolic nuncio to the United Kingdom, and the response has been supportive. However, before London's bid is officially presented to the Vatican, Moore wants to be able to demonstrate support for the initiative. Thus he has launched a Facebook page in support of London as the host city as well as an online petition.
At first glance, London seems like a bit of an exotic choice for World Youth Day. According to the UK's most recent census (2011), the Anglican-majority country is home to 5.7 million Catholics out of a total population of 63.2 million, meaning that Catholics make up roughly 9 percent of the nation's inhabitants (although this proportion has significant regional variation: Catholics are 40.76 percent of the population of Northern Ireland, 15.9 percent of Scotland, and just 7.4 percent of England and Wales). WYD has been held in Protestant-majority countries before (the United States in 1993, Canada in 2002, and Australia in 2008). What at first glance seems most peculiar about London's bid to be the host city is that the United Kingdom has become a religious desert in recent decades.
In to a 2015 Win/Gallup International Association poll, just 30 percent of Britons claimed that they are religious, compared to 53 percent who say they are not and 13 percent who are "convinced atheists." These results make Britain the sixth-least religious of 65 surveyed countries; only in Spain, the Czech Republic, Sweden, Japan, and the People's Republic of China do people care less about their relationship with God. Another recent poll confirms this trend: there are now more "nones" (48.5 percent) than Christians (43.8 percent) in the UK. Meanwhile, the Church of England is literally dying out; according to one study, if present trends continue, the number of practicing British Anglicans could plummet from about one million in 2008 to 88,000 by 2050. That's approximately a 90 percent drop.
To use a Nietzschean phrase, God is dead in Britain's public square as well. Although Queen Elizabeth II is Supreme Governor of the Church of England, coronations take place in Westminster Abbey, and bishops are members of the House of Lords, today these are increasingly anachronistic traditions that have no impact on policy. Abortions are legal through the 24th week of pregnancy (and, in some cases, such as when the fetus has genetic defects, even later). British abortion laws are among the most permissive in Europe, and as a result one-in-five unborn Britons is legally killed in the womb, one of the highest proportions in Europe. Not even the Conservative Party is a reliable ally of Christians in the culture wars; same-sex marriages were legalized by none other than Tory Prime Minister David Cameron.
Why, then, would it be a good idea to host World Youth Day in what is undoubtedly an increasingly secular country? The most obvious reason is that, as Christ said in Matthew 2:17: "It is not the healthy who need the doctor, but the sick. I came to call not the upright, but sinners."
But wouldn't World Youth Day in London be a public relations flop for the Church and be attended only by a small handful of the extremely pious?
Against the somber picture of secular Britain as detailed above, the Catholic Church is experiencing a strong revival.
"My impression is that [the Catholic Church in the] UK is going through a renewal, which very much accelerated after the papal visit in 2010," Lewis Moore said. "Pope Benedict invited us young people at Hyde Park to attend World Youth Day 2011 in Madrid. This year's WYD saw the biggest number of British pilgrims attending a WYD to that date. Indeed, WYD has been instrumental for the renewal of faith in the UK. However, we are still at the baby stage; we are at the stage when the disciples of Christ were praying together before Pentecost. Maybe WYD London 2022 will be our Pentecost."
Moore's rosy account of the state of Catholicism on the Thames is supported by data. 2011 saw the highest number of young men entering diocesan seminaries since 1999. By 2012, the number of young Britons joining religious orders had more than tripled since 2004 and reached the highest level since 1995. A boom in female religious vocations has been augmented by former Anglican nuns swimming the Tiber. The sacrament of penance is also experiencing a significant revival in the British Isles: a 2014 survey of priests in England and Wales revealed that two-thirds of them noted a "significant increase" in the number of penitents at the confessionals. This confession upswing especially picked up during the Year of Mercy.
This is not to say that Catholicism in Britain is completely impervious to secularizing trends. According to a Faith Survey study, between 1993 and 2010 Catholic Mass attendance declined by a third there. However, the retention rate for Catholics is the highest among all Christian denominations in Britain. While there are almost four times as many Anglicans as Catholics in the UK, in 2006 there were more Catholics than members of the C of E who attended church on Sunday.
According to Moore, this Catholic revival has been spurred by Pope Benedict XVI's visit to the United Kingdom as well as new, dynamic Catholic movements and communities.
"Whilst it is true that the UK presents a difficult environment for Catholics to live in (e.g. certain recent laws), at the moment we are experiencing something similar to the early Church, where Catholics are getting together as communities," he explained. "These come in all different shapes and sizes, such as movements, parishes, prayer groups, schools, or events like Night Fever and Catholic Underground. The important point is that these events now exist and are available for us to join in. And Catholics are indeed joining in because we are thirsty to live out our baptismal promises—we want to live our Catholic lives fully in our everyday lives."
Meanwhile, the Catholic Church is growing in Britain thanks to immigration, above all from the former Soviet Bloc and especially from Poland, where more than 90 percent of the population calls itself Catholic and where weekly Mass attendance stands at about 40 percent. Recently, the Poles have overtaken Indians as the largest national minority in the UK. Additionally, Catholic immigrants from the Philippines and the Caribbean have breathed new life into British parishes.
Another factor encouraging Catholic growth in Britain is Pope Benedict XVI's creation of the ordinariate of Our Lady of Walsingham in 2009, which allowed Anglicans to become Catholics while retaining their liturgical traditions. The ordinariate's ranks have steadily grown, swelling to 57 priests, 1,500 faithful, and 31 parishes in 2012, and 86 priests, 3,500 faithful, and 40 parishes two years later.
At a time of unprecedented apostasy and demographic collapse for the Church of England, British Catholicism is experiencing a revival. The fact that growing numbers of Anglicans are joining the ordinariate created by Pope Benedict XVI and that more and more British Catholics are returning to the sacrament of penance and studying for the priesthood suggests that the hosting of World Youth Day in London could add momentum to these encouraging trends.
"We hope WYD will bring a renewal to the Church in this country, a new culture of the yes of Mary, a young and 'happening' church," Moore says. "And when this happens the culture of our country will be transformed, because we ourselves will be bearers of the Good News."
A WYD in London could, perhaps, be a divine augur of great things to come for the Church in Britain. Moore hopes that such an event would include a papal visit to the ancient pilgrimage site of Walsingham.
"Maybe WYD will be part of the prophecy of Pope Leo XIII, who in 1893 prophesied, 'When England returns to Walsingham, Our Lady will return to England,'" he said.
Holding WYD in London would also be an acknowledgment of the contributions of English Catholics to the Church over the centuries. Before Henry VIII's falling out with Rome, which led to the creation of the Church of England, Britain was a devoutly Catholic country; in the 12th century, an Englishman, Adrian IV, even served as the bishop of Rome. Meanwhile, St. Thomas Becket, killed in 1170, was one of the great Catholic martyrs of the Middle Ages. The Reformation was particularly harsh for British Catholics; in 1560, Catholicism was banned in Scotland and with the exception of Catholic monarch James II's brief three-year reign, being a Catholic was a crime between the 16th and 18th centuries in England. Yet, to quote Tertullian, "the blood of the martyrs is the seed of the Church." Despite the hardships they endured, English Catholics remained faithful to Rome; Saints Thomas More and John Fisher are two of the most famous martyrs from this period.
And the results of their faithfulness have been very impressive. As Lewis Moore says: "The UK has an incredible history of Catholicism and Christianity, ready to be shared with the world. The Northern Saints (Bede, Cuthbert, Columba) … the heroic history of the 40 Martyrs at Tyburn, and intellectuals like G.K. Chesterton and Blessed John Henry Newman. There are a multitude of cities and Christian sites with wonderful churches and cathedrals to visit all across the country."
Other famous English Catholics whose contributions to their nation's culture and to Catholicism ought not be overlooked include Sir Alec Guinness, one of the great actors of the 20th century, who converted while portraying Chesterton's Father Brown in a movie; Malcolm Muggeridge, another convert, who is best known for introducing Mother Teresa to the West in his BBC documentary and book about her; and historian Christopher Dawson, who helped us realize that, far from being the "Dark Ages," the Christocentric Middle Ages were a time when Western civilization flourished. Meanwhile, many of the greatest Catholic-themed novels of the past century, including The Power and the Glory and Brideshead Revisited, were written by English converts (Graham Greene and Evelyn Waugh, respectively).
Pope Benedict XVI believed that in order to remain relevant in a world that increasingly ignores God, Catholics have to become a "creative minority." He saw such a role for believers especially in highly secularized Western countries. At a time when Britain's moral foundations are in free fall, the Catholic Church is experiencing strong growth in the country, a sign that man is a religious creature and that Catholicism is not salt that has lost its taste. Holding World Youth Day in London would undoubtedly buttress the role of Catholics as a creative minority in post-Christian Britain, and perhaps it could fulfill an old prophecy that could begin England's return to Rome.
---
If you value the news and views Catholic World Report provides, please consider donating to support our efforts. Your contribution will help us continue to make CWR available to all readers worldwide for free, without a subscription. Thank you for your generosity!
Click here for more information on donating to CWR. Click here to sign up for our newsletter.
---