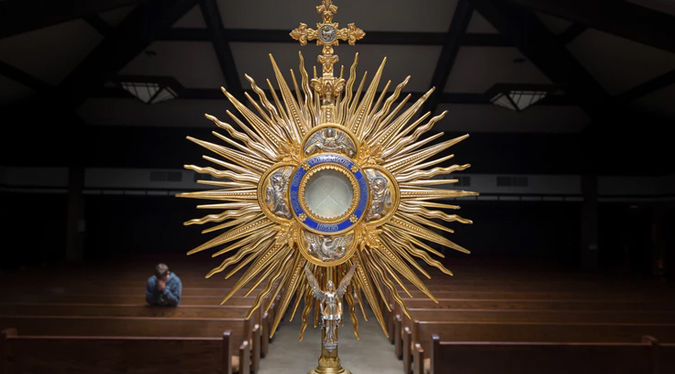 Part 1 of this series examined the history of mindfulness, its modern use in psychology, and arguments both for and against it which have been made by Catholics today.
Since mindfulness is essentially a meditation technique, it makes sense to evaluate it within the context of a Catholic understanding of prayer.
Prayer is a good thing, but there are wrong ways to pray
Our relativistic culture may find it difficult to understand this fact, but there are right ways and wrong ways to pray. When the Israelites created a molten calf and worshiped it (see Exodus 32), God did not treat their prayer and sacrifice to a pagan god as a morally neutral act. Following God's instructions, Moses and the tribe of Levi killed three thousand men for their participation in false worship. But praying to the wrong god is not the only danger we face in prayer; we can find ourselves drawing farther away from God if the goals and techniques we use are not rooted in Catholic theology.
In the seventeenth century, the Spanish priest Miguel de Molinos developed a prayer practice that he called Quietism. On the surface, Molinos' emphasis on the importance of simply being quiet in God's presence seemed to follow Scripture. After all, didn't our Lord tell his followers not to babble like the pagans did when they prayed (Matt. 6:7)? But there was much more to the practice of Quietism than being quiet; it included a belief that "man's highest perfection consists in a sort of psychical self-annihilation and a consequent absorption of the soul into the Divine Essence even during the present life."
Most Catholics are not anxiously seeking "psychical self-annihilation". So, of course, Molinos did not initially explain his ideas to his followers in that way. Instead, he introduced people to his concepts gradually. When you pray, he first told them, don't use any images or words (such as beautiful pictures of Christ or even words of Scripture) because those will only distract you. Next, don't try to stir up devotion to God in your heart; you want to be detached from everything. Once you're truly detached, you won't need to fight temptations to sin, because you will be so holy that nothing you do will be sinful. At that point, you won't need to perform any voluntary mortifications, such as abstaining from food, because advanced souls don't need to stop themselves from doing whatever they want to do.
Quietism sounds reasonable at first, but it quickly deviates from a Catholic understanding of how we should relate to God, which is why the Church ultimately labeled it a heresy. Can you imagine Mother Teresa of Calcutta telling her nuns that they didn't need to fight temptations to sin? Since some of the ideas underpinning Molinos' teaching were derived from pantheism and Buddhism, it's not surprising that Quietism was judged to be dangerous to Catholics. Every prayer to God is heard by God, but not every prayer technique may lead you directly to God.
Words matter
The early Church Father Origen (185-232) has been called one of the greatest Scripture scholars in the history of the Church. His father died as a martyr for his Christian faith. Origen himself began and led a catechetical school in Alexandria, Egypt, which was so highly respected that even pagans came to learn from him. He was so popular that his local bishop became jealous, and Origen had to relocate his school to Caesarea in Palestine (modern Keisarya, Israel), where he once again attracted many disciples. During the brutal persecution of Catholics initiated by the Roman emperor Decius in the year 250, Origen was arrested, imprisoned, tortured, and martyred. So why doesn't the Church give Origen the seemingly well-deserved title of saint?
There are complicated ancient traditions both supporting and opposing Origen. But perhaps the simplest explanation is that, while Origen himself was always faithful to the Church—and even died for Christ—some of the speculative theological ideas that he proposed led some of his later supporters into heterodox teachings, which were eventually condemned by the Church. Additionally, the Church had not yet developed a precise terminology for some concepts during Origen's lifetime, and Origen's explanations of those concepts—through no fault of his own—lack those specific terms. This confusion makes it difficult for subsequent generations to determine whether Origen supported or objected to the Church's current understanding of those beliefs.
The Church greatly respects but does not hold up Origen as a model of Christian sanctity because some of his writings have led Catholics away from Christ and his Church. Our Church is, after all, Mother Church, and mothers protect their children. Good mothers do not encourage even one of their children to drink something poisonous.
Similarly, one cannot pick up a term, such as mindfulness, which has a specific meaning in Buddhism, use that word in a Catholic context, and pretend that the Buddhist connotations that the word implies do not exist. If even one Catholic (out of the 1.2 billion Catholics alive today) is led away from Jesus Christ because of the use of a single word, then, out of charity, we should not use that word. Jesus did not say that the road to Heaven was wide and broad (Mt 7:13); he said it was narrow. Any word we pair up with the word "Catholic" should be a word that keeps people on that narrow path that leads to him.
Beware of pride in prayer
God wants us to pray. After all, prayer is just the lifting up of one's heart to him. But we are all born with original sin, which means we are all afflicted with pride. Our Lord particularly warned us of the dangers of pride in prayer when he compared the prayers of the Pharisee and the tax collector (Lk 18:10-14). Our pride does not always look exactly like the Pharisee's, who wrongly thought he was more righteous in God's eyes than other people for external reasons. Pride can also make us believe that we are so smart that we can sample from other religions without suffering any harmful effects. None of us are that smart.
It is incontrovertible that some of the techniques proposed by modern psychology through mindfulness therapy have had positive benefits for many patients. Psychologists even have studies to prove it, though some of their results indicate that old-fashioned Catholic prayer and meditation—such as simply praying the rosary—can reduce anxiety too.
And that is the point. The daily headlines change daily, and new reasons to worry will constantly appear. We are free to turn to psychology for a therapeutic fix to a current struggle. Or we can go deeper, much deeper, and invite God to heal our hearts directly through Scripture, Tradition, and two thousand years of Catholic spirituality and the witness of the saints. We can limit ourselves to a trendy technique. Or we can open our hearts to the love of Christ which surpasses all understanding and brings peace to wounded hearts.
---
If you value the news and views Catholic World Report provides, please consider donating to support our efforts. Your contribution will help us continue to make CWR available to all readers worldwide for free, without a subscription. Thank you for your generosity!
Click here for more information on donating to CWR. Click here to sign up for our newsletter.
---