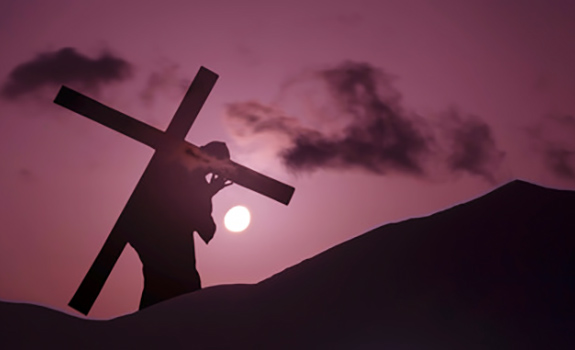 "How could this happen?" we ask ourselves, and anyone else who's willing to listen.
I've been reading Fulton Sheen's Life of Christ at two pages a day for many months. He has the tedious habit of mentioning the Cross on almost every page, suggesting that everything Jesus said and did pointed to the Cross, and points us to our own crosses. I remember how this bothered me years ago when I read this book for the first time.
It stills troubles me, but he's only saying what Jesus said.
Not just me, of course. Peter and the rest of the apostles didn't want to hear it either. And reading the lives and words of the saints, guess what? They carried big crosses.
Since this virus descended on us, I've been thinking about my grandmothers, Beatrice and Cecilia. They nurtured their families through two terribly harsh periods, back to back: The Depression from the early 1930s to the end of WWII in the mid-1940s, almost fifteen years, day to day hardship and grief—alcoholism in their families, losing their homes, serious illnesses, hand to mouth, death of a baby brother in the war—battering them and their families.
The Fifties and Sixties were no picnics, with one son in the Korean War, husbands and another son dying. I respected my grandfathers but they desperately needed the support of their wives to carry on. Beatrice and Cecilia embraced their Catholic faith and were heroically generous to family, friends, and strangers, right to the end, in their eighties.
The more I think about them, and especially those long bleak years, the more astounded I am. When I was growing up, experiencing their kindness and joy, I couldn't have guessed what these women had endured before I was born.
I live in Detroit, where Blessed Solanus Casey lived for much of his life and where his remains remain. He kept a book in which he recorded the needs of the thousands who came to him for counsel, hope, and miracles, including my grandmother Beatrice's brother-in-law Bernard, and my grandmother Cecilia's sister, Josephine. Blessed Solanus's crosses: he was ordained a simplex priest who couldn't preach or hear confessions, and he is now a Blessed and maybe a Saint someday. I was privileged to attend his beatification Mass, and I strive to learn from him.  
Baby boomers like me, our children, and grandchildren, have never experienced something very bad, every day, for a long period of time. Yes, some of us have experienced terrible things—but not all of us, every day, for years and years like Beatrice and Cecilia.
The Easter season for many of us can be like Frodo Baggin's experience after the Ring is destroyed: a great victory, but not the final victory. That only comes when we arrive at the Havens and embark on the ship toward mystery, where the cross is behind us, and God's light is ahead of us. That's where I expect my grandmothers to be, and that's where I hope to go someday. Fulton Sheen had it right, the cross until the end.
---
If you value the news and views Catholic World Report provides, please consider donating to support our efforts. Your contribution will help us continue to make CWR available to all readers worldwide for free, without a subscription. Thank you for your generosity!
Click here for more information on donating to CWR. Click here to sign up for our newsletter.
---