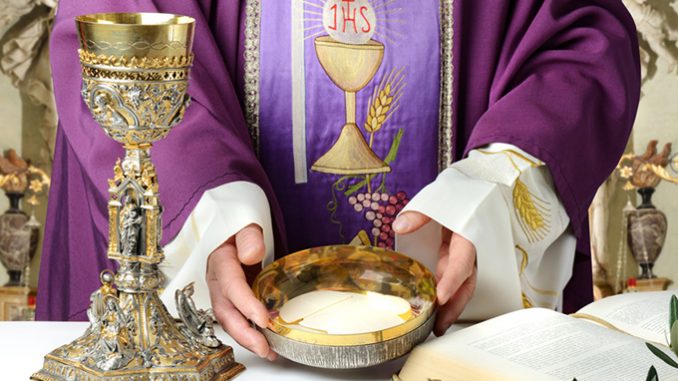 A few years ago, I would regularly see a billboard on I-94 near Detroit Metropolitan Airport that had a picture of a woman holding a chicken. The woman and the chicken were nose-to-beak, looking into each other's eyes in a seemingly meaningful sort of way. The billboard was posted by an animal-rights group, and its caption read, "Animals are friends, not food."
The Letter to the Hebrews tells us that Jesus "'for a little while' was made 'lower than the angels'" (2:9), but according to the view expressed on that billboard we could say that Jesus has made Himself even lower than the chickens. I hope this doesn't sound irreverent, but I say it as a small illustration of both the pretensions of the world and of the unbelievable humility of Jesus. "Unbelievable," except that it's true, and so we must believe it. Our faith tells us the truth that the Lord Jesus, Son of God and the King of heaven and earth, the Lamb of God, the Alpha and the Omega has chosen to become for us our Friend and our Food in the Holy Eucharist.
First, Jesus comes to us in the Eucharist as our Friend. One of the hallmark characteristics of a friend is that he or she is someone who is there for you. No matter what we may believe about how our friendships can endure even when we are separated from our friends by space and time, I think we all can agree that it is better for friends to be together. And we would probably agree that even friendships that endure separation can do so because the friends have already spent a significant amount of time together.
At the Last Supper, when Jesus first gave Himself in the Eucharist to His disciples, He said to them, "I have called you friends" (John 15:15). In the Eucharist, we meet Jesus our Friend because the Eucharist is Jesus: Body, Blood, Soul, and Divinity.
Recent Pew Research data tells us that a shrinking percentage of Catholics, only about one-third, fully believe in the Real Presence of Jesus in the Eucharist. This is a tragedy not because the Church isn't meeting some kind of corporate outcomes-assessment, and certainly not because it hurts God, but rather because so many Catholics don't know the treasure we have in our Eucharistic Lord. They do not recognize that in the Sacrifice of the Mass, the bread and wine are "transubstantiated" (their substances are changed) into the Body and Blood of Christ, with only the appearances of bread and wine remaining.
Disbelieving Catholics don't understand that the Eucharist is the direct and concrete fulfillment of Jesus' promise, "I am with you always, until the end of the age" (Matthew 28:20). The greatest Friend we will ever have or could ever have makes Himself available to us, even slavishly available to us. We are the slaves of God (meaning we belong to God), St. Paul tells us (Romans 6:18), but Jesus waits for our attention as if the roles were reversed and He were our slave.
Sometimes people create a false contrast between the sacramental life of the Church and what they call a "personal relationship with Jesus." While certainly it is possible for Catholics to approach the sacraments in a cold and mechanistic way, the sacraments themselves are as personal as it gets! What could be more personal than to worship and even to receive into yourself the Body, Blood, Soul, and Divinity of the Son of God? To spend time with Jesus, to speak with him face-to-face—to paraphrase St. John Vianney, we look at Him and He looks at us—and to allow Him to transform us into Himself, from the inside-out—what could be more personal that this? What closer friendship could there be than this?
Second, Jesus comes to us in the Eucharist as our Food. Christ's Bread of Life Discourse in John 6 very clearly makes this point. Jesus reveals Himself as the Bread of Life, our "food for the journey" to heaven.
"I am the living bread that came down from heaven;
whoever eats this bread will live forever;
and the bread that I will give
is my flesh for the life of the world."
…and…
"The one who feeds on me will have life because of me.
This is the bread that came down from heaven.
Unlike your ancestors who ate and still died,
whoever eats this bread will live forever."
The manna in the desert made it possible for the Israelites to march for 40 years after leaving Egypt, until they reached the Promised Land. The Bread of Life is the perfect Manna, the Bread from heaven that brings us through life and death to resurrection and heaven. The life Jesus gives us is a life we could never get in any other way: divine, supernatural, eternal, and indestructible life.
There was a lot of talk several years ago about whether medicine would ever advance to the point that man became, practically speaking, immortal. I don't read much about that quest anymore, but the truth is that immortal life has been here for the receiving all along.
What Jesus offers is the nourishment that will make our lives indestructible and radiant with divinity. Our appetites may crave quicker pleasures and satisfaction, but that is a problem with our appetites. Objectively speaking, we could never have anything better than what we receive in Holy Communion.
The truth of the Holy Eucharist is one we need to do a better job of sharing with others. This must be an integral element of our efforts in the new evangelization.
Many people think of the Mass as "boring" and even if they go somewhere to worship on Sunday they say they want to "go where they're fed." I'm not abdicating our responsibility to do all that we can, to give our very best, to engage people in the Mass, but in even the most humble Mass there is Food that cannot be compared with anything else on earth. There is a Friend Who will pursue us to the ends of the earth, but still needs for us at some point to turn and come to meet Him. There is a life promised in the Mass that cannot be crafted by human ingenuity, even that of the most ingenious and industrious of ministers.
These blessings can only come from God, and we must do all in our power to help others come and receive this Gift of heaven.
---
If you value the news and views Catholic World Report provides, please consider donating to support our efforts. Your contribution will help us continue to make CWR available to all readers worldwide for free, without a subscription. Thank you for your generosity!
Click here for more information on donating to CWR. Click here to sign up for our newsletter.
---