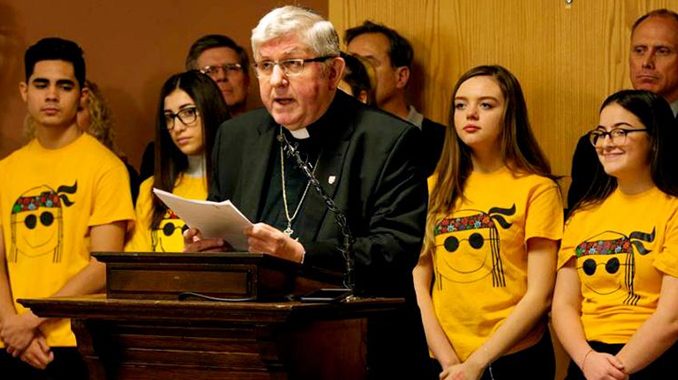 The Archbishop of Toronto, Canada, Thomas Cardinal Collins, is calling for resistance to a controversial new government requirement on organizations applying for summer hiring assistance. Canada's government has introduced the change to the standard application form used to request funding through a program that provides wage subsidies to various outfits for summer hires.
Until recently, applicants have had to attest to having read and understood the terms of the agreement, that the job or jobs for which the applicant is requesting the funding would not be created without the assistance being requested, and that the applicant has all the necessary authorities, permissions and approvals to submit this application.
A Calgary-based pro-life group allegedly used some of its government funding to produce and distribute materials containing graphic images of aborted babies, in response to which the Canadian government introduced a new requirement. All applicants must now attest to the following:
[That] both the job and the applying organization's core mandate respect individual human rights in Canada, including the values underlying the Canadian Charter of Rights and Freedoms as well as other rights. These include reproductive rights and the right to be free from discrimination on the basis of sex, religion, race, national or ethnic origin, color, mental or physical disability, sexual orientation, or gender identity or expression.
This new language is not only proving problematic for faith-based organizations. It is not sitting well with many people who find themselves broadly sharing the government's social policy commitments, but do not believe persons or organizations ought to be required to take what amounts to an oath of ideological purity.
"It's very odd, and I think unique in Canadian history, that applicants for for a summer – or any – program, any grant from the government, have to attest not that they are going to obey the law or that they are legitimate applicants, [but] they have to attest to their beliefs," Collins said during an interview with the Thinking with the Church podcast hosted by CWR contributor Chris Altieri. "There's an ideological test here," Cardinal Collins went on to say, "your thinking must be correct."
Cardinal Collins said he is not alone in finding the new attestation requirement at odds with the words and plain sense of Canada's Charter of Rights and Freedoms — a document, he explained, which is designed to protect citizens from government intrusion, not to empower government to enforce political orthodoxy. "Not only have people of faith objected to this intrusion, but people who have not faith at all," Cardinal Collins said. "What amazes me is that the government representatives say, 'Well, we love what you're doing – we don't mean you we like you – just check the [attestation] box [on the application form] and get the money.' I suspect they truly don't understand that you sign your soul away. It's like Thomas More," said Cardinal Collins. "Are our signatures so cheap," he asked, "that we can say, 'Cross your fingers and sign'?"
He said any society that values citizens' given word so cheap is in serious trouble. "The issue is of conscience and of integrity: that, if we are in a society where [the government] can even suggest, 'Well, sign. Don't worry we'll give you the money, as long as you say in writing what you do not believe,' — have we come to that? That is really, profoundly sick," Cardinal Collins said. "Words have meaning," Cardinal Collins concluded, "and when we forget that, we are on a short path to destruction."
---
If you value the news and views Catholic World Report provides, please consider donating to support our efforts. Your contribution will help us continue to make CWR available to all readers worldwide for free, without a subscription. Thank you for your generosity!
Click here for more information on donating to CWR. Click here to sign up for our newsletter.
---