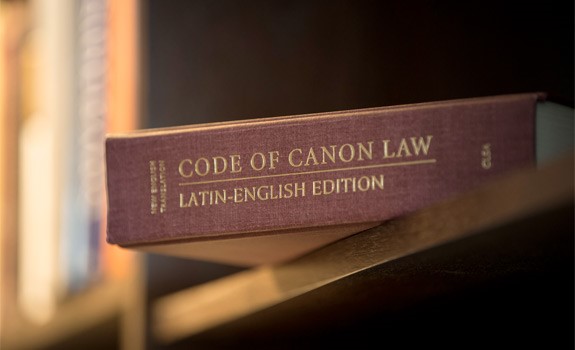 Dominican theologian Fr. Aidan Nichols needs no introduction to readers of this blog and it suffices to say that, when a priest of Nichols' credentials urges development of a canonical procedure to correct popes who—how exactly to put this?—leave confusion in their wake, people are going to take notice. I have seen only news reports of Nichols' address (not the speech itself), but a few comments occur to me that won't come as a surprise to Nichols but that might help inform others' reactions to them.
First, while most provisions in the Code of Canon Law are of human (albeit, ecclesiastical, usually pontifical) origin, implying the possibility of changes in them in accord with circumstances, some canons rest on divine law foundations and are not, therefore, so easily amended—however appealing such changes might seem to be. Such is the case, I suggest, with Canon 331 on the full and supreme authority of the Roman Pontiff and Canon 1404 on the immunity of the Holy See from judgment (canonical or civil). These canons (and others besides, say, Canon 1372) serve the decision of Our Lord to leave Peter and his successors basically free to act as they see fit in guiding the Church, meaning that such canons, operating in support of a divinely-sanctioned freedom, are not liable to repeal if popes misuse that freedom. All of this Nichols takes for granted, of course.
Nichols also knows, however, that Petrine freedom has limits, that it is not something bestowed in order to make possible, say, papal plundering of Church property or dalliances with dangerous theological theories (both of which have happened in the past), but rather, it serves the Church's need for, and the faithful's right to, certainty and continuity in Catholicism's witness to the teachings of Jesus. Canon law read as a whole (and not cherry-picked to get the results one hopes for) operates in service to all of doctrine (and not just the parts that sound convenient to this generation or that).
Canonical evidence of one such limitation on papal power is found in, for example, Canon 336 which recognizes the college of bishops (properly understood) as also a subject of full and supreme power in the Church—a mystery, to be sure, how one Church can have two subjects of full and supreme power, but nevertheless an ecclesiological given to be reckoned with, not ignored. Nichols might, for all I know, have referenced Canon 336 in his original speech; if he did not, he certainly could have done so.
But another check against this papal freedom turning into license, albeit a check harder to pin down than are neatly drafted canons, is "Tradition".
Tradition, not canon law, holds the Church to accept a host of truths, for example, that Jesus rose from the dead, that canonized saints are in heaven, and that contraception between married couples is objectively gravely wrong, such that a pope who suddenly challenged the reality of the Resurrection, the status of one duly canonized, or the gravity of conjugal contraception—or who winked at others doing such things—would stand in urgent need of prayers and would be a proper object for some kind of correction, perhaps such correction as is apparently envisioned by Cdl. Burke and others.
But beyond even this—and moving back to what Nichols' point seemed to be—Tradition has some even more startling things to say about popes who might fall into heresy. To summarize a long story already shortened here, the Church is not defenseless against heresy from popes. Under certain rare circumstances, one is talking, according to several weighty authors, about the loss of pontifical office itself.
There are, of course, several practical problems with Nichols' proposal for changes to canon law (some of which problems he noted in the reported version of his remarks) and to which I would add a simple one: popes are the Legislator of canon law, and the chances of any legislator writing a law that could be used against him are slim. But, if the commentators cited in my earlier blog are really saying what they seem to be saying, we might not need new canon laws to deal with the problem.
Tradition might already have a solution.
(This post originally appeared on the "In the Light of the Law" blog and is reprinted here by kind permission of Dr. Peters.)
---
If you value the news and views Catholic World Report provides, please consider donating to support our efforts. Your contribution will help us continue to make CWR available to all readers worldwide for free, without a subscription. Thank you for your generosity!
Click here for more information on donating to CWR. Click here to sign up for our newsletter.
---