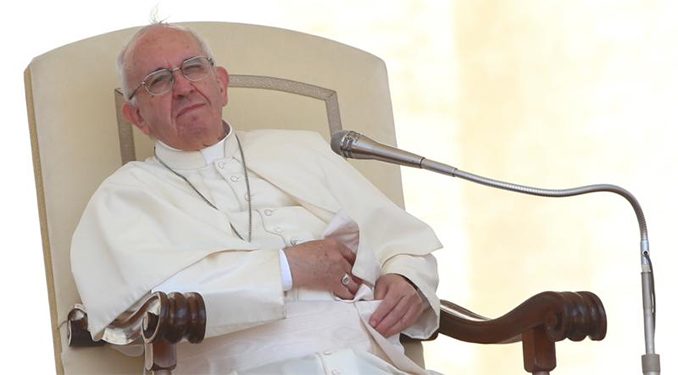 Pope Francis, at yesterday's General Audience, reportedly (see here and here and here) stated:
Dear brothers and sisters, we are never alone. We can be far, hostile; we can even say we are 'without God.' But Jesus Christ's Gospel reveals to us that God cannot be without us: He will never be a God 'without man'; it is He who cannot be without us, and this is a great mystery! God cannot be God without man: this is a great mystery!
As is often the case with the Holy Father, precision and clarity wilt and melt a bit in the service of what may or may not be a good point. The most positive way of understanding his statement, it seems to me, is that since God the Son has joined himself to humanity in a most radical and eternal manner in the Incarnation, God will never be "without man". There is no going back. That is true, and it's an important point, of course, because of what it indicates about both the Trinitarian nature of God and the Trinitarian missions (cf. CCC, 257-60).
But to flatly state that "God cannot be God without man: this is a great mystery!" is problematic. God has no need for mankind; God had no need to create. Put simply: God lacks nothing. Period. And it's notable that the very first sentence of the Catechism states: "God, infinitely perfect and blessed in himself, in a plan of sheer goodness freely created man to make him share in his own blessed life" (emphasis added). A later section in the Catechism states: "God is eternal blessedness, undying life, unfading light. God is love: Father, Son and Holy Spirit. God freely wills to communicate the glory of his blessed life" (par 257).
The danger, I think, is that we are tempted to reverse the proper order of how things really are, which is Trinitiarian: all that is, flows from the Trinity and is ordered to the Trinity, which lacks nothing (cf. CCC, 234). When the Catechism states, in the section on prayer, "Whether we realize it or not, prayer is the encounter of God's thirst with ours. God thirsts that we may thirst for him", we must recognize that God's thirst for us is itself a free gift, not a need. Put in a more dramatic way: even if, after the Incarnation, no one accepted Christ as the Savior, God would still be infinitely perfect and blessed in himself—and yet would still thirst for us, for He "desires all men to be saved and to come to the knowledge of the truth" (1 Tim 2:4). Which is why the opening paragraph of Catechism continues:
For this reason, at every time and in every place, God draws close to man. He calls man to seek him, to know him, to love him with all his strength. He calls together all men, scattered and divided by sin, into the unity of his family, the Church. To accomplish this, when the fullness of time had come, God sent his Son as Redeemer and Saviour. In his Son and through him, he invites men to become, in the Holy Spirit, his adopted children and thus heirs of his blessed life.
Notice how every action described here indicates God's initiative—He draws close, He calls, He sent, He invites—while man always responds. The same important emphasis can be seen in the opening paragraphs of Lumen Gentium. Notice, too, that God's gift of divine life—what is called deification or theosis—is a matter of Trinitarian love, not cosmic neediness. To suggest, even unwittingly, that God somehow lacked or was incomplete without us would seriously skew and even damage a proper understanding of both who God is and who we are in relation to Him.
---
If you value the news and views Catholic World Report provides, please consider donating to support our efforts. Your contribution will help us continue to make CWR available to all readers worldwide for free, without a subscription. Thank you for your generosity!
Click here for more information on donating to CWR. Click here to sign up for our newsletter.
---