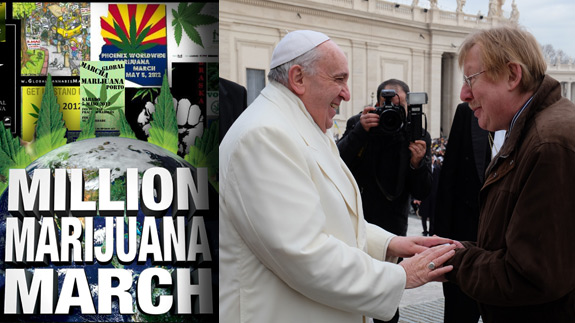 On Saturday, February 8th, 2014, thousands of "free drug" supporters (no less than 30,000, according to the organizers) took to the street in Rome for a "Million Marijuana March", calling for the repeal of the Fini-Giovanardi law, which prosecutes as criminal offenders those who cultivate and smoke cannabis, in view of the full liberalization of its consumption.
This national protest demonstration was being promoted by a self-styled "anti-prohibitionist movement" consisting of a motley coalition of associations, harm-reduction groups, NGOs and sections of institutional organizations, under the slogan "Giusto o sbagliato, non puo' essere reato" ("right or wrong, it may not be a crime"). This relativist vision was fully backed by the ultra-Marxist paper il Manifesto (February 8th, 2013), which saw the demonstration as a move "to set up an anti-ethics front", on the grounds that ethics and religion must stay out of the legal order.
In response to this demonstration, Centro Culturale Lepanto's president Fabio Bernabei recalled that the use of such drugs is not only a crime, since it undermines society in many respects, but that it has also been condemned by recent popes as an evil, always illicit because nobody may renounce one's own inviolable dignity of a free human being made in image and likeness of God. Bernabei called on Italy's prime minister Enrico Letta to stop any proposals to liberalize drug use and to promote successful social prevention policies, such as those currently enforced in Iceland.
Interestingly, this national protest took place after Pope Francis' message for Lent had just been released on Tuesday, February 4th. In his message, he condemned a "moral destitution" resulting from slavery to vice and sin. "How much pain is caused in families because one of their members — often a young person — is in thrall to alcohol, drugs, gambling or pornography", he said.
How many people no longer see meaning in life or prospects for the future, how many have lost hope! And how many are plunged into this destitution by unjust social conditions, by unemployment, which takes away their dignity as breadwinners, and by lack of equal access to education and health care. In such cases, moral destitution can be considered impending suicide. This type of destitution, which also causes financial ruin, is invariably linked to the spiritual destitution which we experience when we turn away from God and reject his love.
Moreover, Pope Francis and Raymond Yans, President of the Vienna based INCB-International Narcotic Control Board, had a short but warm-hearted meeting immediately after the weekly general audience last Wednesday, January 29th, 2014, when they discussed shared concerns on worldwide "drug problems".
Pope Francis, in particular, stressed the primary importance to improve international community efforts on drug prevention and treatment policies, warning against any liberalization plans of drug use. In other words, he restated what he already said last July in Rio de Janeiro:
A reduction in the spread and influence of drug addiction will not be achieved by a liberalization of drug use, as is currently being proposed in various parts of Latin America. Rather, it is necessary to confront the problems underlying the use of these drugs, by promoting greater justice, educating young people in the values that build up life in society, accompanying those in difficulty and giving them hope for the future. We all need to look upon one another with the loving eyes of Christ, and to learn to embrace those in need, in order to show our closeness, affection and love.
The previous day, President Yans had had meetings in the Vatican with Monsignor Antoine Camilleri, Undersecretary for Relations with States, and with Bishop Zygmunt Zimowski, President of the Pontifical Council for the Pastoral Care of Health Care Workers, the Holy See equivalent for Minister of Foreign Affairs and Minister of Health respectively. The cordial talks focused on the commitment of both INCB and the Holy See to maintain dialogue and constructive cooperation on these questions of common interest and concern.
In an interview in the Italian Bishops Conference's daily Avvenire (January 29, 2014), regarding what is happening in Uruguay and in the states of Colorado and Washington, Raymond Yans made it clear that "the decision to liberalize the sale of marijuana constitutes a breach of international solidarity and agreements subscribed by the 193 UN member nations".
The International Narcotics Control Board (INCB) is an independent, quasi-judicial control organ for the implementation and monitoring of supranational treaties on narcotics under the 1961 Convention on Drugs, and falls under the United Nations Economic and Social Council (ECOSOC). Raymond Yans is its president since 2012. "Those treaties already regulate a minimum 'legal' use of some narcotics under strict medical supervision", he went on. "This is, however, a far cry from an opening to the generalized sale on which someone is insisting…".
---
If you value the news and views Catholic World Report provides, please consider donating to support our efforts. Your contribution will help us continue to make CWR available to all readers worldwide for free, without a subscription. Thank you for your generosity!
Click here for more information on donating to CWR. Click here to sign up for our newsletter.
---