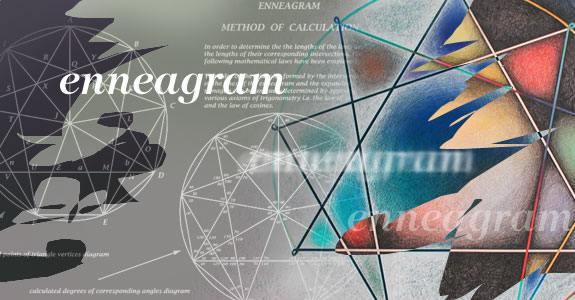 The Enneagram is a nine-sided figure that looks like a theorem straight from Euclid's Elements. Instead of teaching basic mathematical facts, however, the Enneagram purports to teach a path to enlightenment, a path that Church leaders find worrisome.
In 2000, the US Conference of Catholic Bishops prepared a draft statement, "A Brief Report on the Origins of the Enneagram," cautioning against its use. It was never published, but it can be found on the website of the National Catholic Reporter. In 2003, the Vatican's document "Jesus Christ, Bearer of the Water of Life" discussed the dangers of New Age spirituality, and mentioned the Enneagram in its glossary. In 2004, the USCCB Committee on Doctrine released "Report on the Use of the Enneagram: Can It Serve as a True Instrument of Christian Spiritual Growth?" for the conference's internal use. Father Thomas Weinandy of the USCCB's Secretariat of Doctrine provided that report for this article.
Last February, Archbishop Thomas Wenski of Miami explained Catholic teaching on the Enneagram and related subjects in an online column titled, "New Age is Old Gnosticism." He wrote that the Enneagram is a "pseudo-psychological exercise supposedly based on Eastern mysticism, [which] introduces ambiguity into the doctrine and life of the Christian faith and therefore cannot be happily used to promote growth in an authentic Christian spirituality." The archbishop's column is the clearest available teaching for the laity on this topic, and a neat summary of the bishops' reports.
The Enneagram redefines sin, among other fundamental concepts, by simply associating faults with personality types, which is particularly tempting in a cultural climate of irresponsibility and narcissism. It encourages an unhealthy self-absorption about one's own "type," so that the type is at fault rather than the person. This gives rise to a deterministic mindset at odds with Christian freedom.
Religious who promote it
Yet interest in the Enneagram persists in some Christian circles. Retreat centers such as Vallombrosa in Menlo Park, California and the Tabor Retreat Center in Oceanside, New York (run by the Ursulines) conduct Enneagram programs. Living Water Spiritual Center in Winslow, Maine, run by the Sisters of St. Joseph, gave a retreat in November about sobriety that was centered on the Enneagram. From January to April this year, the Archdiocese of Los Angeles had an Enneagram Series, with such workshops as "The Enneagram and Triads of Being." Father Richard Rohr of the Center for Action and Contemplation in Albuquerque, New Mexico teaches the Enneagram.
Joanna Quintrell says that Jerome Wagner at Loyola University in Chicago taught the Enneagram to her about four years ago. She is an ordained minister with the Evangelical Covenant Church; the Chicago-based denomination sent her to Loyola to learn the Enneagram. Now she teaches it at the Journey Center in Santa Rosa, California, which bills itself as offering "Christ-centered spirituality, healing, and wholeness."
"I teach the Enneagram from a spiritual point of view," Quintrell said. "The Enneagram has pre-Christian as well as Christian roots." She claims that "you can trace the Enneagram to the Desert Mothers and Fathers," citing the work of Father Richard Rohr to back up this statement. Quintrell described the nine personality types included in the Enneagram as reflecting the divine character. She asserts that she Christianizes the Enneagram, saying it reflects people in God's image as well as acknowledging their brokenness.
"Depending on their Christian background, some are open to it, some are scared," commented Quintrell. "Some see it as a pentagram, as something they shouldn't be investigating." She noted that 60 percent of Enneagram participants identify themselves as Christian. "It's not something to be scared of," Quintrell said. "It's a tool for transformation. The Holy Spirit uses that tool to bring God's healing."
However, the Enneagram isn't a self-explanatory tool, like the newspaper's daily horoscope. Quintrell has workshop participants do a 200-question inventory developed by Loyola University's Wagner. "It's a place to begin discovering your type," she explained. "It's complex. What is my highest score? What is the essence of who I am?"
Sr. Suzanne Zuercher of the Benedictine Sisters of Chicago illustrates another way the Enneagram is utilized in Christian settings. She has taught the Enneagram for 36 years and uses it at the Institute for Spiritual Leadership at Loyola University; she is also president of St. Scholastica Academy, where she uses it with staff members. Zuercher described the Enneagram as "helpful for the spiritual journey."
"I define it as an instrument for spiritual growth, a tool for self-knowledge, humility, and self-acceptance," Zuercher said. "I hardly go a day without it. It talks about my gifts, my issues."
Zuercher acknowledges the controversy surrounding the Enneagram, and is aware of the US bishops' 2000 document on the subject.
"Books by Father Rohr and I were listed on the report, saying we were teaching things against Catholic doctrine. I saw the draft," she said. "If you know the Enneagram, it states in numerous ways that our greatest sinfulness comes from our desire to redeem ourselves."
Zuercher sees the Enneagram as more than a combination of numerology and personality tests. Quotes from her book Enneagram Spirituality are used on the discernment page of the Benedictine Sisters of Chicago, including, "Discernment is the awareness of centered or non-centered energy in the organism," and, "We abandon predictions of how life will turn out, judgments of what is good or bad.… We simply live from our center." Her reflections close with, "We live as relaxed as that child, and we are nourished by the Divine Mother at the center of who we are, body and spirit, incarnate being, human organism."
Father William Meninger of St. Benedict's Monastery in Snowmass, Colorado conducts retreats on the Enneagram and the Centering Prayer. Last year, he led Enneagram workshops in Oregon at St. Mary's Catholic Church in Corvallis and Queen of Peace Catholic Church in Salem. In February, he gave a talk about Enneagram personality types at the Washington Theological Union, a Catholic theology and ministry school in the nation's capital.
Meninger has taught the Enneagram since 1990. "I learned it from lecturers and went to qualified workshops. I learned about it in Israel," he said. Meninger noted that he's taught it at Episcopal and Methodist churches, as well as secular venues.
Meninger commented that he doesn't want to defy the US Catholic bishops, though he doesn't agree with them.
As a Cistercian, Meninger said, "I have a vow of obedience I keep; I will follow [the US bishops'] ultimate decision." He added that the Canadian bishops don't forbid teaching the Enneagram.
"The Enneagram teaches self-knowledge," Meninger said. "The Oracle at Delphi said, 'Know thyself.' Self-knowledge is the virtue of humility. Humility is the primary virtue. Self-knowledge is important to the spiritual journey. [The Enneagram] is only a tool."
Fundamentally Gnostic
In his column on the subject, Archbishop Wenski described the Enneagram as fundamentally Gnostic, a form of numerology and divination of the type that the Lord forbids among the Israelites (Deuteronomy 18:10-14). Father Thomas Weinandy said, "Everybody wants to have control of their lives; people purport to have secret knowledge for the relationship with God, and contact with divine energy. The emphasis in Catholicism is the personal relationship with Jesus—faith. It's not a secret knowledge; it's based on his death and resurrection."
Unlike many personality tests, the Enneagram claims a profound, transcendent meaning, as well as a scientific one. But this meaning varies, depending who you ask and what criticisms are being addressed. Sr. Zuercher said she advises those interested in the Enneagram to "go to workshops at a reputable retreat center, not just read."
"It's an oral tradition," she explained. "People talk about their lives, who they are, their issues. In conversation, people find themselves on the Enneagram.… It's a tool for self-understanding, knowing who you are. You start with the gifts and the aspects of the Creator. You start with the gifts, and how they got distorted by the ego."
Many proponents of the Enneagram claim that it is scientific. In a March 2007 interview with the San Francisco Chronicle, Don Riso of the Enneagram Institute claimed "research is being done in an independent and nonbiased way by a highly regarded group of statisticians and psychometricians in the UK who are well on their way to proving that the nine types do exist." The "highly regarded group" remains anonymous. In the end, Riso concludes, "Ultimately, people either see the fundamental truth and utility of the Enneagram in their own lives and experience, or they do not."
Both Father Meninger and Sr. Zuercher brought up Jesuit Father Mitch Pacwa and his work with the US bishops on New Age practices. Father Meninger described Father Pacwa as the "leader of the opposition to the Enneagram." Pacwa's 1992 book Catholics and the New Age is one of the few widely disseminated orthodox treatments of the subject. Over the course of three chapters, Father Pacwa discusses his involvement with the Enneagram. He once taught it; the Enneagram even seemed to bear good fruit—he notes how it inspired him to make one of his best confessions. The more he researched it, however, the more disillusioned he became. Father Pacwa decided the Enneagram was a dangerous fraud. "Fitting someone into one mold or another seemed like fun," he wrote. "…however, after incorrectly typing some friends, I eventually dropped the Enneagram from my repertoire of spiritual direction tools."
"People use [the Enneagram] because they haven't found Catholic spirituality to their liking," Father Weinandy said. "They have lost their way. The more laity and religious are educated in authentic Catholic piety, the less they'd be interested in other things."