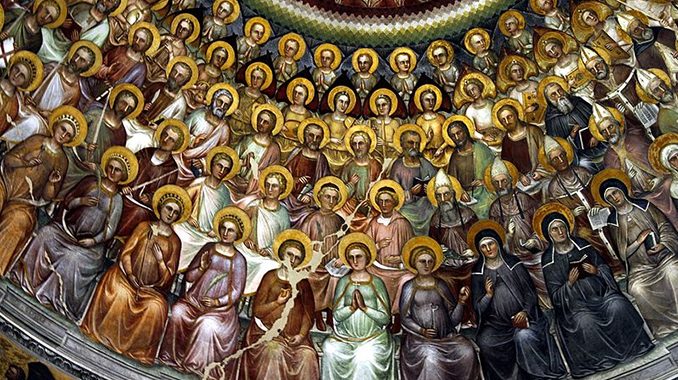 Editor's note: The following is an excerpt from "Dying to Live: From Agnostic to Baptist to Catholic", a new book by Ian Murphy, published by Ignatius Press.
The new ministry position at the Catholic Diocese of Austin was wonderful… The Catholic parsonage provided the perfect atmosphere for me to complete the remainder of my thesis. The university even scored me another talk in front of a thousand students, at its annual tent revival. The remaining time in the theology program became some of the happiest months of my life.
Nevertheless, there was one spiritual concern that still required God's healing grace before I could officially enter the Church at the 2004 Easter Vigil. Namely, I still couldn't bring myself to believe in the Communion of the Saints. That is, I couldn't ask for prayers from angels or saints in heaven. I had no theological issue with the practice. After all, I had no problem with asking for prayers from Christ's followers on this side of eternity. I simply couldn't bring myself to ask for prayer from someone on the other side.
I had been raised with an emotional allergy to the very idea of the intercession of the saints. Growing up, my dad taught me that asking the saints to pray for us was idolatry. By every possible means he instilled deep within my heart that prayers to the dead are evil.
Years later the aversion to the practice still lingered. God went to work on this issue with style.
Before landing the new job at the diocesan office, my savings had depleted rapidly. At one point, it was going to take a financial miracle for me to remain in school. My brother Sean came to my rescue. He prayed, "God, if you give me any surplus of money, it will all go straight to Ian." The day after he said this prayer, Sean received a check in surplus of a thousand dollars.
Libby called me up with the good news. She said, "We put together a care package that includes the money. You should ask your personal guardian angel to have this package hand- delivered to you, so that the enemy can't interfere. You've dealt with enough of his interference lately."
"Okay," I said, in a patronizing tone of voice that communicated evident disbelief.
"I'm serious, Ian. The Communion of Saints includes God's host. Saint Michael was God's instrument for defeating Satan and the other angels who rebelled. This is real. You already know that fallen angels are real. Why struggle with the notion of the angels who are on God's side? You have a guardian angel," she insisted, "ask for his help."
"I can't," I said.
"Why not?"
"I just can't. I've mentally filed it along with stuff that's bad," I explained.
She replied, "Then I'm lending you my angel. I've asked him to hand- deliver this money to you."
The next day, a man was wandering about outside the college residences. He looked lost. Then he walked up to me holding a box. "I don't suppose you're Ian Murphy?" he asked.
"That's me," I said.
"Here," he replied, handing me the package that Sean and Libby had overnighted.
After I signed for the delivery, he started walking away from me.
"Wait!" I stopped him.
"Yes?" he said.
"Who told you who I was?" I questioned.
"Nobody," he said, beginning to look confused.
I asked him, "Then how did you know it was me?"
"I . . . I don't know. Somehow, I knew. I looked at you, and I knew. Come to think of it, there are hundreds of people around here. Wait a minute, I have no clue how this happened!" he exclaimed in bewilderment.
Confounded at the experience, I called Libby. "It was hand- delivered!"
"I know," she said.
"No, I mean miraculously, impossibly HAND-DELIVERED!" I yelled in amazement.
"I know," she repeated. "Welcome to a larger world. Now may I have my angel back, please?"
I thought to myself, "You mean this is real?" Even with that, I couldn't bring myself to talk to anyone from the other side.
---
If you value the news and views Catholic World Report provides, please consider donating to support our efforts. Your contribution will help us continue to make CWR available to all readers worldwide for free, without a subscription. Thank you for your generosity!
Click here for more information on donating to CWR. Click here to sign up for our newsletter.
---