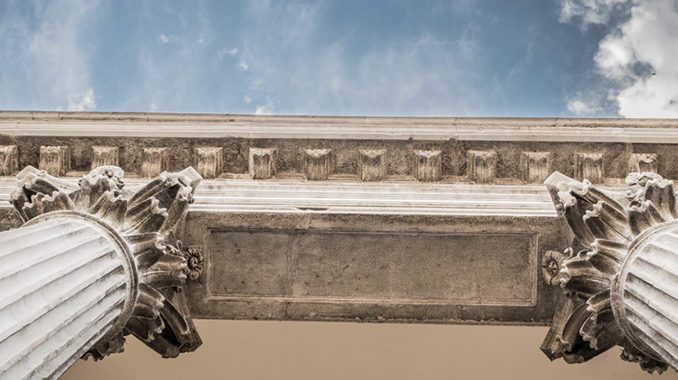 This is the third and last part of my discussion of Thomism and political liberalism. From the first two essays (see here and here) I think that we can conclude that one important thing that separates Thomistic and liberal political theory and makes them rival visions is their understanding of the ultimate purpose of politics. For Thomists, I have argued, politics aims at facilitating a life of divine contemplation whereas, for liberal theorists, it would seem that politics aims at securing the freedom of individual persons to live as they like, so long as they respect the freedom of others to do the same. (I have called this added condition the "freedom of others proviso" or FOP.)
In my last essay I quoted a text from St. Thomas's Summa contra gentiles that supports what I am saying about the Thomistic understanding of politics' purpose. But there are other places where we can find Thomas articulating this understanding of politics. In his commentary on Aristotle's Nicomachean Ethics, for example, Thomas says that "the whole of political life seems to be ordered to contemplative happiness."i Commenting on this text, Josef Pieper says that from it we learn that all our activity, including our political activity, becomes "meaningless" once it becomes an end in itself. "For this means," he adds, "converting what is by nature a servant into a master – with the inevitable result that it no longer serves any useful purpose."ii
What would a life ordered to divine contemplation look like? I have already said something about this in the previous essay. Here I will only repeat that it is nothing exotic and that it is a way of life that faithful Catholics already practice. But how would politics support it? That's what I want to talk about in this last essay.
Rational and social animals
Like Aristotle, Thomas sees human persons as rational animals but he also sees us (again like Aristotle) as social animals:
It must be understood that, because man is by nature a social animal, needing many things to live which he cannot get for himself if alone, he naturally is a part of a group that furnishes him help to live well.iii
Once more I am quoting from Thomas's commentary on Aristotle's Nicomachean Ethics. We rely on others to take care of, or to help us to take care of, our material needs (food, shelter, clothing) and our moral and intellectual growth. We cannot survive and flourish on our own. Although we do become more self-sufficient as adults (but never completely so, not even close), that relative self-sufficiency was developed through interaction with others and begins to decline as we reach the other side of middle age.
What is most important for us is the cultivation of virtue. As I pointed out in my previous column, virtue is necessary for us if we are going to live a contemplative life. Virtue gives us the power to do what we should do toward this end and not be distracted and carried away by everything that shines and attracts us.
The crucial communities for us in our pursuit of virtue are our families, our political communities, and the Church. In his encyclical on Christian education, Divini illius magistri (1929), Pius XI calls these the "three necessary communities" (societates necessariae). Here my focus is on political communities but I am not going to leave behind the family and the Church because, for Thomas, all three need to work together.
Political communities and virtue
What I am calling the "political community" Thomas calls the civitas, which is often translated as "city" or sometimes as "state." Thomas takes the city to be a self-sufficient community of the natural order. Because it is self-sufficient he also calls it a "perfect community" (communitas perfecta) since to be perfect is not to lack anything you need. The city is self-sufficient or perfect in the sense that, in theory, it contains all the resources that people need to survive and flourish.
But it is above all human flourishing, which requires virtue, that is the ultimate purpose of the city. Thomas explains this in his commentary on Aristotle's Politics:
[The city] is first created for the sake of living, that is, for men to be able to find in it what they need to live; but from its existence it comes about that men not only live but that they live well, insofar as by the laws of the city the life of men is ordered to the virtues.iv
Thomas's suggestion that the laws of the political community are meant to help us toward virtue will probably be surprising to many people. He says the same thing in the Summa theologiae:
[I]t is evident that the proper effect of law is to lead its subjects to their proper virtue: and since virtue is that which makes its subject good, it follows that the proper effect of law is to make those to whom it is given, good.v
One reason why Thomas's idea about law and virtue might seem strange to us is simply the influence of liberalism on our thinking about politics. In the first part of this series on Thomism and political liberalism I quoted John Locke, who says that the "end of law" is "to preserve and enlarge freedom." This is not at all the way that Thomas thinks about the matter.
Thomas believes that, first of all, virtue is learned in the family. The political community can and should support this formation in virtue but it cannot replace it. Exactly what laws the political community would frame to promote virtue is, in Thomas's view, mostly a matter of prudence. He thinks that laws should not be too particular because they must be general enough to cover a variety of circumstances, many of which are not foreseeable. They should also correspond to the character of the people whose lives they regulate. He urges, furthermore, that care must be taken to ensure that laws are not too oppressive. Responding in the Summa theologiae to the question about whether laws should prohibit all vice, Thomas says the following:
Human law is made for a multitude of human beings, the majority of whom are not perfect in virtue. Thus, human laws do not forbid all vices, from which the virtuous abstain, but only the worst vices, from which it is possible for the majority to abstain; and mainly those that hurt others and that must be prohibited if human society is to be maintained. Consequently, human law prohibits murder, theft, etc.vi
And to this he adds:
The purpose of human law is to lead men to virtue, not suddenly, but gradually. So, it does not impose upon the imperfect multitude the things that people do who are already virtuous, that is, abstaining from all evil. If it did impose such things, imperfect people, unable to endure these obligations, would erupt into worse evils.vii
So, it should be clear from these passages that when Thomas says that the aim of the laws of the political community is to promote virtue, he is not envisioning an impossible utopia in which everybody is legislated and policed into perfection. He is thinking of a regime where tolerance will (for the sake of virtue!) have a necessary role and where governing institutions will do what they can, in prudence, to help citizens "gradually" (gradatim), as he puts it, toward living a good life. Yes, Thomas does suppose that there could be legitimately harsh penalties for certain offenses against virtue (murder, for example) but, in the first place, that would not make him importantly different from many liberal theorists (Kant and Mill both support capital punishment) and, in the second place, he would see the wisdom in being moderate about having recourse to these means.
Thomas sees more specific direction toward virtue as something that is best handled at lower levels, in families and in friendships, for instance. It would be a very Thomistic view, then, that, when it comes to virtue, the business of a political community's governing institutions is more to help create a "climate" that is conducive to the healthy functioning of the personal relationships where we learn and practice virtue than to give very specific indications about that practice.
Some readers of Thomas might wonder why I have so far said nothing about the "common good" (bonum commune). Doesn't Thomas teach us that the common good is what political communities are ordered to? The term "common good" has different but related senses in Thomas's thought. Thomas understands the virtue and contemplative life that I have been talking about as the common good of the political community. They constitute the good toward which the political community is ordered. So, in fact, I have been talking about the common good all along, just under different names.
Now because, in Thomas's view, it is the task of the governing institutions of political communities (like all their other institutions) to promote the virtues that we need to live lives of divine contemplation, it is evident that, for him, those governing institutions are in that regard necessarily "religious." In calling them "religious" – according to their ideal configuration – I am following Thomas's own usage. Every act by which we subject ourselves to God, says Thomas, "belongs to religion."viii Religion, as Thomas understands it, is a moral virtue that is a part of justice.ix By it we are disposed consistently to render to God what we owe him. And what we owe him, says Thomas, is totum quod sumus, that is, "everything we are."x God is our creator, and without him we would literally be nothing.
Up to this point, everything I that have said in this essay touches entirely on the natural order. It has to do with what we can know by reason – or, we might say, by philosophy – and does not formally require for its confirmation any source of knowledge apart from reason. It would not require knowledge, for example, that would come through faith in a supernatural divine revelation. From a Thomistic perspective, any claim (based on a purported revelation or on some other source) that it is natural for the governing institutions of political communities to be religiously neutral or atheistic, would contradict the teaching of reason.xi This doesn't mean that it could not be morally permissible in many or most cases, for prudential reasons (although not for reasons of principle), for those institutions to be in some respect religiously neutral, but it does mean that it would always be morally wrong for them to be atheistic since that would entail the positive promotion of vice.
Political communities and Christianity
Thomas believes that Christianity is the true religion and that its provenance is supernatural. He takes it to agree with philosophy in holding that divine contemplation is our ultimate end. And he sees the divine contemplation practiced by Christians in this life – which is an elevated version of its natural counterpart – as a beginning of the beatific vision, which we can only fully enjoy after death. But the beatific vision is also a goal beyond our natural powers, so getting there requires virtues beyond the natural ones. It requires the "theological virtues" of faith, hope, and charity along with the sacraments administered by the Church that infuse these virtues in us and keep them alive.
For Thomas, the role of the political community and its governing institutions doesn't change significantly when it is considered from a Christian perspective. Political communities are still concerned with the promotion of virtue. But now virtue is seen as serving the Christian way of life, which includes and elevates the natural form of human flourishing and treats the present life as a pilgrimage toward supernatural bliss. In this new economy, then, the native purpose of political communities is likewise elevated. Thomas puts it succinctly in explaining the duties of a king in the De regno:
Since the beatitude of heaven is the end of living well in the present, it belongs to the office of the king to promote the good life of the multitude in such a way as to make it suitable for the attainment of heavenly beatitude. In other words, he should command those things which lead to heavenly beatitude and, as far as possible, forbid the contrary.xii
Much (if not all) of what will be commanded or forbidden will be, as we saw earlier, a matter of prudence and cannot be appropriately determined outside of specific contexts. But one thing that we do know for certain is that, with respect to the Christian faith, which would be one of "those things that lead to heavenly beatitude," Thomas would never condone forcing non-Christians to "convert." "Believing," he insists, "cannot be coerced because it is a voluntary act."xiii
The role of political communities in supporting Christianity is, of course, subordinate to the role of the Church. "Because man does not reach his end by human power," says Thomas, "leading him to this end is not a matter for human but divine government."xiv This divine government, he continues, is exercised by "our Lord Jesus Christ," who appoints as his representatives "not earthly kings but priests" and especially "the high priest, the successor of Peter, his vicar, the Roman pontiff."xv As horrible and frightening as this may sound to liberals and other moderns, Thomas teaches that the governing institutions of political communities should, therefore, take their direction in regard to the promotion of virtue from the Church! "In the law of Christ," he declares, "kings must be subject to priests."xvi
However, it needs to be stressed that, as Leonard Boyle notes, with such remarks Thomas is not suggesting that the Church, the potestas spiritualis or "spiritual power," take over the job of the potestas saecularis or "worldly power."xvii Later in the De regno (which is where the above remark comes from) Thomas makes it clear that the Church and the leaders of political communities have distinct spheres of competence. The direction given by the Church is very general and only pertains to what is essential to the Christian way of life.xviii
"It is not possible to describe Thomas Aquinas as a liberal"
I quoted these words of Pierre Manent in my first essay and they may now seem like a gross understatement. If you have made your way through all three of these essays on Thomism and political liberalism and now believe that there are some pretty stark and irreconcilable differences between Thomas's political theory and liberal political theory, I will have counted my efforts a success. I don't wish to claim that there is no common ground between Thomism and political liberalism or that Thomists cannot appreciate some aspects of political liberalism. But I do hope that I have helped you to see just how great the divide is between the two.
I do not expect to have won any liberal theorists over to Thomism. My guess is that, if anything, I have only convinced them (if they needed convincing), that not only will they find little of value in Thomas's political theory, it is positively dangerous. My purpose here, anyway, was not apologetic. It was merely expository.
But what should Catholics think of Thomas's political theory? This may be the more interesting question. I am not going to answer it for you. I invite you to think about it and answer it for yourself.
Endnotes: