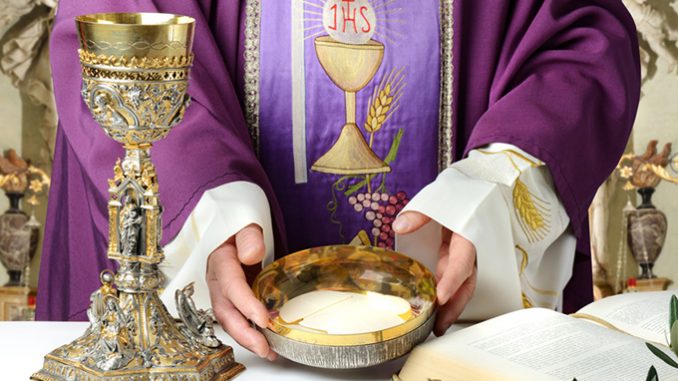 "Each time the Mass is offered, the fruits of our Redemption are poured anew upon our souls. By uniting ourselves with the sacred rite of the Mass, and above all by receiving Holy Communion, we enter into the sacrifice of Christ. We mystically die with the divine Victim and rise again with Him to new life in God. We are freed from our sins, we are once again pleasing to God, and we receive grace to follow Him more generously in the life of charity and fraternal union which is the life of His Mystical Body." — Thomas Merton, The Living Bread (1956)
Wow, even Thomas Merton believed the stuff, eh?
There has been conversation here and there this week about a recent Pew Research survey suggesting that barely a quarter of Catholics believe in the Real Presence of the Eucharist.  Here's a summary from the Pew site:
In addition to asking Catholics what they believe about the Eucharist, the new survey also included a question that tested whether Catholics know what the church teaches on the subject. Most Catholics who believe that the bread and wine are symbolic do not know that the church holds that transubstantiation occurs. Overall, 43% of Catholics believe that the bread and wine are symbolic and also that this reflects the position of the church. Still, one-in-five Catholics (22%) reject the idea of transubstantiation, even though they know about the church's teaching.

The vast majority of those who believe that the bread and wine actually become the body and blood of Christ – 28% of all Catholics – do know that this is what the church teaches. A small share of Catholics (3%) profess to believe in the real presence of Christ in the Eucharist despite not knowing the church's teaching on transubstantiation.

About six-in-ten (63%) of the most observant Catholics — those who attend Mass at least once a week — accept the church's teaching about transubstantiation. Still, even among this most observant group of Catholics, roughly one-third (37%) don't believe that the Communion bread and wine actually become the body and blood of Christ (including 23% who don't know the church's teaching and 14% who know the church's teaching but don't believe it). And among Catholics who do not attend Mass weekly, large majorities say they believe the bread and wine are symbolic and do not actually become the body and blood of Jesus.
I want to try to unpack this. And not be too wordy about it.
To talk about what Catholics believe about the Church's teaching on anything requires us to look honestly, at how many Catholics are taught, in any formal sense. I am not going to run and do research on this but we all know that most baptized Catholics receive no formal religious instruction. Period. Those that have received formal religious instruction probably had a couple of dozen parish religious ed classes a year up until First Communion or Confirmation.
Most Catholic adults don't study faith. A tiny, tiny number of people who attend Mass every week participate in formal religious education, and Catholicism just does not have the culture of laity-taking-responsibility-for-their-spiritual-formation that evangelical and historical mainline Protestantism has.
Secondly, of course, there are many ways of teaching and communicating the faith. When it comes to the Eucharist, one of the most important is through the shape and experience of the act itself. So yes, as many are saying, informality in worship teaches something.
So: Most Catholics don't go to Mass, most Catholics have received maybe a few dozen sessions of religious education in their life and most of the liturgies that Catholics do attend de-emphasize, via ritual and underlying assumptions, the unique presence of Christ in the Eucharist.
And we're surprised that most Catholics don't believe in transubstantiation?
Really?
As a side note: one of the ironic aspects of this discussion is – as people who have been paying attention to theological discussions of the past decades, both academic and as they've filtered down to popular catechetical trends, have noted – is that for a very long time "transubstantiation" has been critiqued as an inadequate and outdated way of describing the Eucharist, anyway. It's reflective of a specific moment in time, a specific philosophical worldview, it's a medieval innovation, it's not the way the Fathers thought about it, and so on. This was very much a part of how Church leaders and teachers were taught from the 1960s on through probably the early 1990s – and may be still, for all I know. What I do know is that "transubstantiation is a limiting and unnecessary concept for speaking of Eucharist" was assumed  by those in Catholic formation for decades. And, as I said, may still be. I'm not in that world much these days.
So, yeah. Add that reason to my side-eye at people being shocked at these survey results.
But I want to get beyond that and approach the matter from a slightly different angle. Perhaps in reading this, some of you will detect my usual hobbyhorses. Well, that's the way it goes. Most people have one message they're trying to get out there to the world, and that's it.
On hearing it, many of his disciples said, "This is a hard teaching. Who can accept it?"
It's right there. This is a hard teaching.
In his video response to the survey, Bishop Robert Barron looks at one issue: the post-Vatican II de-emphasis on "teaching," period – the wedge, as he describes it, that is driven between doctrine and pastoral practice: the notion that when it comes to Catholic identity, what matters most is outreach to those in need, not the content of belief.
As he points out, when you look at the actual history of the Church, what you see is no wedge at all: those who are most passionate about serving the needs of others are those who draw the strength to do that from Jesus in the Eucharist.
This is correct. As are many of the observations at Rod Dreher's site.
But I think there are deeper problems and other ways to look at all of this, ways that explore what is actually taught and communicated in both whatever content ordinary Catholics do encounter in their (minimal) catechesis and in the whole weight of American Catholic life
The general shape of what most Catholics "hear" and witness is as follows:
God made you and loves you.
God is with you all the time, loving you as you are.
God is present with you all the time.
You can pray any time, all the time, for God is always there, and he will help you be the person he created you to be.
The most important element a healthy spiritual life is accepting yourself.
The Scriptures tell us a little bit about God, but more about the people and cultures who produced them, and what they thought about God.
The Gospels tell us a little bit about Jesus, but mostly tell us about the early Christian's experiences and perspectives.
Jesus is present in his Church, the Body of Christ.
He's present in that Body in many ways:  in its service, its gathering, its prayer.
During the Mass, Jesus is present in different ways: in the gathered community, in the Word of God, and in the Eucharist.
Now, all of the above is true, but of course there are other ways to experience God, as well. As many paths as there are human beings on the earth.
All (most) of those are not untrue statements. But when it comes to faith, there is, of course, much more to consider. My point is not to get lost in that particular forest.
Catholics barely participate in the life of the Church, period. When they do experience it through catechesis and worship, they have been taught for the past few decades that there is no need for a unique, particular Presence: God is always with you anyway. You can pray all the time anywhere, anyway. The official Church's account of the divine is no more authoritative or revelatory than your own experience, anyway. And everyone is going to heaven, anyway.
I've long been entertained by self-proclaimed progressive Catholics critiquing movements that seek stronger Catholic identity as being all about "cultural" Catholicism.
Doesn't it seem, at this point, that the fruit of the past decades has been nothing but real "cultural Catholicism" – but, ironically, without much culture? Being Catholic is not at all about believing anything. It's about being a part of a particular group via a ritual or two. The ironic victory of cultural Catholicism, enabled by those who've spent their lives and careers sneering at the same. Thanks.
This is, it seems to me, about so much more than getting a better program going. It always is, isn't it?
It's about facing so much, and doing so honestly and without rancor or feeling threatened.
And perhaps it begins by simply returning to the beginning of this post and read the words from Thomas Merton, who welcomed the "spirit" of the Second Vatican Council (if not all of its particulars in terms of liturgy – he was conflicted), but who wrote this on the cusp of the Council, in the mid-1950s.
Would any of what he wrote make sense to many people sitting in the pews today?
No, it wouldn't. In our flattened, de-sacralized, human-centered, discursive, present-oriented landscape, characterized by many, many words and simplistic transactional exchanges aimed at assuring us that we are fine – Merton's words are like a foreign language, aren't they?
Obviously, this is a topic that has many aspects. But there is one more essential point that is very, very important.
Let's add to the weakness in catechesis, the complications of what reality means in the secular age and the flatness of our symbolic life – the failures and sins of those who confect the Eucharist, are in closest proximity to Christ in the Eucharist, and have responsibility for bringing that Real Presence to us.
Basically: does the behavior of Catholic clergy, in general over the past decades, indicate that they actually believe it's Jesus they're holding in their hands and sharing with us? Beyond how worship is conducted – when you consider the weight of scandal and – more importantly, really, for this discussion, the excuses made for it all –  the person in the pew can't be blamed for concluding that since so many clerics don't seem to believe that this is the One, Really Present with them right now, to whom they are answerable for eternity – shrug. 
This attitude on the part of those in the hierarchy is really just an expression of the weak catechetical stance I outlined above, though – isn't it? Basically – God's everywhere, but nothing really matters except my own sense of myself and he'll forgive me anyway at the end.
(This essay originally appeared on the "Charlotte was Both" blog in a slightly different form.)
---
If you value the news and views Catholic World Report provides, please consider donating to support our efforts. Your contribution will help us continue to make CWR available to all readers worldwide for free, without a subscription. Thank you for your generosity!
Click here for more information on donating to CWR. Click here to sign up for our newsletter.
---