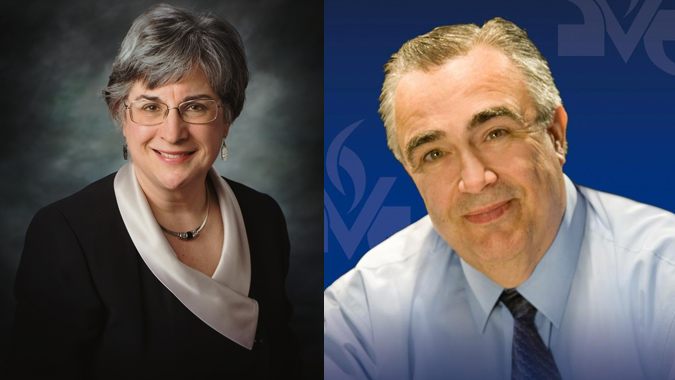 "Phoenix from the Ashes: The Sex Abuse Crisis and the Future of the Catholic Church", a conference hosted by Father Gabriel Richard High School (FGRHS), was held on Saturday, March 4th, in Ann Arbor, Michigan. The second conference in the school's Familiaris Consortio lecture series, it was co-sponsored by Ave Maria Radio and moderated by Ave Maria Radio president and talk show host Al Kresta.
The keynote address, titled "The Sex Abuse Crisis as an Opportunity for Evangelization", was delivered by Dr. Janet Smith, the Father Michael J. McGivney chair of life ethics at Sacred Heart Major Seminary. Smith first became well-known in Catholic circles thirty years ago after her "Contraception: Why Not?" speech went "viral". With the same wry, incisive insight, Dr. Smith gave a sober and realistic description of the sex abuse crisis in the Church, while also exploring what good could be "hiding behind this tragedy."
Recalling the days, seventeen centuries ago, when a majority of bishops, perhaps up to 80% of them, caved in to Arianism while the laity held fast to the faith, she called on lay Catholics to to step up and act on the co-responsibility they have for the Church, as well as to become better evangelizers. Similar to then-Father Joseph Ratzinger's prediction of several decades ago that the Church will become smaller but purer, Smith also noted that this crisis will purify the Church and reveal who the orthodox Catholics are. Foreseeing religious persecution looming in our culture "like we haven't seen in centuries," she reasoned that "the Holy Spirit is teaching us how to be Church…. In a time of persecution, you have to know whom you can trust." She believes the Holy Spirit is preparing us to be an underground Church.
Next came a video of student interviews, in which about a dozen FGRHS students shared their perspectives on the sex abuse crisis and the Church. Most displayed a remarkable understanding of the distinction between the clergy and hierarchy as flawed representatives and the leaders of the Church and the Church's mystical reality as the ever-holy Bride of Christ.
A panel of experts, comprised of Sr. Elizabeth Ann O'Reilly, OP, chair of the FGRHS theology department; Fr. Chas Canoy, pastor at St. John the Evangelist Church in Jackson, Michigan; Dr. Smith; and moderator Al Kresta, then handled a challenging Q&A session. Over 50 questions poured in, but time allowed only a handful to be addressed. (Ave Maria Radio has added a Join the Conversation page to its website, on which Kresta will be responding to the unanswered questions.)
This was followed by three shorter talks.
Sr. Elizabeth Ann discussed "What Is the Proper Response to the Abuse Crisis?" Her three-part answer was to (1) to share in the outrage/anger; (2) remember why we're Catholic; and (3) describe the Church's response. She also reminded her listeners, "Our faith is in Jesus, not in His followers."
FGRHS president John DeJak's talk was entitled "The Hidden Place Where Angels Weep." Stating that "the crisis is primarily spiritual," he spoke about the spiritual that dimension of the problem and that the most effective response must in turn also be spiritual.
In his talk, "Reclamation!" Dr. Rusty Chavey, president and founder of Emmaus Health, pointed out that the lay faithful are powerful together, equipped to make a difference, and have a role in raising the Church from the ashes. He challenged the audience, "Who among you is prepared to be a pivotal player? Who among you is prepared to face the results if you don't?
Responses focus on hope, faithfulness
After the conference, several participants shared their thoughts with Catholic World Report.
Antonette, a teacher at FGRHS, expressed on the one hand frustration with the hierarchy's response thus far: "We want to know. We're grown-ups, … and we can handle it: give us the good, the bad, and the ugly, so that we can move forward." On the other hand, she also showed the Christian virtues of forgiveness and hope. "We're not giving up on you [clergy and religious]…. Let us know what we need to know, and we can rebuild. It's not going to be easy. And it's not going to be easy to let the resentment go. But we've gotten through this for centuries, and I guess it's time to do it again…. We can be discouraged, but we just can't lose hope."
Parent of a FGRHS student, Jim said he came to the conference because he "I care[s] deeply about the crisis and everything that's going on." Calling the conference "excellent," he was particularly struck by DeJak's talk: "the spiritual part … that's where it all needs to come back to." He intends to pray more and to examine how else he could "work with the spiritual end of it more."
For Vince, a member of the local Catholic community, what resonated most was Chavy's talk. "The main thing we can do is to stay true to our faith. [No matter] what certain priests or the hierarchy did … there's nothing stopping us from being faithful."
Carolyn, whose daughter appeared in the student video, remarked, "We all have our own little spaces … where we work and where we send our kids, and we all have our own way of contributing to make this better."
Kresta and Smith emphasize accountability, urgency
After the conference, Al Kresta met with CWR. He expressed the conviction that "the laity must insist upon transparency and accountability." In looking at the many terrible things that have happened—not just sexual abuse, but also sexual misconduct, doctrinal dissent, and seminaries rife with active homosexuality—he said that we must ask, Who's responsible for this?
And we need to be specific about it. "We can't just think of it in kind of a global way," he stated. "We've got to ask, 'Who was the rector here? What decisions were made? What faculty were hired? Were the police ever called?' That has to be done.… The one thing I'm convinced of [is that] the bishops must take the engaged laity more seriously and begin to communicate these things."
Kresta went on to explain why this is so critical. "If we don't do that, I don't know how long it will take for Catholic priests to come out from under the cloud of suspicion or Catholic bishops to once again regain their moral authority. Their moral authority right now is on a par with Bill Cosby, for heaven's sake. Rogue father figures—that's what they look like."
Nevertheless, he hangs on to hope in what God can do. "It was only 20 years ago that the public face of Catholicism was John Paul II and Mother Teresa. The public face of Catholicism right now is a dirty old man with a Roman collar or a miter. If the devil can do that in 20 years, to destroy our plausibility and our public image, imagine what the Holy Spirit can do. So, I wouldn't say I'm optimistic, but I am hopeful. I do believe that God raises the dead."
In an e-mail interview with CWR, Smith said her hope for the conference was that
we could have a sober, non-alarmist discussion about the very alarming reality of extended sexual misconduct among the clergy, both with minors and adults, and the failure of the episcopacy to address it in any effect way.  We can't turn a blind eye to the horrific situation our Church is in, but at the same time we need to be confident that the Catholic Church is the one, true Church established by Jesus.  The film done featuring students at FGRHS showed how well they were instructed that the Church is not the hierarchy—it is the body of Christ and we are part of it.
She also said initiatives such as this conference are important at this time "because in the past when there were revelations about clergy sexual abuse, laity believed the episcopacy to be as disturbed as we are. We now see that they are not, and we need to do what we can to bring the darkness to light and hope that it can no longer thrive. We will not rest until predator priests living double lives leave the priesthood and that such men will never again feel comfortable in the priesthood."
To that end, Smith and Kresta are both involved in the Daniel Coalition (formerly called "No More Victims"), an effort to help victims of clergy sexual abuse in the Lansing diocese. "We are trying to help the Church change the culture that has led to responses to abuse that are driving Catholics out of the Church," Smith explained. Kresta described its main goal to be accompanying victims—not only metaphorically and spiritually, but also literally. They go with victims to speak to the bishop. They've done this twice already, and in both cases, the priests' faculties were removed. Kresta expressed disappointment, however, that there was no transparency about why.
Further information
While the "Phoenix from the Ashes" Conference had mostly a local audience, it was the sort of event that is needed throughout the United States. Ave Maria Radio has taken steps to help the nation's Catholics become better informed on these topics, with many articles and resources on its Abuse Crisis and Church Sexual Misconduct Resource Page. And in addition to the Join the Conversation page, Ave Maria Radio has posted the talks from the "Phoenix from the Ashes" conference.
---
If you value the news and views Catholic World Report provides, please consider donating to support our efforts. Your contribution will help us continue to make CWR available to all readers worldwide for free, without a subscription. Thank you for your generosity!
Click here for more information on donating to CWR. Click here to sign up for our newsletter.
---