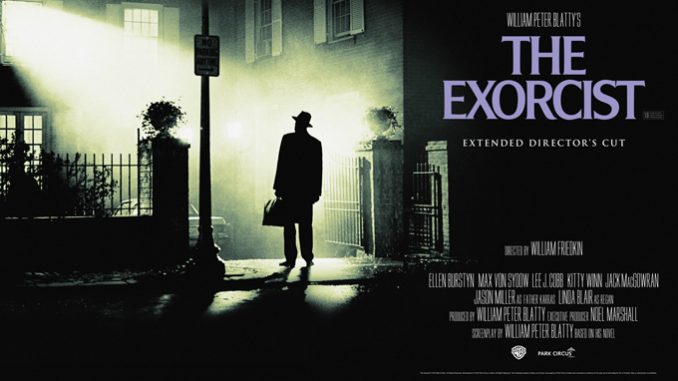 William Friedkin's The Exorcist is the most famous horror movie that is also explicitly Catholic. The film, which turned 45 this year, was written by William Peter Blatty from his own novel—he won the Oscar for the screenplay. The Exorcist offers a confrontation between modern people—some faithful, others not—and evil. It looks at possession and exorcism directly, in order to highlight the difficulties and contradictions in our understanding of religion and science, of morality and psychiatry. It underscores our all-too-human frailty and vulnerability. It asks us to think about how we protect the innocence of children.
The story is simple, and it gets to the horror of facing up to evil in an unflinching way. A girl, Regan (played by a fearfully young Linda Blair) is possessed by a demon; her mother (played by Ellen Burstyn) becomes aware of this gradually and we, the audience, descend deeper into fear along with her. The decision to have a mother—the absence of a father is the first of many notes of social decay in this story—in the position of audience-substitute is a canny one, and to forces us to think about the relationship between life, love, and vulnerability.
The mother tries all the doctors she can, and in despair—though she has no faith herself—she turns to a priest, Father Karras (played by Jason Miller). The powers of medicine to protect the human body from mortality and evil are limited and that limitation can cause a crisis of faith—or open the path to faith.
The priest himself is educated scientifically and his faith wavers at the best of times. He is oppressed by his powerlessness. His dedication to the Church has made him a bad son, abandoning his mother to a lonely death in poverty that makes him feel guilty. He loathes himself and wonders if he's unworthy of his vocation, and this opens him up to temptation.
The spiritual crisis of evil is about God and the devil in a spiritual war for our souls. But there is a worldly dimension to this crisis. We see Regan's mother and her friends—successful, upper-class people with social and artistic pretensions, who nonetheless have something wrong with them that goes beyond sins and crimes we have learned to tolerate. They are respectable, but irresponsible. A socialite party, with its levity, is interrupted by a girl who is possessed, but no one can cares to notice; it is a rebuke of the preference for respectability over a moral effort to protect the innocent.
The exorcist of the title, Father Merrin (played wonderfully by Max von Sydow), only comes to the possessed girl in the third act. Exorcism is not our first idea—it is, in fact, our last resort. This is not merely a description of our liberal, secular society, but also of Church practice, which requires adequate scientific investigation before addressing the issue of possession. At the same time, the story uses this to dramatize how incredible evil is in the literal sense—we cannot believe what we are seeing, we do not know how to deal with it.
The story establishes two further points related to this problem. First, the beginning of the movie, which would seem to have nothing to do with the story of modern America, deals with the ancient past—the archaeological digging up of an ancient idol in the Middle East. We take a scientific attitude to old ideas about evil, thinking they cannot have any power now. We take a progressive view of power: we moderns have far more power now than has ever existed before, so what is there to fear? As a society, we have achieved unimagined powers; but individually, each one of us remains mortal and vulnerable and limited.
Second, Father Merrin himself has little doubt about the true character of the problem he is facing. He is able to explain to Father Karras that the experience of evil befalling a child, perhaps our greatest fear, is about desperation, which would make us "see ourselves as ugly and animal; to make us reject the possibility that God could love us." Redemption would seem impossible if we gave in to that desperation.
If we instead want to face up to evil, we cannot shy away from gory or disgusting sights. The film is remains hard to watch, however ugly our entertainments have become since, and it stands as a warning to those who would prefer to look away from things. The audience of the movie is forced to undergo horror in order to clarify the issue of good and evil in our fallen world—it asks that we experience some of the horror of evil, because this cannot be treated merely as an abstract matter. It asks that we admit, through our fears, that we ourselves could experience evil in a way that would shake our very being. There is thus moral seriousness in what might seem like a mere entertainment trying to get money out of shocking people.
I invite readers interested in this movie and the ideas it dramatizes to listen to my conversation with Scott Beauchamp about it in our podcast.
---
If you value the news and views Catholic World Report provides, please consider donating to support our efforts. Your contribution will help us continue to make CWR available to all readers worldwide for free, without a subscription. Thank you for your generosity!
Click here for more information on donating to CWR. Click here to sign up for our newsletter.
---