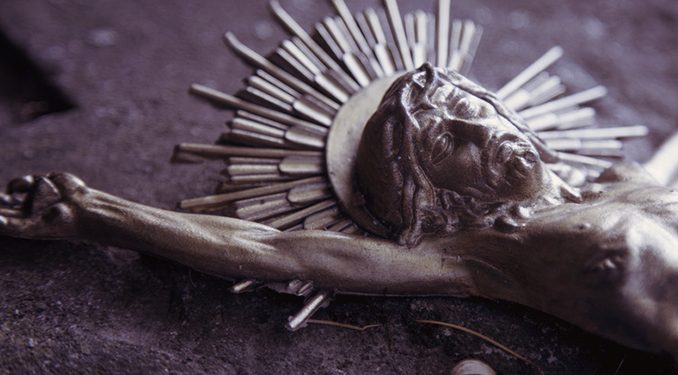 The sleaziest of screen writers could hardly outdo the plot of Catholic news coverage this summer. Motivated in part by curiosity—the headlines were incredible!—in part by responsible social interest (I'm a theologian, after all), and in part by an honest need to clear room in my email accounts bulging with links to these stories, I was trapped: caught in a whirlwind, like one whose beach retreat was hit by a hurricane. Story after story read like a trashy novel, except that the distraction could not be left in a beach bag, nor tossed in a garbage can. They couldn't be "shut" off at night, but continued to haunt me, awaking memories of similar accounts of abuse suffered by friends and relatives. Truly no amount of sand could bury my head.
As for my soul, it became easy prey to the Enemy.
To be sure, I don't often resort to the excuse, "the devil made me do it." I know that sin finds its root "in the heart of man, in his free will," as the Catechism teaches (par 1853). Still, in reading a recent opinion piece in the New York Times by Matthew Schmitz, a senior editor of First Things, suggesting that the Catholic Church "has been plunged into all-out civil war", I understood that we are indeed at war. Not, at the heart of things, however—as the author suggests—a war between two camps within the Church, "liberals" against "conservatives," nor partisans of Pope Francis against those of Bishop Viganó. St. Paul dismissed those kinds of factions early in the Church's history. "Is Christ divided?" he objects. "Was Paul crucified for you? Or were you baptized in the name of Paul?" (1 Cor 1:13). No, the real and deepest threat of ecclesial war is not among camps, for our enemies are not of "flesh and blood." Instead, as Paul puts it, we are contending against "the spiritual hosts of wickedness in the heavenly places", whence the call to put on the "whole armor of God" (Eph 6: 12,11).
If not the mark of hosts of "spiritual wickedness", this divisiveness serves as evidence—ironically enough—of what Pope John Paul II addressed in his 1984 apostolic exhortation on Penance and Reconciliation as the social dimension of sin. "By virtue of human solidarity which is as mysterious and intangible as it is real and concrete, each individual's sin in some way affects others." In other words, John Paul II continues,
there is no sin, not even the most intimate and secret one, the most strictly individual one, that exclusively concerns the person committing it. With greater or lesser violence, with greater or lesser harm, every sin has repercussions on the entire ecclesial body and the whole human family. (no. 16).
One needn't have a double major in theology and sociology to understand the implications that this teaching has in the case at hand. Consider, for example, the consequences for the entire Church when those in priestly formation, instead of being instructed into the spousal nature of Christ's chaste and sacrificial love for the Church, are sexually abused by their superiors. Beyond their personal suffering, imagine how their future ministry is jeopardized. Without, furthermore, downplaying the personal responsibility of our bishops, cardinals, priests, and even the pope himself, we might ask whether the abusers were not themselves abused in one way or another. Are not those who suffer violence at a higher risk of falling into sin themselves as a means of responding to their own suffering?
At any rate, in the turning of the shepherd against his own sheep, we recognize how truly sinister and wide ranging are sin's ramifications, how corrupted and corrupting its power. Finally, in the sin of omission, which shows its ugly head in the complicity of those who looked the other way, who more actively covered-up, or who simply refused to investigate claims, we recognize that no one sins alone. It only takes one person to start a fire burning. It takes many to put it out once the flames have risen.
That is where the rest of us come in: those of us who are getting most or all of this news secondhand, in journals and on blogs. As members of the one Body of Christ, we too are caught up in a real way into the spiral of sin and the magnitude of the crime. How does one not fall into disillusionment—make that discouragement—at the discovery of such cowardice and darkness, such disparity between what has been taught and what some of our shepherds have embraced? Before the gravity of these accusations (I could hardly name them all and rest within my word count) how can we not be like children who, learning of the marital infidelity of their parents, refuse to believe and then seek to disown them? How does one not turn to sarcasm, irony and cynicism, when the gory details are made public? How does one calm one's anger when those who have been charged with the keys to the kingdom have, by their own wickedness, chased away the little ones entrusted to their care? "It would be better for them to be thrown into the sea with a millstone tied around their neck," says the Lord, "than to cause one of these little ones to stumble" (Lk 17:2). What, indeed, might save us from despair when Mother Church shows herself infested with sin and flirting with darkness?
Hold your seats. It gets worse. These dark hours have reminded me of the most disconcerting lesson of my many years of theological education: "When you recognize the incarnation of evil," the distinguished biblical scholar Dominique Barthélemy told our class at the University of Fribourg more than thirty years ago, "it has effectively been incarnated within your own soul." It took me a long time to come to terms with that teaching, and I cannot say that I have entirely assimilated the profundity of its message. In my confrontation with the present ecclesial crisis, however, something registered in my mind and heart that had not done so previously. I realized that when suffering and pain lead to bitterness and cynicism, when indignation invites self-righteousness, when anger turns to hatred, or when sadness leads to despair, then sin is winning us over. We have fallen into the Enemy's trap: that of "return[ing] evil for evil or reviling for reviling" (1 Pt 3:9; RSV), that of lending one's tongue to "evil" by "speaking guile", or that of otherwise refusing to "seek peace and pursue it" (vv. 10-11) as "ambassadors of Christ" (cf. 2 Cor 5: 20).
I plead that my readers not misunderstand me. Righteous anger is not only appropriate in the present situation, it is also necessary. We have reason to expect an upright conduct of our pastors: that they not only lead their flock to the source of living water, but also model their behavior in accord with the faith and doctrine they have been charged to preach, foster and preserve, even at the cost of their own lives. When they fail in their holy mission, we must speak out, insist upon change, and continue our fight for justice and truth. We do well to demand transparency and likewise to pray and fast in an effort to drive evil out of the Church (cf. Mt 9:29). We are furthermore obliged to protect the innocent—especially children—and even the Church herself; and as her daughters and sons by baptism, we cannot help but defend her holy teaching. In all of these ways, we imitate the example of our Lord Jesus Christ.
There is, however, still another, even more important mark of discipleship that is of utmost necessity in this holy warfare: our obedience to the Lord's Spirit and thus also to his command that we love our enemies, that we pray for those who persecute us (cf. Mt 5:43-45), that we bless and not curse them (cf. 1Pt 3:9), and that we be earnest when we pray that God forgive us our sins "as we forgive everyone who is indebted to us" (Lk 11: 4; Mt 6: 12). In this way, we—like the first Christian martyr (cf. Acts 7:60)—echo the prayer of Christ himself in his hour of torture: "Father forgive them" (Lk 23:34). Such, the Lord himself teaches, is the mark of Christian discipleship and the most powerful weapon of all in this holy war: that we love one another as he has loved us (cf. Jn 15:12), that it to say, that we be willing to laying down our lives for sinners (cf. Rom 5:5), even the really bad ones.
Again, this does not mean that we forego the call to justice, nor that we neglect the punishment of the wicked! It does not mean that we become complaisant with evil conduct and certainly not that we encourage still more coverups! On the contrary, it means that we dare to look at sin for what it is—a terrible disregard for God's holy will—and that we make authentic reparation: not by beating our breasts, not by offering sacrifices in the Old Testament style—those that require something less than the gift of our very selves—and certainly not by encouraging a civil war within the Church. Authentic reparation for sin means, rather, that we work for the restoration of justice, precisely by partaking of Christ's redemptive mission. In this way, we help to break the cycle of sin and violence, not only by refusing to return violence for violence, but still more positively by forgiving our debtors in the grace of Him who alone can forgive sins (cf. Mk 2:7) and that we make war on all within our own spirits that is not yet surrendered to the Holy Spirit. In this way we contribute to what John Paul II calls, in the aforementioned letter, "the law of ascent," characterizing the communion of saints whereby "every soul that rises above itself, raises up the world."
Yes, this is a superhuman act, and that is why it so clearly bears the mark of Christ, who "show[ed] his love for us" by this: that he laid down his life for us "while we were still sinners" (Rom 5:8; cf. Jn 10: 11, 15). In fact, precisely because forgiveness is so divine, we are incited by St. Paul to prepare for this holy warfare by—it bears repeating—putting on "the whole armor of God" so as to "stand against the wiles of the devil" in serve of the "gospel of peace" (Eph 6: 11, 15). Indeed, it is nothing less than peace that is at risk: "not as the world gives" (Jn 14:27) it, of course, and certainly not as might be obtained in an ecclesial war!
What is at stake in the final analysis is nothing less than this: that the cross of Christ not "be emptied of its power. For the word of the cross is folly to those who are perishing but to us who are being saved it is the power of God. For it is written, 'I will destroy the wisdom of the wise, and the cleverness of the clever I will thwart'" (1 Cor 1: 18). May the holy Cross of Jesus, and of all who have in their innocent suffering shared therein, be the salvation of the Church and of each one of us in this hour of darkness. And may the resurrection of Christ shine its light of hope upon us all.
---
If you value the news and views Catholic World Report provides, please consider donating to support our efforts. Your contribution will help us continue to make CWR available to all readers worldwide for free, without a subscription. Thank you for your generosity!
Click here for more information on donating to CWR. Click here to sign up for our newsletter.
---