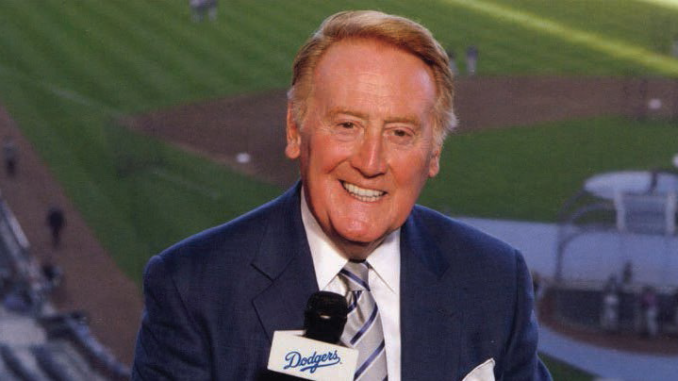 The Orange Catholic Foundation, which raises funds for Catholic schools in the Diocese of Orange, California, held its 15th annual Conference on Business & Ethics in May at the Anaheim Hilton, a hotel across the street from Disneyland.  The duo keynote speakers for the morning were two Catholic celebrities, retired Los Angeles Dodgers baseball sportscaster Vin Scully and actress Patricia Heaton.
Anyone who has watched Dodgers baseball is familiar with 89-year-old Scully, who served as sportscaster for the team for 67 years, until his retirement last season.  He received a Lifetime Achievement Award from the diocese, and shared anecdotes about his Catholic upbringing and time with the Dodgers.  He assured the crowd, "I didn't accomplish anything; the Lord put me there."  Rather than receiving a "Lifetime Achievement Award," he continued, "a Fortunate Observer Award would be more appropriate."
Scully is originally from New York City, where he attended a Catholic grammar school ran by the Sisters of Charity.  He later moved on to Jesuit-run Fordham University.
Among his special memories, he said, was being part of an audience with Pope Pius XII in 1956.  The normally golden-tongued Scully was so nervous his knees wobbled and he was speechless, he said.  The pontiff greeted Scully's friends who stood alongside him, and then moved on to Scully.  He asked the sportscaster, "Are you with them?", referring to his friends.  All the tongue-tied Scully could manage was a nod, and the pope moved on.
Conference participants were given a CD featuring Scully narrating the rosary, produced by Immaculate Heart Radio.  At the end of the conference, Scully joined with the 1,100 attendees in reciting a decade of the rosary in honor of the 100th anniversary of the Marian apparitions at Fatima.
Patricia Heaton's credits include Everybody Loves Raymond and The Middle.  She was "steeped" in Catholicism growing up in Cleveland, she related, including daily Mass for her mom.  Her oldest sister, in fact, went from being a college campus radical to traditional nun with the Dominican Sisters in Nashville, Heaton said.
An aortic aneurysm took Heaton's mother when Heaton was age 12, leaving her struggling with depression.  Later, as a struggling actress in New York City, her Catholic faith combined with counseling kept her from suicide.  She said, "I'd sit in my apartment on the Upper West Side and call on the saints, including Patrick and Joseph, for help, and then I'd go see my therapist."
She married and divorced, and thought it barred her from going to Mass.  So, she went into a "Protestant wilderness" for many years, she related, and today maintains friendships with many of the Evangelicals she once worshipped alongside.  While living in Los Angeles she was introduced to "Fr. Paul," an Opus Dei priest, who took her through the annulment process and received her back into the Catholic Church.  She related, "It was a great joy … a beautiful thing."
It was during her time as a Protestant and a struggling actress she realized that acting, not Christ, was the center of her life, and found a "profound peace" after she told the Lord, "I will do whatever you want."  It was after this experience that she began achieving success as an actress.  She reflected, "He is the one making things happen."
Being a Christian in Hollywood is a challenge, however.  Just as the recovering alcoholic has to re-commitment himself daily to sobriety, she said, so must the Christian in Hollywood daily recommit himself to his faith.  She said, "Once I realized that God is in control and calling the shots, it enabled me to relax."
She's a rare pro-life voice in Hollywood, she noted, although she's "stepped back from politics" of late because of the vitriol prevalent in the public square.  Instead, she said, "I pray to the Holy Spirit, 'Help me to love.'  It's important in this time."
Listen to both talks on the Orange Catholic Foundation website.
---
If you value the news and views Catholic World Report provides, please consider donating to support our efforts. Your contribution will help us continue to make CWR available to all readers worldwide for free, without a subscription. Thank you for your generosity!
Click here for more information on donating to CWR. Click here to sign up for our newsletter.
---