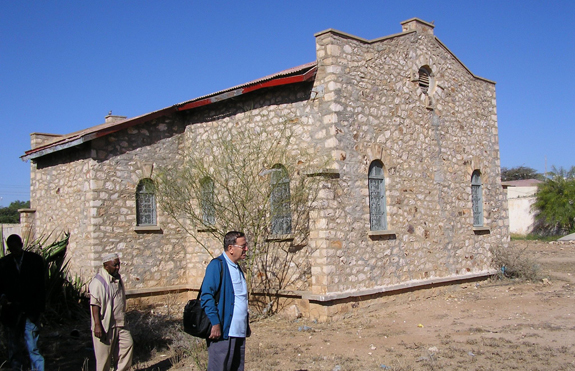 Last August, Bishop Giorgio Bertin, bishop of Djibouti and apostolic administrator of Mogadishu, consecrated the Church of St. Anthony of Padua, the only Catholic church in Somalia.
The small church is in the city of Hargeisa, in the northwest of the country. Its opening signaled a new chapter for the tiny Christian community in the war-torn country, which is the home-base of Al-Shabaab, the Al-Qaeda affiliate in East Africa.
The Islamist militant group has continued to pose a threat to Christians in region, carrying out suicide attacks locally while exporting its form of terror to neighboring countries.
In Somalia, the Islamists have targeted all sectors, from civilians to military personnel and diplomats. Christians in particular have been singled out, forcing them into what are essentially underground communities.
Al-Shabaab is a salafi Jihadist group, the full name of which is "Harakat al-Shabaab al-mujahedeen." In Arabic, it means Mujahedeen Youth Movement or Striving Youth Movement. The militant group is an offshoot of the Union of Islamic Courts, which splintered in 2006.
Emerging as the main Islamist militant group in Somalia, Al-Shabaab has been promoting a radical form of Sharia law, particularly in the southern part of the country. It has carried out killings, amputations, and beheadings to enforce its radical interpretation of Sharia.  A 22,000-strong coalition of troops from Kenya, Ethiopia, Burundi, Uganda, and Djibouti have been fighting the militants in Southern Somalia.
Under Al-Shabaab, members of other faiths, including Christians, have no space to operate and proselytization is banned. Generally, it too dangerous to be a Christian openly in Somalia and those who are discovered are at risk of beheading or execution by firing squad.
The killing of Bishop Colombo
In 1989, Bishop Pietro Salvatore Colombo, the first Catholic bishop of Somalia, was shot dead inside the main cathedral in Mogadishu. The 67-year-old bishop had served the people of Somalia for 43 years. Although President Mohamed Siad Barre blamed the death on Islamic militants and offered a reward for capture of the killers, it is believed the dictator ordered the killing to end the bishop's criticism of his regime.
Barre was overthrown in 1991 and was forced to flee after rival clan militia captured Mogadishu, the capital and seat of the government. The fall of Barre's regime ushered in a period of anarchy in Somalia, with rival warlords struggling for the control of the country. Thousands of Somali civilians were killed and many more were wounded.
In the struggle, the capital of city Mogadishu was destroyed. The Church was also hit in the violence, with militants bringing down the city's Catholic cathedral, the only one in the country.
The ensuing chaos forced out Catholic missionaries, with the last three religious sisters—who had run a hospital—leaving in 1998, after the kidnapping at gunpoint of a fourth sister.
Hargeisa opening
After nearly 27 years, there has been a little change, Bishop Bertin said in a recent interview, with the establishment of an official Catholic presence and the Church of St. Anthony of Pauda in Hargeisa. Hargeisa has proved more welcoming than Mogadishu, where Al-Shabaab carries out suicide attacks and assassination on almost daily basis.
"At the beginning of August, I opened and consecrated the little church we have in Hargeisa," Bishop Bertin said. "I have a permanent priest there." He added that the church community is able to operate, but that they must remain very discreet in their activities.
Around 10 Christians have been attending Mass in the small church, something Bishop Bertin describes as very significant for the Catholic Church in Somalia. The congregation is largely foreign, composed of workers for the UN or the other humanitarian agencies that have bases in Hargeisa. The church also acts as the base of Caritas Somalia, which runs programs such as rehabilitation of schools and hospitals, food aid, and assistance to poor children.
"Now I can say we have some little presence in some part of Somalia, but not in Mogadishu, where it is still too early because of insecurity," Bishop Bertin said.
A few factors have led to this development for the Church in Hargeisa. The northwestern city of 80,000 people is thriving and re-inventing itself apart from the conflicts of the southern parts of the country. It is comparatively safe—one can sip coffee in the open and ride in the streets without much fear. People are also welcoming, a fact often attributed to the city's having been rebuilt by a diaspora community.
At the same time hope continues to grow throughout the larger country. Last month Somalia elected Mohammed Abdullahi Mohamed Farmajo as president; Farmajo, who holds both Somali and US citizenship, is a former diplomat and is described as a no-nonsense leader.
His election is being viewed as presenting a good chance for peace negotiations between the militants and the government. In Somalia's conflict, clan dynamics play a critical role. Farmajo hails from the Marehan sub-clan, while his Prime Minister, Hassan Ali, is from the Murusade sub-clan. Most of the Al-Shabaab leaders allegedly hail from Murusade. Observers see this as a possible window that could be utilized to launch talks with the terror group.
Its needs to be noted, however, that the militants have threatened increased attacks on Farmajo's government. In February, a senior commander in the group rejected the new president as an apostate and warned citizens against supporting him.
"We will fight against him in his four-year term," a Somali news station quoted Sheikh Hassan Yakub Ali, a senior Al-Shabaab official, as saying. He denounced Farmajo, in particular for carrying an American passport.
Exporting terror
The development in Hargeisa is a welcome sign for the Church, for relief agencies, and for neighboring countries. It means at least some semblance of peace is taking shape in troubled Somalia.
But with terrorist attacks targeting Christians spilling into Kenya, many Christian leaders are worried.
The attacks in Kenya are mostly concentrated in the border regions of Mandera and Lamu, but there have been fears that it is only a matter of time before more attacks spread to Nairobi or Mombasa or Garissa.
Attacks in Kenya started escalating in October 2011, when Kenya sent its army to Somalia to fight Islamist militants. Kenya accused Al-Shabaab of kidnapping foreign aid workers, tourists, and Kenyan nationals, spiriting them off to Somalia to demand ransoms.
Soon after the entry of the Kenyan army, militants reacted by sending agents across the border to conduct attacks. Since then, there have lone-wolf attacks in the border regions, in addition to deadly assaults at the Westgate Upscale Shopping Mall in Nairobi in 2013 and the Garissa University College in 2015.
In the university attack, 148 people were killed in the northeastern Kenyan town of Garissa. Nearly all the dead were Christian students targeted for their faith; as the massacre occurred, the gunmen allowed Muslims to flee the scene.
Two years earlier, Al-Shabaab gunmen had targeted the Israeli-owned Westgate Shopping Mall in Nairobi, killing at least 67 people and injured more than 175. Those who could recite the Shahada—the Muslim profession of faith—were set free.
Kenyan bishops have been expressing concern that Al-Shabaab is recruiting youth for more attacks in Kenya and elsewhere.
"It is very painful to note the frequent loss of lives due to terrorists in those areas of our country that border Somalia," said Bishop Philip Anyolo, the chairman of the Kenya Conference of Catholic Bishops, in November.
While it is clear that the Al-Shabaab militants are not going anywhere anytime soon, Christian leaders in Somalia and its neighboring countries still look to small glimmers of hope—such as the tiny Catholic Church of St. Anthony of Padua—as they strive to bring peace to the troubled region.
---
If you value the news and views Catholic World Report provides, please consider donating to support our efforts. Your contribution will help us continue to make CWR available to all readers worldwide for free, without a subscription. Thank you for your generosity!
Click here for more information on donating to CWR. Click here to sign up for our newsletter.
---