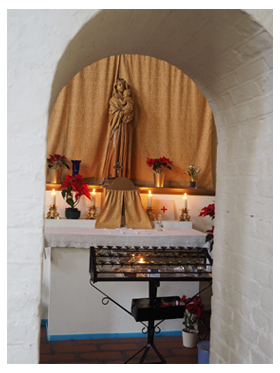 The Sunday School is now too large and the children just can't fit comfortably into the Parish Room in the Rectory.  So a Children's Choir has been formed from among the older children, those who have made their First Communion. There has been considerable enthusiasm and the choir has now been rehearsing for some weeks. They will sing regularly at Mass—proper Mass settings, drawn from both the Catholic and the Anglican musical tradition. They are being trained by a paid musical director, who also oversees a professional choir—of which more below.
This is the Church of the Most Precious Blood, The Borough, London Bridge, in the care of the Ordinariate of Our Lady of Walsingham, and I have written about it before. It seemed time for an update.
We marked the fifth anniversary of the founding of the ordinariate in January: a glorious Mass in the ordinariate form with music by Merbeck, and a celebration afterwards. We presented Msgr. Keith Newton, the ordinary, with a bottle of champagne, and his wife, Gill, with a bouquet of flowers.
Numbers at Mass continue to rise steadily: most of those attending are not ordinariate members but just local Catholics, some of whom have returned to the Church after a longish gap: they like the formality of the Mass, the good music, the singable hymns, the sermons with good teaching on Catholic faith and morals. The ordinary Roman Rite is used on Sundays, in English with some Latin chant. There is a regular Evensong and Mass in the ordinariate form once a week, with a professional choir of young singers, and a gathering afterwards. During Lent this has been on Wednesdays, with a formal series of Lenten lectures (on the Eucharist) rather than just a social time. After Easter it will revert to Thursdays and general chat with wine and snacks. The professional choir is a very good addition to the parish—two members recently got engaged, and this was announced in church to joyful applause.
We need more pews—some were taken away and destroyed shortly before the parish was given into ordinariate hands. That wasn't a deliberate act of anti-ordinariate nastiness—just a result of the standard view that "people don't go to Mass anymore," and calls to prevent the removal of the pews fell on deaf ears. There is now a recognition that the parish has now seen a rather dramatic upturn in numbers. But, sadly, among some other clergy the attitude is, "Oh, it's probably a passing thing," or even a vague sense of irritation that the ordinariate and the fresh vigor it has brought somehow don't fit into a comfortable sense of gloom and despondency.
Sunday Masses, weekday lunchtime Masses, processions for special feasts, a lively First Communion class, an adult group meeting weekly for instruction ready for baptism and confirmation, a women's group running a London-wide project teaching children the Lord's Prayer through schools…it's all thriving.
But is the ordinariate in London attracting many Anglicans, keen to come into full communion with the Catholic Church? Alas, not in any large numbers: tribal feelings and loyalties hold firm. I have spoken to so many worried Anglican friends who say things like: "The old C. of E. is simply disappearing"; "I don't really approve of women bishops, but what can you do?"; "I feel alienated from my church and don't really go much now." But they don't want to become Catholics, even if they warmly agree with the Church's moral stance and want to know more about some of the issues (Mary, Eucharistic devotions, confession) on which they have questions. Their attitude is "Yes…but…oh, I don't know…I'm Anglican. I can't explain it. But…our family: we've just never been Catholic…" and the voice fades into a vague awkwardness. It is precisely these people that Pope Benedict hoped to help with the establishment of the ordinariate: Anglican patrimony, Anglican hymns, traditions, liturgy, Harvest Thanksgiving, Sunday School, flower arrangements…but is it working? Some clergy and laity who initially said they would join have kept postponing the decision; attachment to familiar buildings and to a sense of being part of an established way of things is strong.
However, ordinariate parishes are thriving. They attract all sorts of people: lapsed or semi-lapsed Catholics who through this have reconnected to the Church, people who love the music and the liturgical style, people who find the Mass times or church location convenient, former Anglicans who became Catholic some years ago and now feel particularly at home, young families who like the welcome and the sense of community. At Pembury in Kent, Father Ed Tomlinson and his team have overseen a transformation: a modest hall turned into a beautiful church and a new hall built alongside, creating a new entrance with lych-gate and outdoor Calvary shrine, plus an attractive garden and a planned Marian grotto. At Torquay in Devon, Father David Lashbrooke and his team have bought a beautiful former Methodist church which is now the Church of Our Lady of Walsingham and St. Cuthbert Mayne, with a good congregation at Sunday Mass and a range of activities, including a charity shop in the town supporting projects for the needy.
This Holy Week will see ordinariate clergy from across Britain gathering at the Church of Our Lady and St. Gregory in Warwick Street, near London's Piccadilly Circus, for the annual Chrism Mass. There will be glorious music and the rather moving sight of the ordinariate clergy walking in procession up the aisle and packing out the front part of the church. There will be Mass in the ordinariate form, with the beautiful prayers for the blessing of the oils. Afterwards, people will gather and swap news and talk about how things are going.
It's a work in progress. A small start, and the next chapters will be interesting ones.
---
If you value the news and views Catholic World Report provides, please consider donating to support our efforts. Your contribution will help us continue to make CWR available to all readers worldwide for free, without a subscription. Thank you for your generosity!
Click here for more information on donating to CWR. Click here to sign up for our newsletter.
---