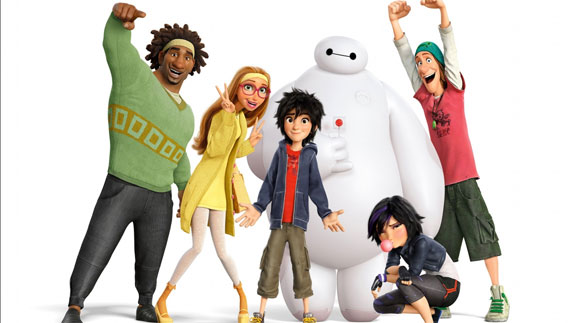 MPAA Rating: PG
USCCB Rating: A-II
Reel Rating:
(4 reels out of 5)
As the name implies, Big Hero 6 is a larger than life movie filled with an impressive array of superheroes. It's an animated take on The Avengers with an extra helping heart, allowing its protagonist to take on some pretty serious issues for a kid film, but handled mostly with grace and understanding. Mark another "A" in the Disney canon that continues to grow and expand in excellence.
Hero takes place in a slick, manga-inspired world called San Fransokyo, a slightly more kid-friendly version of Blade Runner's Los Angeles. Barely fourteen years old, Hiro (Ryan Potter) hustles money in illegal battle bot rings. He is obviously a genius but spacey and unmotivated, the kind of student who is so intelligent that school bores him into bad behavior, thus frustrating teachers endlessly. Fortunately, his older brother Tadashi (Daniel Henney) manages to steer him in the right direction by bringing him on a visit to his laboratory at the local tech university and introducing him to equally nerdy friends.
Hiro is enraptured and manages to secure a spot after an amazing performance of his own nanobots, but Tadashi dies that very night in a mysterious fire. Depressed and comforted with only Tadashi's latest robotic project—the inflatable "personal healthcare assistant" Baymax (Scott Adsit)—he soon finds meaning when a villain steals the nanobots, threatening to destroy everything in his path. Enlisting Tadashi's friends, Hiro sets out on a mission to stop him and avenge his brother.
The most important element in any story is characterization. Most audience members will enjoy a story even if it has a weak plot and themes if they care about what happens to the characters. Directors Don Hall and Chris Williams understand this and accomplished the impressive feat of creating six likeable heroes, all with their own personal virtues and hiccups. There's Go-Go (Jamie Chung), an emo Rainbow Dash-eque tomboy who glides around at lightning speeds and frequently tells the disheartened Hiro to "woman up." Second is Wasabi (Damon Wayans Jr), who despite his impressive figure, suffers from a bad case of scaredy-cat and has laserclaws for hands. Third is the nerdy science wiz Honey Lemon (Genesis Rodriguez) whose fabulous purse can produce chemical balls of any element. Fourth is Fred the hippie son of a billionaire industrialist who turns into Fredzilla, a fire breathing Lagoon monster, the perfect image of his adolescent mind.
All of these geeks are fun if a bit predictable, but Baymax is a category all on his own—the best Disney sidekick since the gargoyles in The Hunchback of Notre Dame and one of the more compelling movie characters of the decade. Baymax serves as Hiro's guardian angel and an active reminder of his older brother's kind spirit. In his first scene, Baymax explains that his only goal is "to heal the sick." Through the rest of the film, he provides an incredible amount of comic relief, mostly from his inflatable and clumsy balloon-like exterior but also serves as Hiro's conscience when he is tempted to act wrongly.
Hiro's sickness is not physical; he explains to Baymax that it's a hurt that "you can't touch." His grieving process follows the traditional Kubler-Moss model. First, he wants to sever contact with outside world. When he finds the villain caused Tadashi's death, he seeks vengeance only to find that the villain is also acting out of anger for someone he lost. In fact, Hiro reacts in the act way the villain does, betraying an important friend and endangering his team. This prompts Baymax, in his innocent yet angelically perfect knowledge, to respond, "I don't think this action will heal you." Hate only begets hate. The best way to accept loss is to respond with love and forgiveness, imitating Baymax and the One who commanded man to "turn the other cheek."
Big Hero 6 approaches the delicate subject of Tadashi's death in an interesting way. When Baymax asks where Tadashi is, Hiro simply replies, "He's gone," echoing the famous Sesame Street episode when Mr. Hooper died. It's difficult to explain death to kids because all they feel is the sadness of not seeing and being with a loved one. This simple explanation helps children accept the immediate reality, but it doesn't take away the pain.
Indeed, Hiro feels this pain intensely but no one gives him a way to understand it because the film is completely absent of any references to an afterlife other than a few glimpses of Far Eastern funeral traditions. Hiro eventually finds fulfillment in his friends and family. That is a very important element, of course, but it is even more important to assert the immortality of the soul and the hope for heaven.
Big Hero 6 extends the era that can rightly be called the New Disney Renaissance, which began when Pixar's John Lassesster took over the animation department in 2008. Every film made since is either wonderful or even more wonderful. If Hero feels not up to par, that's only because last year's Frozen was one of the finest family films ever made. This isn't Frozen, but it doesn't have to be. It can stand just fine on its own squishy feet.
---
If you value the news and views Catholic World Report provides, please consider donating to support our efforts. Your contribution will help us continue to make CWR available to all readers worldwide for free, without a subscription. Thank you for your generosity!
Click here for more information on donating to CWR. Click here to sign up for our newsletter.
---