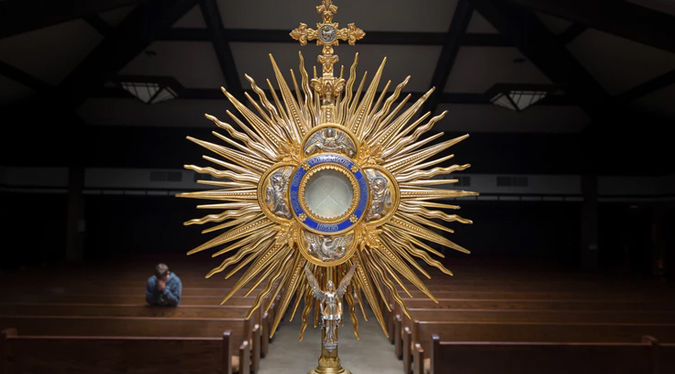 Editor's note: The following homily preached by the Reverend Peter M. J. Stravinskas, Ph.D., S.T.D., on November 29, 2019, at the Church of the Holy Innocents, Manhattan.
This coming Sunday, we shall embark upon a new year of grace. And so, I would like to make a few suggestions for some new year's resolutions. I do so noting in particular how a toxic atmosphere of nastiness and cynicism has infected not only the overall culture, but also – and most unfortunately – the Church herself.
Here's my laundry list of negative and positive resolutions, limited to the ecclesial realm. Perhaps we can leave the more secular resolutions for the secular new year.
– I shall not take every assertion of the Blogosphere as Gospel truth.
– I shall not delight in and spread gossip about others, especially in regard to the clergy.
– I shall not commit spiritual suicide just because someone else – even if a priest, bishop, cardinal or pope – should commit spiritual murder.
– I shall not allow justifiable anger at ecclesiastical failings devolve into ungodly rage.
– I shall not succumb to the Devil's temptation to lose faith in the indefectibility of Christ's Church, which is promised that "the gates of hell shall not prevail against her."
– I shall pray and fast for an end to the chaos which the Church has endured for the past six years.
– I shall affirm good priests and teachers of the Faith.
– I shall withhold judgment on persons and situations until all the facts are in.
– I shall defend the Church and her priests when unjustly attacked in my presence.
– I shall study the Faith with greater intensity.
– I shall engage in a daily prayerful reading of the Sacred Scriptures.
– I shall seek to lead at least one person to the fullness of truth and life found only in Christ's one, holy, catholic and apostolic Church.
– I shall seek to lead back to the Church one person who has abandoned the practice of the Catholic Faith.
– I shall celebrate the sacraments with greater devotion.
– I shall thank God daily for the gift of my Catholic education and do all in my power to make that education available to a new generation, so as to ensure a strong and healthy Church for years to come.
– I shall express my thankfulness for the ready access I have to Holy Mass and the sacraments that I have by praying for those deprived of them or for those who do not take advantage of them.
– I shall encourage devout youth to heed the call of the Master of the harvest to embark on the thrilling and holy adventure of the Sacred Priesthood and consecrated life.
– I shall correct misinformation I may have inadvertently passed on.
– I shall offer fraternal correction when needed in a manner which is both Christian and civil.
– I shall love the Church, even when her sinful members cloud the bright witness of her saints.
– I shall, following the counsel of St. Ignatius of Loyola, seek to put as benign an interpretation on another's words or actions, unless convinced otherwise.
– I shall, in the words of Cardinal Newman, because of "the remembrance of past mercies," be confident of the Lord's abiding Providence toward me and His Church in the future.
– I shall, accepting the exhortation of St. Paul, say only "the good things men need to hear."
– I shall, with St. Francis of Assisi, be an instrument of Christ's peace, sowing love where there is hatred; faith where there is doubt; hope where there is despair; light where there is darkness; and joy where there is sadness.
Oh, one last item: If I had a Twitter account (which, thankfully I don't), I would close it down post-haste – along with all its narcissistic cousins of non-social, non-communication, Facebook, Instagram, etc., etc.!
I am sure you can add to this list your own particular resolutions after a careful examination of conscience.
Of course, good intentions are praiseworthy but insufficient. As the adage teaches, "the road to hell is paved with good intentions." Good intentions need to be followed up with positive action. To that end, let us pray:
Direct, O Lord, all our thoughts, words and actions by thy holy inspiration and carry them on by thy gracious assistance, so that every prayer and work of ours may always begin from Thee and by Thee be happily ended. Through Christ our Lord. Amen.
(Note: The views expressed here are those of the author and do not necessarily reflect the views or opinions of CWR's staff or Ignatius Press.)
---
If you value the news and views Catholic World Report provides, please consider donating to support our efforts. Your contribution will help us continue to make CWR available to all readers worldwide for free, without a subscription. Thank you for your generosity!
Click here for more information on donating to CWR. Click here to sign up for our newsletter.
---