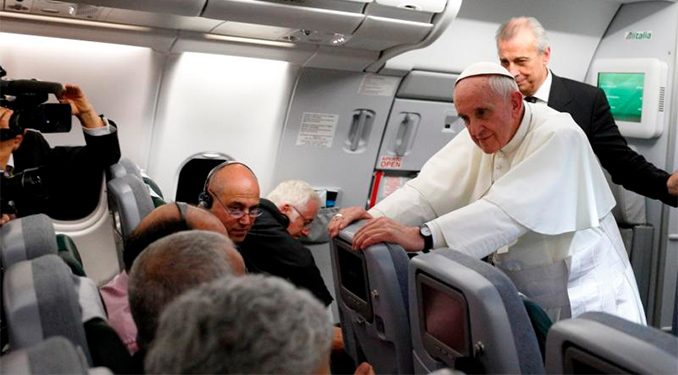 Pope Francis' most famous words from 2013—and perhaps from his entire pontificate—are, of course, "Who am I to judge?" Such a quotable quote, right?
Except for the fact that those five words were ripped out of context, weaponized by secular media and advocates of the gay agenda, and made to obscure the rest of what he had to say in that most famous of high-altitude exchanges with the media.
It's time to remember the full message the Holy Father offered that day; it's time to reclaim the truth that the vanguard of America's "gay lobby"—clergy included—so desperately wants us to forget as these same advocates for immorality and false teaching continue to wreak ruin upon the Catholic faithful.
It's time to rediscover that, on the same day he said "who am I to judge," Pope Francis also decried the making of "lobbies" from the homosexual tendency.
First, a little more context—just what is a "gay lobby," or even the "gay lobby"? It's a term that came to be associated with homosexual clergy in the Vatican who basically formed an alliance not only to safeguard their own acting out, but more specifically who were willing to use their influence to push back against the Church's authentic teaching on homosexuality whenever possible.
Before Francis was pope, the "gay lobby" was something his predecessor Pope Benedict XVI had to contend with as well, according to Benedict himself, who acknowledged this just a year ago in an interview. As he saw it, the "gay lobby" in the Vatican at that time was a mere "four or five" in number, and Pope Benedict XVI believed he had effectively broken up this alliance before resigning his pontificate.
And perhaps Pope Benedict did do just that, at the time. But, alliances comprising a small handful of gay clergy can easily come and go, and return again when conditions are right. With Pope Benedict's resignation, and with Pope Francis newly on the scene in 2013, rumors of an active "gay lobby" once again emerged.
Pope Francis reportedly conceded that a gay lobby existed in the Vatican in 2013. Later, when the subject came up again on that now-historic in-flight press conference on July 28, 2013, here is what he said when asked how he intended "to confront the whole question of the gay lobby":
So much is written about the gay lobby. I still haven't found anyone with an identity card in the Vatican with "gay" on it. They say there are some there. I believe that when you are dealing with such a person, you must distinguish between the fact of a person being gay and the fact of someone forming a lobby, because not all lobbies are good. This one is not good. If someone is gay and is searching for the Lord and has good will, then who am I to judge him? The Catechism of the Catholic Church explains this in a beautiful way, saying … wait a moment, how does it say it … it says: "no one should marginalize these people for this, they must be integrated into society". The problem is not having this tendency, no, we must be brothers and sisters to one another, and there is this one and there is that one. The problem is in making a lobby of this tendency: a lobby of misers, a lobby of politicians, a lobby of masons, so many lobbies. For me, this is the greater problem. Thank you so much for asking this question. Many thanks.
In context, it is abundantly clear that Pope Francis was trying to tell us that the real problem is not persons who seek the Lord and have good will. The real—and greater—problem is that people "make a lobby of this [homosexual] tendency." And, crucially, it should be noted that "making a lobby" isn't something done only by Vatican clergy. In the Pope's examples of misers, masons, and politicians, it's clear he's referring to lobbies arising from a focused special interest—in this case the special interest is the homosexual tendency.
Said another way, in the very midst of claiming "who am I to judge?" Pope Francis did indeed judge. He made a judgment that contrasted lobbying in favor of the homosexual tendency with a person of good will who seeks the Lord while having that same tendency.
So, precisely where is the "problem" in the gay lobby, according to Pope Francis? I think the inference is clear: When one forms a lobby of the homosexual tendency, one is no longer merely "searching for the Lord" with good will. Gay lobbyists are indeed subject to being judged, not for who they are but for what they have done, because Pope Francis has already judged that the lobby itself is "not good."
The basic principle is right there in the Holy Father's own words: individuals who affirm gay sex, gay identity, and gay marriage, and who build alliances around their affirmation of the homosexual inclination are, assuredly, the exact kind of "gay lobby" decried as "the greater problem" by Pope Francis himself.
In turn, Catholics who affirm gay-lobby groups—whether the group is the secular "LGBT community" itself or a pro-gay parish or pro-gay organization—have allied themselves with the gay lobby. They are rightly included under the term "gay lobby." This especially includes clergy: deacons, priests, pastors, and even bishops and cardinals.
Now, given recent reports of the last few weeks concerning a police break-up of a "gay orgy" in a Vatican apartment that involved some Catholic clergy, is it a stretch to think that a gay lobby is still quite active in the Vatican? Even so, comparing numbers alone, the Vatican's gay lobby is surely small potatoes when compared with the global Catholic gay lobby and especially relative to the American gay lobby found across our continent.
Catholics in the pew are by and large allied with the gay lobby in the United States, if statistics regarding the average Catholic's support of same-sex marriage are any indicator. While the huge numbers associated with this relatively passive alliance with the gay lobby are disturbing, a great deal more damage is being done by Church leaders whose pastoral energy and ecclesial authority are being placed actively at the service of the gay lobby at the grass-roots level.
Do you want a closer look at the vanguard of the gay lobby? "Equally Blessed" gives you a glimpse. It's the coalition of several other gay lobbies—Call to Action, DignityUSA, New Ways Ministry, and Fortunate Families.
While those may be the lobbies that exist outside ecclesial structures, the gay lobbies that exist in parishes, dioceses, and college campuses are deeply, deeply entrenched and do even greater spiritual harm than these other groups could ever dream of doing. Want a sampling? Look at this long list of gay-lobbying, "LGBT-friendly" parishes and colleges across the country, maintained by New Ways Ministry.
Do you want to know which cardinals, bishops, priests, deacons, and lay ministers are part of the gay lobby? It's all out in the open. Which clerics are writing books and giving talks that publicly support the gay lobby we call the "LGBT community"? Which are speaking at Catholic gay-lobby events? Which pastors and bishops are tolerating gay-affirming groups in parishes and schools, and at events featuring erroneous teaching and false teachers?
Believe me, as one who has done a lot of digging, you don't have the time or the energy to even scratch the surface. I do know of one person on the planet who is doing the investigating that Catholic dioceses, parishes, and schools should be doing but aren't. If you really want to see the dark, writhing underbelly of the gay lobby at work in the Catholic Church in North America, pay a visit to Joseph Sciambra's website, where you will find years and years of documentation of the gay lobby's dire work, often institutionally supported and encouraged. All the while, complaints from concerned and faithful Catholics are almost always ignored.
The only real coherent antidote to the gay lobby in the Catholic Church is the Courage apostolate, which is notably absent from the American master gay-lobby group Equally Blessed. The bright line between error and truth, and between sentimentality and real compassion, can be found where Equally Blessed ends and where Courage begins. The gay lobby has pushed back against Courage for decades, at all levels of the institutional Church and in the secular arena as well. But the Courage apostolate, just like Pope Francis, knows full well that our obligation is to pastorally support persons with homosexual tendencies, not lobbies formed from those tendencies.
What can you do to defend against the gay lobby in your own spiritual backyard? First, speak "truth-love" to fellow Catholics in the pew who affirm the gay lobby—let them know God's real plan for the human person. Second, don't be afraid to form grass-roots efforts to combat error in your parish, your school, your diocese. Let your voices be heard—turn "solo" voices into a chorus of concerned voices directed toward anyone in authority who is clearly aligned with or tolerant of the gay lobby.
Finally, remind Church leaders everywhere that, when they give aid and support to the gay lobby, they are actively opposing the will of our Holy Father, Pope Francis. Remind them that he only said "who am I to judge" in the very context of judging that lobbies made in support of the homosexual tendency are a problem and are "not good."
---
If you value the news and views Catholic World Report provides, please consider donating to support our efforts. Your contribution will help us continue to make CWR available to all readers worldwide for free, without a subscription. Thank you for your generosity!
Click here for more information on donating to CWR. Click here to sign up for our newsletter.
---