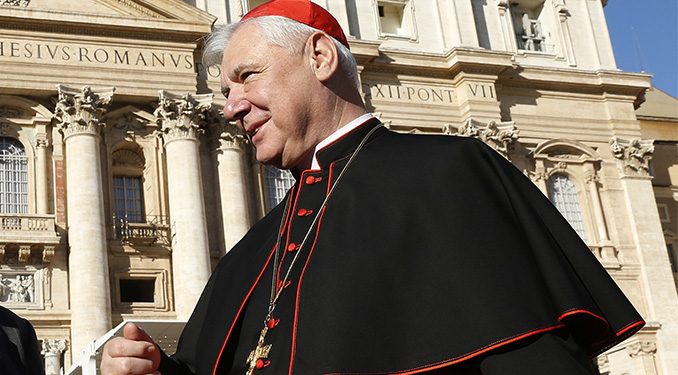 Like many Catholics concerned about the Church's teaching on marriage and the family, I was disappointed to hear that Pope Francis has not extended the tenure of Cardinal Gerhard Ludwig Müller as Prefect of the Congregation for the Doctrine of the Faith. Regardless of the Holy Father's actual motives for this decision, it will inevitably be seen by many as another sign of the declining fortunes of orthodox prelates in Francis' Roman Curia. While the dicastery responsible for teaching and defending our faith has lost a brilliant theologian and courageous defender of the faith, upon closer inspection perhaps the situation is not as bad as it appears.
Over the past five years, I have become quite fond of Cardinal Müller. In recent years, too many prelates have been pushing a saccharine "Buddy Christ" vision of Catholicism that at best avoids preaching the Church's teachings on difficult matters and at worst tries to make the Church a mainline Protestant denomination. By contrast, Cardinal Müller has always been a steadfast defender of orthodoxy. Although great pressure was put on him to accept his countryman Cardinal Walter Kasper's call to allow divorced and remarried Catholics communion in certain circumstances, Müller always repeated that Amoris Laetitia cannot be interpreted in isolation from previous papal documents that make it evident that Catholics in new unions must live as "brother and sister" in order to receive communion.
"Only dead fish swim with the stream," the British journalist and Catholic convert Malcolm Muggeridge once said. At a time when cohabitation is slowly replacing marriage and the LGBT and gender ideologies are beginning to be treated almost like religious dogmas in today's West, Cardinal Müller is anything but a dead fish.
Additionally, Cardinal Müller's theological oeuvre is impressive. He has authored more than 500 articles on theology and is the editor for Pope Emeritus Benedict XVI's collected works. His Priesthood and Diaconate is the best explanation for why the Church only allows men to become priests I know of. Meanwhile, On the Side of the Poor, co-written with Peruvian theologian Gustavo Gutierrez, who was one of the founders of the liberation theology current (although his work was never condemned by the Vatican), is an intriguing work that shows that a Latin American theology of the poor that rejected Marxism and was instead faithful to Catholic social teaching could have been possible. His recent book-length interview, The Cardinal Müller Report, addressed a wide range of challenges facing the Church, especially social and moral ills. It made clear that Cardinal Müller does not share Cardinal Kasper's negative view of heroic virtue among ordinary Catholics. "All of us know that we are sinners and that it is in the sphere of sexuality that human weakness obviously manifests itself," states Cardinal Müller,
But this does not mean that the sexual morality taught by the Church is an unattainable ideal. The biggest scandal of which the Church is capable is not that there should be sinners in her, but that she should stop explicitly calling the difference between good and evil by name and that she should relativize that difference, stop explaining what sin is, or try to justify it by a supposedly greater closeness to and mercy toward the sinner.
Rumors of Cardinal Müller's imminent demise were circling in the Catholic media for the past several days. It would be naïve to assert, like progressive Vatican watcher John L. Allen, Jr., that Cardinal Müller's five-year term was up and so "[h]is service was up." Cardinal Müller is 69, six years away from the retirement age for bishops. Nowadays, the pope extends many bishops' tenure after they reach 75; Cardinal Angelo Amato, for example, is 79 and still serves as the prefect of the Congregation for the Causes of Saints.
That there was distance between Müller and Francis is obvious, despite the fact that the now former prefect has himself claimed that relations between him and the pope were perfect and that the latter did not extend his tenure for purely formal, bureaucratic reasons. The best evidence of this is that whereas the prefect of the congregation responsible for formulating and defending the Church's teaching would have been the most logical choice to present Amoris Laetitia, Pope Francis instead chose Cardinal Christoph Schönborn of Vienna, whose stance on the question of communion for divorced and remarried Catholics has been much less clear than Müller's, to do so.
The silver lining is that Müller's replacement, Spanish Jesuit Archbishop Luis Ladaria Ferrer, appears to be a fairly orthodox prelate. Fortunately, the nightmare scenario that an ultra-progressive like Archbishop Bruno Forte of Chieti-Vasto would replace Müller has not materialized. With regards to the most controversial aspect of Amoris Laetitia, in 2014 Ladaria Ferrer, then secretary of the Congregation for the Doctrine of the Faith, issued an official communiqué unambiguously stating that divorced and Catholics in new sexual relationships cannot receive communion. You can read the English translation of the full text here.
If Archbishop Ladaria has not changed his opinion on this matter in the past two and a half years, then this is reassuring. Perhaps Pope Francis' falling out with Müller was not because of the latter's views, but because he expressed them so vigorously and claimed that this is the only interpretation of Amoris Laetitia? After all, closer inspection seems to suggest that Pope Francis wants the question of communion for divorced and remarried Catholics to be "decentralized." Perhaps his refusal to respond to the four cardinals' dubia suggests that while he doesn't want to unambiguously come out in defense of traditional teaching, he doesn't want to openly endorse a change, either, and instead wants bishops to make up their minds themselves. However, these are just speculations on the part of yours truly.
While Cardinal Müller will now be less visible, he will still be a force in the Church for some time. At age 69, he can still participate in conclaves for another 11 years. Given that Francis is 80 and has on numerous times openly said he is likely to retire someday, it is extremely likely that Müller will participate in the election of the next pope.
More important, it is likely that Cardinal Müller will be sent back to his native Germany to head a major see. As is widely known, the Catholic Church in Pope Benedict XVI's homeland is in a state of catastrophic decline. Just one in ten German Catholics attend Mass regularly, while last year twenty (sic!) times as many Catholics left the Church as joined or rejoined it. Despite being governed by a Christian democratic party and having a pastor's daughter as chancellor, Germany legalized same-sex "marriage" a few days ago.
Undoubtedly, much of this has to do with the German bishops, many of whom have openly rejected tradition and morality. Meanwhile, German Catholics pay a hefty "church tax." While relatively few of them actually pay it, the fact that several million Germans do keeps a steady flow of cash to the German church. Thus Germany is filled with beautiful, well-kept but empty churches. The German Church is becoming increasingly like a secular charitable organization and less like a community of followers of Christ. Because of the ongoing state support, German bishops don't have much of an incentive to seek out lost sheep. An orthodox prelate like Cardinal Müller perhaps could bring about sparks renewal in Germany, like Bishop Bruskewitz in Lincoln or Archbishop Leonard in post-Catholic Belgium.
While dismissal of Cardinal Müller undoubtedly upset many orthodox Catholics, his mission is not yet over. We might still see great fruits of his ministry.
---
If you value the news and views Catholic World Report provides, please consider donating to support our efforts. Your contribution will help us continue to make CWR available to all readers worldwide for free, without a subscription. Thank you for your generosity!
Click here for more information on donating to CWR. Click here to sign up for our newsletter.
---