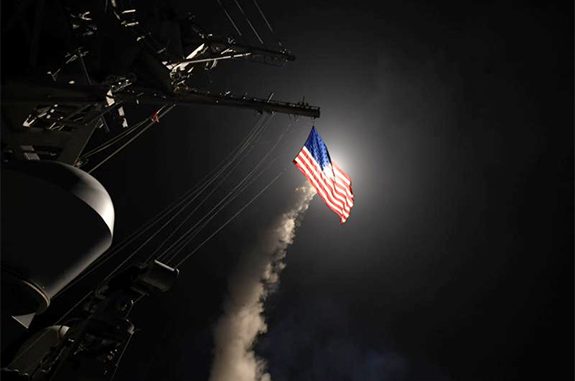 It should come as no surprise that there is anxiety or even outrage among those who identify with the counter-globalist movement which put Donald Trump into office.  Whatever one thinks of either President Trump or his cruise missile strike upon Syria, it is obvious that nobody who voted for "the Donald" was inspired to do so by a moralistic vision of humanitarian empire.  Nor could any honest person represent the last presidential election as a rousing endorsement of the foreign policy status quo.  Yet by attacking a nation that poses no clear and present danger to the United States, the president has signaled that he may indeed follow in his Democratic and Republican predecessors' interventionist footsteps.  Will the Trump administration promote a program of endless regime change throughout the world, after all?  Will it perpetuate the liberal West's cold war with Orthodox Russia?
Some of the most arresting remarks about the Syria debate come from Catholic classical scholar and archconservative Thomas Fleming.  To say Fleming does not sympathize with interventionists' attempts to claim the moral high ground is an understatement.  Were we serious about punishing every corrupt government that has shed innocent blood, Fleming notes darkly, we would be waging highly destructive (and disastrous) wars throughout the globe, from Mexico to China.  Noting the relative "lack of uproar over the confirmation of Neil Gorsuch," Fleming holds out some faint hope that the attack on Syria is actually part of a Machiavellian strategy to deflect liberal and neoconservative attention away from Trump's domestic agenda.  Rather than obsess about wicked foreign potentates, adds Fleming, "it would be easier to clean our own house first by putting Bill Clinton, George W. Bush, and Barack Obama on trial for assassination, illegal torture, and murder."
Before taking offense at Fleming's surprisingly frank contempt for the past three American administrations, the reader should recall that estimates for the death toll caused by the Iraq invasion run to nearly a half million, and that US involvement in the Middle East has proven consistently disastrous for ancient Christian communities there.  It is not at all clear why anyone expects a happy outcome to regime change in Syria, given the contrast between promises made and actual outcomes during the "Arab Spring."  For that matter, when one considers what America's Saudi allies – the term is used loosely – are even now doing in Yemen with US support, righteous indignation about Assad seems almost surreal.  Is killing bystanders with nerve gas that much worse than killing them with flying robots?
As Trump was supposedly motivated by pictures of dead children and mourning parents, a passage from Fleming's The Morality of Everyday Life is worth considering.  In this book so characteristic of the "paleoconservative" mindset, Fleming argues that what remains of Christian civilization is held together less by superheroes – activists, secret agents, jet-setting international diplomats, celebrity philanthropists – than by ordinary people who look out for their neighbors and take care of their children.  Unfortunately, he adds,
the private efforts of charitable individuals in their own neighborhoods and cities will never attract newspaper headlines or have the effect of a photograph of an emaciated child.  Newspapers and advertising have a legitimate mission, the communication of information to interested persons, but for several decades the primary objective of the media has been to arouse strong feelings in their audiences.  These feelings are not directed toward familiar objects – the reader's parents, spouse, children, or neighbors – but toward complete strangers.
To describe this phenomenon, Fleming coins the phrase "pornography of compassion":  "Someone else's child, trapped in a well, monopolizes the attention of millions of Americans who neglect their own children or entrust them to the care of strangers." According to Fleming, such unwholesome fixations have more in common with voyeurism than with real charity.  Needless to say, the pornographic atmosphere created by mass media is a boon for yellow journalists, who are highly selective when it comes to the images whereby they divide the world into tidy comic-book categories of "hero" and "villain."
---
If you value the news and views Catholic World Report provides, please consider donating to support our efforts. Your contribution will help us continue to make CWR available to all readers worldwide for free, without a subscription. Thank you for your generosity!
Click here for more information on donating to CWR. Click here to sign up for our newsletter.
---