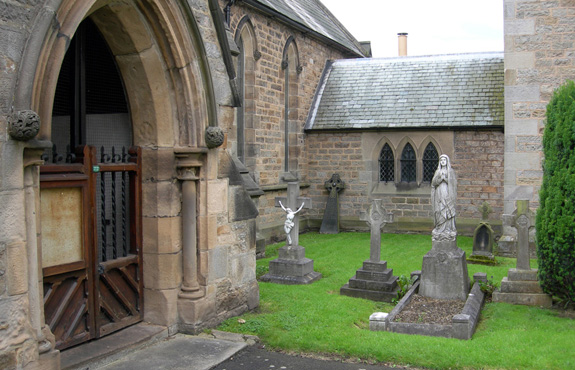 I had never sung "Rose of England" before. But then I had never been to a St. George's Day dinner in the part of England where North Yorkshire meets County Durham. Nor, indeed, one organized by the Ordinariate of Our Lady of Walsingham—Anglicans who have come into full communion with the Catholic Church. It opened with a recitation of Henry V's speech before Harfleur (Shakespeare's 400th anniversary being marked nationwide) and concluded with a rousing rendition of the National Anthem (Queen Elizabeth II's 90th birthday was also being celebrated).
I suspect that one reason for the invitation may have been that members of the Darlington ordinariate community had become very slightly tired of reading reports, from this London-based writer, of ordinariate activities in the capital. At any rate, they wanted to show something of events beyond the Thames. And so here we were in a village hall decked with bunting, cheering the arrival of St. George in full armor, sitting down to roast beef and Yorkshire pudding, singing traditional songs—and raising well over £1,000 for ordinariate funds.
It was all enormous fun, and if the aim was to say, "Look, this is the real thing: parish life, good Catholic wine and song, and a dash of Anglican patrimony," then it succeeded. The hall was packed, the dinner excellent, the speeches witty, and the singing magnificent.
Father Ian Grieves and his team joined the Ordinariate of Our Lady of Walsingham in 2012, shortly after it was launched by Pope Benedict XVI in 2011, and their story has followed its fortunes. The group's members are spread around Darlington and the neighboring area, but eventually the church they were offered by the local diocese was in the village of Gainford, some way from the town. 
The 19th-century Catholic church of St. Osmund in Gainford is an extremely beautiful church with adjoining presbytery, garden, and shrine to Our Lady. It was built by the donations of local Catholic families, and is testimony to their love and loyalty over generations. Pictures of some of them hang in pride of place in the parish room where everyone gathers for coffee after Sunday Masses, and their descendants rightly claim a place in a rich heritage of faith and commitment rooted in knowledge of a truly heroic past. Embedded in the folk memory of many English Catholics is the story of hardships and injustice dating back to the days before Catholic Emancipation in 1829 and including canonized martyrs of the 16th and 17th centuries.
Where does the ordinariate fit into that saga? In an important sense its arrival is the latest chapter in a long and continuing story—but each chapter brings its own tensions. Might not some local "cradle Catholics" resent the newcomers? But on the other hand, there is a grave shortage of clergy in this diocese, as elsewhere—and the plan for some rural areas was to have "clusters" of parishes, with Mass at different churches each week. And Gainford suddenly got a bonus instead: a full-time priest, daily Mass, the full range of parish activities, plus a large number of enthusiastic new parishioners, so that there are now full Masses every Sunday, a choir, processions, May devotions, pilgrimages, and more…what's not to like?
Inevitably, there is probably quite a lot not to like if you are a Catholic who had got used  to cluster-Masses and talk of church closures, in a culture where everyone knew more or less what was happening and accepted the way things were. Enthusiastic newcomers can be annoying—and what do they know of the real Catholic history of this place, and of places like it?
But ordinariate members have their own stories too. For some, watching the Church of England's confusion over women priests, and its collapse of adherence to clear moral teachings that were once accepted as normal, involved a great sense of loss. And the ordinariate has had its share of disappointments: numbers were smaller than expected,  early hopes that  that Anglican churches would be made available  evaporated, and there was a lack of the general goodwill that Pope Benedict had been led to expect from Anglicans who had been visiting him in Rome over the years and engaging in plans and dialogue.
For the various local ordinariate groups, final safe arrival into full communion with Rome has been joyful—but it hasn't been plain sailing along the way.
And so to Gainford. A certain wariness from local Catholics—but I sat with an ordinariate parishioner on one side at the St. George's dinner, and a "born Catholic" on the other, and  we all enjoyed our roast beef together. There are two packed Masses at St. Osmund's each Sunday, both in the modern Roman rite. The later one has the ordinariate choir—crisp white surplices and academic hoods, glorious music  (Darke's Communion Service in E, with John Ireland's Te Deum Laudamus in F), and a definite sense of what Pope Benedict described as "Anglican patrimony." The earlier Mass is the one mostly attended by the "original parish Catholics " (my phrase, not theirs) and it's clear there is a division between the two. But the newsletter is crammed with things that clearly appeal to all: Pentecost to be marked in style with a Parish Lunch in the village hall, a May Festival with procession and devotions led by the Abbot of Farnborough, plus social events including a car rally and a trip on the North Yorkshire Moors Railway.
What does the future hold? The ordinariate group is large, but its members are not young—only one baby-noise fluttered above the responses and music at the Mass, and there is no youth group or apparent likelihood of one. On the other hand, the sheer sense of buzz, the well-filled pews, the beauty of the liturgy, and the zeal of Father Grieves and his team are such as to attract more and more people over the next years. Certainly, the "we've-always-been-here" Catholics are benefiting from a renewal of parish life that they must acknowledge to be of value, even if they are also vaguely embarrassed by it. The faces of the parish founders that look down on us as we gather for mugs of tea after Mass are inscrutable. But it seems unlikely that they would object to the sight of so many Catholics talking and laughing together on a Sunday morning—a sign pf hope, and evidence of how God works in unexpected ways in unexpected places.
---
If you value the news and views Catholic World Report provides, please consider donating to support our efforts. Your contribution will help us continue to make CWR available to all readers worldwide for free, without a subscription. Thank you for your generosity!
Click here for more information on donating to CWR. Click here to sign up for our newsletter.
---