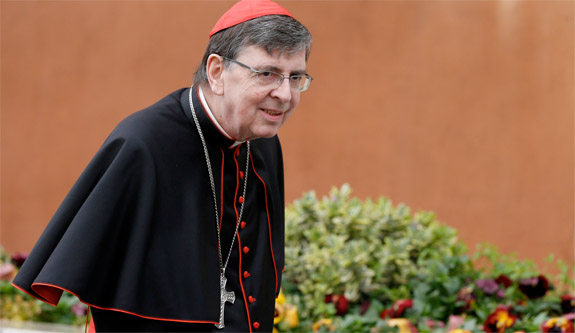 (Vatican Radio, January 21, 2015) To commemorate the 500th anniversary of the Reformation in 2017, the Pontifical Council for Promoting Christian Unity (PCPCU) and the Lutheran World Federation (LWF) will soon publish a joint declaration. This was announced by the President of the Council, the Swiss Cardinal Kurt Koch, in an interview with Vatican Radio, without mentioning any details. Generally speaking, in the dialogue with the Lutherans and with other ecclesial communities originating in the Reformation there has been much progress from a Catholic perspective, Cardinal Koch remarked.
On Sunday, January 25, Pope Francis will lead an ecumenical Evening Prayer in the Roman Basilica of Saint Paul Outside the Walls to conclude the Octave of Prayer for Christian Unity. At his General Audience on Wednesday, too, the Pope happened to speak about this standard yearly ecumenical observance. In his greetings to the German-speaking pilgrims, he called for prayers that the Lord might strengthen "all the baptized in their fidelity to the Gospel message and in their common commitment to reconciliation and peace".
This year a Brazilian group selected the texts for meditation during the Octave of Prayer. They concern the Samaritan woman at the well and the dialogue that Jesus has with this woman who is despised by the other Jews. In doing so, Jesus shows us the importance of conversation with others and openness toward them, Cardinal Koch told Vatican Radio. "For we human beings cannot produce this unity among Christians by ourselves. We have no control over the fact or over the way in which it comes about," Cardinal Koch said. Unity is a gift of the Holy Spirit and therefore we should all be open to it.
The texts for meditation from Brazil also show the Latin American view of ecumenism. The same applies to Pope Francis. "Since he is originally from Argentina, he has had more connections to the major movements of the Evangelical and charismatic communities. And he continues these personal experiences here, in his relations here in Rome as well," said Koch. This is an advantage, for especially in the "Evangelical world" there are major prejudices against the papacy. "If they can now maintain a personal relationship to the Pope, then that opens a new door that previously was not so open," the Vatican official responsible for ecumenism added.
(Translated from German by Michael J. Miller)
---
If you value the news and views Catholic World Report provides, please consider donating to support our efforts. Your contribution will help us continue to make CWR available to all readers worldwide for free, without a subscription. Thank you for your generosity!
Click here for more information on donating to CWR. Click here to sign up for our newsletter.
---