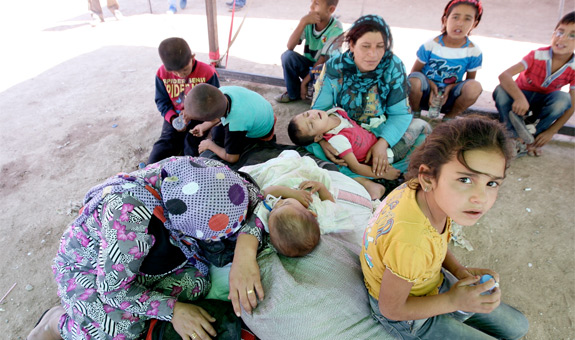 In a region that has seen increasing threats to ancient Christian communities, the Catholic Church is helping many of the two million refugees of Syria's civil war. Besides physical aid, Church workers offer the Syrians the simple truth that they haven't been forgotten—that they are loved and will be cared for.
Most refugees are Muslim, children
Sean Callahan, the Chief Operating Officer for Catholic Relief Services (CRS)—the humanitarian arm of the United States Conference of Catholic Bishops—manages the organization's overseas operations. For the past two years this has included caring for the displaced Syrians. He has met many of the once mostly middle-class people now living without a home or a sense of what is to become of them. Callahan describes the refugees as "vulnerable." This drives CRS workers and local Christian communities to live the Beatitudes in a region besieged by the very opposite.
Syrian refugees—the vast majority of which are Muslim—are scattered throughout the neighboring nations of Lebanon, which is now home to approximately 700,000 refugees; Jordan and Turkey, which have taken in 500,000 each; and Iraq, which has opened its borders to allow 160,000 Syrians. Some refugees have also found shelter in Egypt while a small number seek protection in Europe.
Half of the refugees are children. Of the adults, most are elderly and women. Men have typically stayed in Syria to fight or to protect family property or businesses. Many of those are dead or feared to be. To date, some 100,000 people have died in the conflict and thousands of families are divided with no means of finding each other or communicating at all.
The vast majority of refugees have either integrated themselves into cities, villages, or communities. Some have joined family or friends. Others live in what are sometimes known as "makeshift camps," whether in cities or in rural areas. Host nations provide a variety of aid as their resources allow. Jordan offers the most formally structured camps while other nations provide more modest ones. Some Syrians who once owned comfortable homes now live in shelters made from sewn burlap sacks. Basic necessities like food, water, sanitation, and hope for a better future are scarce.
Callahan recalls meeting a woman in her sixties. Her husband and sons had been killed in the violence and she now cared for her daughters, daughters-in-law, and grandchildren. "What am I to do?" she asked. "How do I support my family?"
These questions, multiplied hundreds of thousands of times over, have grown into a widespread sentiment that the world—especially the West—has overlooked their sufferings. Many refugees wonder why governments, like the United States, are not providing more humanitarian aid. "They're frustrated," Callahan said. "They feel like other situations have gotten more attention and that they've been forgotten completely."
Callahan is eager to commend the host nations for doing what they can in the midst of their own economic and social ills. But the needs of caring for two million homeless people are immense and show no sign of abating. This makes the assistance brought by the Catholic Church all the more necessary.
"We don't help people because they are Catholic—many that we help aren't," said Callahan. "We help people because we are Catholic."
Of late, CRS may feel the need to stress its Catholic identity and fidelity after reports in July claimed that it was involved in population-control services in Madagascar. The charges and subsequent responses show how difficult it can be for Catholics to engage in modern fundraising as well as in partnering with other organizations in on-the-ground humanitarian efforts. The controversy was examined in depth last month by the National Catholic Register, which found that the charges against CRS "have not been substantiated."
"The tears of our nation"
On the topic of Syria, Callahan stresses CRS's close working relationships with Christian entities already present in areas. In particular, CRS works with national chapters of the Vatican-run Caritas Internationalis, including its chapters in Syria itself and within Lebanon and Jordan. He also gives special attention to front-line workers and caregivers—as well as the support (and often presence) of bishops and donors that make such humanitarian work possible.
CRS also relies on the work of local Catholic communities—bishops, churches, and religious orders. "They do whatever they need to do to take care of the needy, no matter who you are. They really do amazing work—day-in, day-out—in very trying circumstances."
CRS channels funds, personnel, and supplies to these local Christian communities so that they can then tend to the corporeal needs of the displaced Syrians. CRS also offers the prayers of their benefactors. These are crucial to assist the Church's caregivers. There are many struggles inherent in this work, most especially spiritual battles that come from circumstances that Callahan modestly calls "draining."
"Workers in these camps need time away every so often," said Callahan. "They need time to pray, to process, to recharge their batteries. The situations they see every day can take its toll."
And yet caregivers also find renewal from the very people they seek to assist. They find special motivation from the gratitude of the mostly Muslim refugees and the small victories that every so often offer great hope.
"One pregnant woman was so overjoyed with the medical attention she received from Caritas workers that she said she'd only have her baby at a Caritas facility," Callahan said. "She appreciated not just the technical skills of workers but also their joy at helping."
It is this joy that is the most needed commodity among the refugees.
"No matter what services we're providing—whether medical, or counseling, or opportunities to debrief—our goal is to give people a sense of well-being. A notion that other people care for them. That they're not forgotten. As best we can, we want to give them some normalcy."
 Callahan recalls that in Jordan he helped CRS and local Caritas workers take young refugees to a Catholic school for a day of this normalcy. The school opened on a Sunday to offer the children a time to play and for artistic opportunities. "The kids could draw whatever they wanted but unfortunately many of the drawings were of burning homes, shootings, and tears—'the tears of our nation,' one of them told me."
Callahan says that in such situations you understand that you cannot change what happened to these young people but you can help their future. Fortunately, he said, many local Christians are eager to help. "There are some vibrant, amazing people in the local churches that have lots of energy and thoroughly enjoy working with the refugees," Callahan said. "They show them genuine love and concern, that people want to be involved with them and help."
Calls for dialogue, respect for religious freedom
In recent weeks, Pope Francis has called attention to the Syrian civil war. He has said on repeated occasions that violence cannot resolve this—or any—conflict. Dialogue is critical to foster peace because it builds relationships, which helps build understanding and trust. Archbishop Silvano M. Tomasi, the Vatican observer at U.N. agencies in Geneva, has repeatedly echoed these words. Most recently, the United States bishops wrote to Secretary of State John Kerry about America's role in the Syrian civil war. His Excellency Richard E. Pates, the chair of the Committee on International Justice and Peace, wrote that it has been the longstanding position of the US bishops "that the Syrian people urgently need a political solution that ends the fighting and creates a future for all Syrians, one that respects human rights and religious freedom."
Callahan attended a recent meeting in Rome of Caritas International, CRS, and representatives of the Eastern churches. Pope Francis spoke at the gathering. At one point he strayed from his prepared comments and spoke sternly that the violence in Syria must end, that there must be a negotiated peace. "He then used a maternal term," Callahan recalled. "He said that we need to spread the wings of church and bring inside [those affected by the civil war]—we must give them the 'caress of mother church' and in doing so show them that we love them."
Thus far, CRS has programmed $26 million for the Syrian refugee crisis—a significant number but one that reflects only about $13 per refugee. And yet these funds provide significant trauma counseling, shelter, food, water, and medical equipment and services. They also help with education—both for the refugees and training for local teachers to help them with the unique situations they will encounter.
 When asked how those not in the area can help, Callahan asks for four things. "First, we desperately need prayer—we need people to not forget what's happening here. Second, people can learn more about what's happening and what the Church is doing in response. Third, people need to take that knowledge and act, to encourage peace through political processes—writing their representatives and their senators, that kind of thing. Lastly, we need people to give so that we can continue to give on the ground in ways that make all the difference in the world for people who have nothing."
Callahan said that some of the most touching donations he's received are from school children who have learned about the Syrian refugee crisis and sold candy or took up collections so that they could donate to the cause. "Children can be more insightful than we adults. They see this suffering and they just know intuitively that they can be part of a solution."
Callahan says that such simple generosity and the dedication of the caregivers "is really a wonderful example of the work of the universal Church."
As many have observed, the Church's embrace of Syria's refugees demonstrates in our present day what the Church has always done. She is providing corporal and spiritual aid to those in need, even where Christians are persecuted. Thus the Catholic Church continues the mission of Christ in the world, no matter the cost: to love and comfort one's neighbor; to forgive one's enemy; and to bring into the darkness the peace, hope, and brilliant truth of the Triune God who is love.
---
If you value the news and views Catholic World Report provides, please consider donating to support our efforts. Your contribution will help us continue to make CWR available to all readers worldwide for free, without a subscription. Thank you for your generosity!
Click here for more information on donating to CWR. Click here to sign up for our newsletter.
---