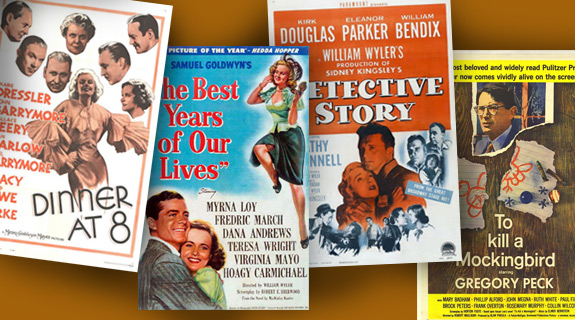 Some films are unremittingly cheerful, and some are unremittingly dark. I prefer films that combine grit/darkness with virtue, even fragile virtue…not easy to pull off without the viewer having the sense of a manipulative deus ex machina.
Four films that span four decades and fit this criterion are Dinner at Eight (1933), The Best Years of Our Lives (1946), Detective Story (1951), and To Kill A Mockingbird (1962). Of these four films, Detective Story receives the least recognition and praise. There's a reason for this, but I'll save that for later.
In some respects, these films couldn't be more different, with each reflecting it's own time and the spirit of it's own age; superficially, that is, as these films have more in common than first meets the eye.
Dinner at Eight relates the story of a group of people encountering life changing, even existential, challenges. Some are transformed by these events. Some are like brittle trees that cannot bend in the wind.
The Best Years of Our Lives follows three World War II veterans, scarred by their experiences, as they attempt to re-enter a society that desires to put the war behind it.
Detective Story puts a spotlight on a tireless policeman, but also a damaged man who is determined to impose his rigid code on the world.
To Kill A Mockingbird demonstrates how much it costs to adhere to principle, and prompts us to question if it's worth it.
Dinner at Eight, directed by George Cukor, features Marie Dressler (a consummate early Hollywood character actress), John Barrymore (portraying a character eerily like himself), Lionel Barrymore, Wallace Beery (invariably a curmudgeonly character; in real life too by all accounts), Jean Harlow, and Billie Burke (of subsequent Wizard of Oz fame). Greed, adultery, alcoholism, and suicide are portrayed without much subtlety in this pre-Code film. The blending of humor and drama works in this film and doesn't seem contrived. John Barrymore turns in a powerful performance as a man who can't summon the humility that's necessary for survival, much less transformation. Generosity manages to bud, but not until events have reached a desperate state.
The Best Years of Our Lives features Myrna Loy (my favorite actress), Frederic March, Dana Andrews, Teresa Wright (wonderful in this film and in Hitchcock's Shadow of a Doubt), Virginia Mayo, and Harold Russell. This film, directed by William Wilder, portrays war trauma – physical and psychological, alcoholism, adultery, and depression, depicting something different than the triumphant return of America's "greatest generation". One might predict the rebellious youth of the 1960s emerging from the men who saw and experienced too much in this terrible war. Despite the three men's crosses, the viewer witnesses a beautiful example of self-giving love in the challenging romance of Homer (portrayed by the "amateur" actor, Harold Russell, who lost both hands in the war and who won an Academy Award for his performance in this film) and Wilma, profoundly influencing the other two vets.
Detective Story, also directed by Wilder, and considered by some to be in the film noir category, features Kirk Douglas, Eleanor Parker, William Bendix, and Lee Grant. I don't consider Detective Story film noir because of its redeeming finale. The film tells the story of a seriously flawed New York City detective, a modern Inspector Javert, whose world is turned upside down by an ironical twist of fate. Portrayed in the film are abortion, severe emotional trauma, and explicit cruelty, but Detective Story is ultimately leavened by repentance and compassion.
To Kill A Mockingbird, directed by Robert Mulligan, is considered one of the finest adaptations of a great novel. The film stars Gregory Peck, and also features a young William Windom as Atticus Finch's courtroom opponent and a young Robert Duvall (my favorite living actor) as Boo Radley. The child actors who portray Scout, Jem, and Dill also turn in fine performances. Mulligan transformed a Hollywood lot into a facsimile of a gray and weary 1930s Alabama town. To Kill A Mockingbird depicts blind prejudice, attempted murder, and ostensible rape, but these evils are overshadowed by the grace, generosity, and courage of several characters, chiefly Atticus Finch, who was one of the inspirations for my character, TA Cole, in Terrapin.
What all these films have in common is the implicit assumption that choices matter, and that life matters. This truth may be represented by a man who puts everything he values on the line for what he believes to be right, or by the suicide of a man who will not accept the need to change. Nihilism may be exhibited by characters in these films, but the films are not nihilistic. Choices matter. Life matters.
Why is a film of the quality of The Detective seldom lauded these days? The reasons may be that an abortionist is depicted unfavorably, and the denouement features explicit religiosity, two things that are scorned in the Hollywood/media milieu. This fine film deserves more attention than it receives.
How can these four films be relevant in a twenty-first century where soul-less electronic devices have become our alter egos and where we are measured by what we have, what we produce, and how we look? What can these films say to us moderns? As with any great film or book, these four movies depict the sin that resides in us – often overwhelming us – but, more importantly, our potential to be authentically human and open to grace…to be who we were created to be. Such stories are always relevant and worthy of pondering.
---
If you value the news and views Catholic World Report provides, please consider donating to support our efforts. Your contribution will help us continue to make CWR available to all readers worldwide for free, without a subscription. Thank you for your generosity!
Click here for more information on donating to CWR. Click here to sign up for our newsletter.
---