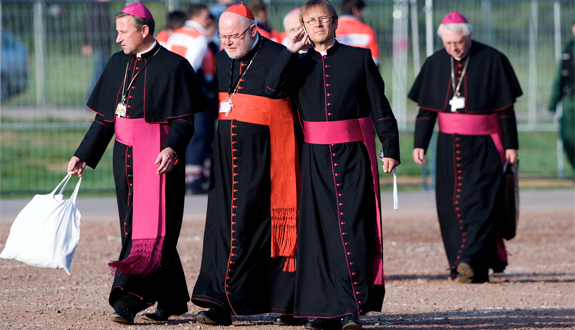 I see that the German bishops have embarked on their "binding synodal process." Who, other than a German, could get excited by a "binding process"? This is like getting all aflutter when the boss announces a new "systems adjustment."
A new systems adjustment? Will there be committees? And working groups? And multiple planning documents? What supreme ecstasy! Be still my beating heart.
Hearing the words "a binding synodal process" gives me the heebie-jeebies because I have been on too many committees where the leader announced at the end, "It was a good process." It was a lousy result, of course, but somehow still "a good process." I never quite get that. [Editor's note: See Dr. Smith's essay "Words Meaning Nothing: On the Empty Epidemic of 'Management Speak'".]
But, you know, they're Germans, and they like this sort of thing. Perhaps, like the Council of Trent, they'll be at it for the next thirty years or so, and we can conveniently forget them. But I worry. It's just that, unlike the Council of Trent, the German bishops aren't known for their — how to put this delicately? — diversity. They are pretty much all of one mind, and they have pretty much stacked the deck entirely in their favor. So there is little or no "drama" about what the outcome will be.
Since the number of German Catholics still going to Mass in Germany is down to about two dozen, making it much easier to know how many donuts to buy for after the service, it is not as though the synodal process will, by itself, affect many actual Catholics. The bigger problem is that these Germans still think they're calling the intellectual shots in the Church the way they did when the big authorities in the Church were men with names like Rahner, Häring, Metz, Vorgrimler, Grabmann, Fuchs, Guardini, and Ratzinger. So they foresee their synodal process as being the leading edge of changes they believe should be embraced by the entire Church.
Not long ago, I argued in print that bishops who show no respect for the authority they are supposed to serve deserve no respect from those under their authority. Now I am wondering whether that's not enough. Perhaps I was wrong. Perhaps what we need is more synods.
Right now I am thinking about a "binding synodal process" initiated by the Catholic bishops of Africa under the chairmanship of Cardinal Sarah. (No Germans allowed, due to their troubling history of colonialism in Africa.) That binding synod could decide on no married priests, no gay marriage, no communion for divorced and remarried Catholics, and no taking money from government authorities who oppose Church teaching to support churches that are emptying out of actual Catholics.
And then they could condemn the new intellectual colonialism of the white Europeans who are trying to force on them doctrines and practices alien to their faith, when in fact their African churches are full and growing and the white European churches, though rich, are empty. Indeed, if the Germans are eager to pass out their money to other countries and causes, perhaps it's time for them to pay reparations for their egregious crimes in Africa. Oh, and while they're at it, perhaps the Germans could spare a moment from all the rest of their important business to employ all that impressive intellectual firepower they possess to make some sort of condemnation of people who cut off the heads of African Christians.
I mean, an African synod might decide those things. I'm not saying they should. I'm just saying that these are the kind of things might emerge from "the process."
Then we would have something like dueling synods. This wouldn't be like "Dueling Banjos." It would more like the problem Muslims sometimes have with dueling fatwas.
"My synod rejects your synod!"
"How dare your synod un-synod our synod! We are going to synod again and un-synod your synod with our new synod."
"Oh yeah, well your synods are junk!"
"No, your synod was junk, a robber's synod, a synod of fools, a confederacy of dunces."
Then, when things are really getting hot, we can expect others, like the French, to get in on the action and to form their own distinctively French synod, to decry the "incivility" and "lack of true Catholic charity" being shown in those other synods, followed by (if these things operate according to form) a long list of anathemas and excommunications. And seeing as how they're French, they would probably for things like a lack of good taste and too much German in the official documents.
What then? Perhaps the Swedish bishops could have their own "binding synodal process," in which they demand that every future synod, whatever else they do, should make some comment about the problem of global climate change and that Greta Thunberg should always be invited as a peritus.
Italy could then follow suit and demand in their synod that at least four Italian cardinals henceforth be included in any future "synodal process" anywhere in the world and to ensure that abundant red wine and delicious food are provided.
Then perhaps the Catholic Church in Iceland will commence its own "binding synodal process." Since there is just one Catholic bishop of Iceland, he would need to meet regularly with himself to decide on issues for the universal Church.
Personally, I am holding out the hope that the considered judgment of his "binding synodal process" will be that there are to be no more binding synodal processes — after his, of course, which would be binding on everyone, including the German bishops, because, come on, who is going to go up against the judgment of the religious authorities of Iceland?
Not me. I mean, when Bishop Dávid Bartimej Tencer of the Diocese of Reykjavík speaks, I listen. I've heard he has an amazing process. So shouldn't his synodal word be final?
---
If you value the news and views Catholic World Report provides, please consider donating to support our efforts. Your contribution will help us continue to make CWR available to all readers worldwide for free, without a subscription. Thank you for your generosity!
Click here for more information on donating to CWR. Click here to sign up for our newsletter.
---