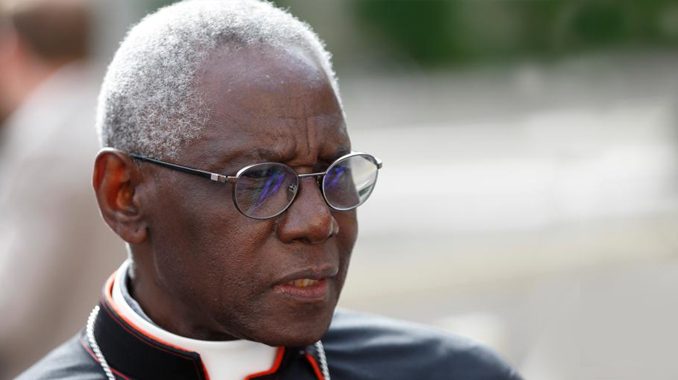 From the standpoint of those of us concerned about questions of nationality, sovereignty, and rootedness, it is only logical to find that the most resolute upholders of Catholic tradition should also be among the most prominent opponents of globalization. For in its own way, the patriotism which stands in opposition to globalism is a critical part of Catholic tradition, as Blessed Stefan Wcysynski realized full well. "We should wish to help our brothers," the cardinal once told his countrymen, "to feed Polish children, to serve them here and to do our duty rather than succumb to the temptation to 'save the world' at the cost of our own fatherland."
Robert Cardinal Sarah of Guinea seems to agree. During a 2017 conference hosted by the very Polish university named in honor of Wycszinski, Cardinal Sarah insisted that communities as well as individuals must be respected: "In what manner is it possible to remove the rights of the nation to distinguish between a political or religious refugee, who must flee from his homeland, and the economic migrant, who wants to change his address without adapting himself, identifying with, and accepting the culture of the country in which he will live?" As if directly retorting to the popular slogan "welcome the stranger," the cardinal admonished all who "exploit the Word of God to justify the promotion of multiculturalism and gaily take advantage of the excuse of hospitality to justify the admission of immigrants."
In a 2019 interview with a French journalist following said visit to Cardinal Wyszyński University, Cardinal Sarah explained his views on the patriotic question in greater detail:
When I went to Poland, a country which is often criticized, I encouraged the faithful to affirm their identity as they had done over the centuries. My message was simple: You are first Poles, Catholics, and only afterwards Europeans. You should not sacrifice the two first types of identity on the altar of a nationless, technocratic Europe. The Brussels Commission thinks of nothing except the construction of a free market in the service of great financial powers.
As if to drive home the point that he is no proponent of the ideology of democratic capitalism, His Eminence goes on to lament that "the European Union no longer protects peoples. It protects banks." Cardinal Sarah goes on to sum up the proper role of Saint John Paul II's fatherland in the disordered mess that is 21st-century Europe. As part of her "unique mission in the plan of God," says the cardinal, Poland
is free to tell Europe that each was created by God to be placed in a particular place, with its culture, its traditions, its history. The current drive toward globalizing the world by doing away with nations is pure madness. The Jewish people endured exile, but God brought them back to their country. Christ fled from Herod and into Egypt, but he returned to his country upon the death of Herod. Each should live in his own country. Like a tree, each to his own soil, his place where he flourishes perfectly. It would be better to help people to flourish in their own cultures, than to encourage them to come to a Europe filled with decadence. It is a false exegesis that uses the Word of God to celebrate migration. God never wanted this tearing away.
Whether Poland will follow the heroic path outlined by Cardinal Sarah or instead succumb to the "great financial powers," only time will tell. What is clear is that the stakes are high, and that the author of The Power of Silence and The Day Is Now Far Spent exhibits concerns more reminiscent of Jean Raspail than of the USCCB:
The Church cannot cooperate with this new form of slavery that has come of mass migration. If the West continues on this disastrous course, there is a great risk that, with declining births, it will disappear, invaded by foreigners, as Rome was invaded by the barbarians. I speak as an African; my country is mostly Muslim. I think I know the reality of which I speak.
For my part, all I would add to His Eminence's penetrating reflections is the observation that those Catholics who dissent from time-honored Church precepts about sex, human nature, and the primacy of the Magisterium are usually the ones most sympathetic to the idea of a borderless world. This in turn suggests that there is a sociocultural and even spiritual "big picture" which must be kept in mind by culture warriors who would battle against specific problems such as abortion, transgenderism, and militant scientism. However deplorable such afflictions may be, we will never get beyond ineffectually complaining about them unless we can summon the nerve to connect them with the globalist elephant in the room.
---
If you value the news and views Catholic World Report provides, please consider donating to support our efforts. Your contribution will help us continue to make CWR available to all readers worldwide for free, without a subscription. Thank you for your generosity!
Click here for more information on donating to CWR. Click here to sign up for our newsletter.
---