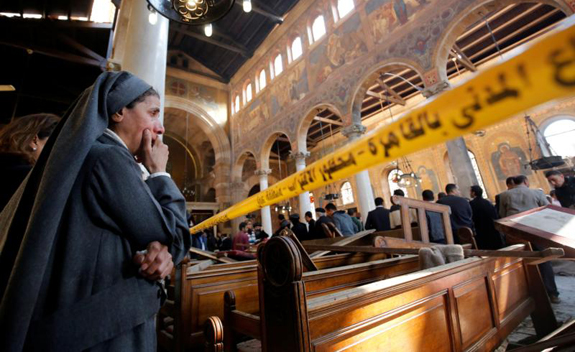 In Egypt, Coptic and other Christians have grown used to persecution, bombings, and assaults. They have even learned to expect the possibility of kidnapping on the way to Divine Liturgy.
But never has there been an attack on them or their places of worship while they were fulfilling their Sunday obligation.
Until now.
On Sunday, December 11, around 10:00 am local time, a man authorities identified as 22-year-old Mahmoud Shafiq Mohammed Mustafa detonated a 26-pound dynamite bomb strapped to his chest at Ss. Peter and Paul Chapel near the end of that day's Divine Liturgy, killing 25 and wounding 49. The chapel, which is bigger than most American churches, is attached to Cairo's Grand Cathedral of Saint Mark, the seat of the Coptic Orthodox Church. Popularly known as El-Botroseya, it was severely damaged.
After what was, for them, an unusual period of silence, ISIS eventually took credit for the attack. The explosion was the third blast in a week, with the two previous bombs targeting security personnel.
What makes this particular incident even more distressing is that Mustafa purposefully detonated his suicide vest where only female worshippers and small children would be. Like Christian temples of old, some Coptic churches, including Ss. Peter and Paul, maintain a women's gallery. That is, the women worship in a separate part of the church, often a balcony. And this is where the assassin detonated his bomb.
The explosion was massive. Security camera footage shows the blast lifting the church up and blowing out windows to such a degree that the smoke from inside the building wholly obscured its view outside on the street.
"I found bodies, many of them women, lying on the pews. It was a horrible scene," cathedral worker Attiya Mahrous told the Associated Press. The AP said Mahrous "rushed to the chapel after he heard the blast. His clothes and hands were stained with blood and his hair matted with dust."
"I saw a headless woman being carried away," Mariam Shenouda said as she pounded her chest in grief. "Everyone was in a state of shock. We were scooping up people's flesh off the floor."
Speaking several hours later at his Angelus address, Pope Francis said, "I want to express my special closeness to my dear brother, Pope Tawadros II, Patriarch of the Coptic Orthodox Church, and to his community, praying for the dead and injured."
The attack, which fell on a national holiday commemorating the birth of Islam's prophet Mohammed, caused the government to cancel celebrations.
Several of Egypt's Islamic notables condemned the violence, including Cairo's Grand Mufti, who is the chief Islamic legal authority in Egypt.
"Attacking churches whether by demolition, bombing, killing those inside, or terrifying…secure people are prohibited in Islamic Sharia," said the Grand Mufti, Sheikh Shawky Ibrahim Abdel-Karim Allam. He said the incident represented a "deplorable terrorist attack."
Even a militant group condemned the assault. According to Aleteia, "a militant group responsible for a string of deadly attacks targeting Egyptian security forces, the Harakat Sawa'd Misr, or Hasam Movement, condemned the bombing, saying the prophet Mohammad 'taught us even while we fight not to kill a child nor woman nor old person nor worshiper in his place of worship.'"
Condemnations from Egyptian Muslims were followed by official denunciations by the governments of Algeria, Bangladesh, Jordan, the Palestinian Authority, Malaysia, Saudi Arabia, and Turkey.
Egyptian President Abdel Fattah el-Sisi not only condemned the attack but called for three days of national mourning, saying, "Terrorism targets Copts and Muslims, but it does nothing but make us stronger and stronger and more united."
The president also attended a memorial service the day after the bombing and the funeral of the dead. 
Some think the violence stems from the military coup that overthrew the regime of democratically-elected President Mohammed Morsi in 2013.
Morsi rose to power out of the radical Muslim Brotherhood, which has been linked to terrorist activity for decades. Many Egyptian Christians—who account for 10 percent of the nation's 92 million people—supported his ouster. This led to sometimes violent recriminations against believers and their churches.
Indeed, it is their support for the regime change that leaves many Christians incredulous that more has not been done to protect them and to bring the criminals who commit such acts to justice.
In a statement following the attack, His Grace Bishop Anba Angaelos, leader of the Coptic Church in the United Kingdom, said, "As Christians, we also believe in forgiveness, but forgiveness is by no means synonymous with ignoring justice. Forgiveness ensures that our own hearts are not entangled in a web of anger and resentment, or corrupted by feelings of hatred or revenge. Forgiveness is ultimately liberating and empowering, but at the same time, justice is essential; not for the purposes of punishment, but to secure and protect our societies in which people must respectfully live side by side."
Dr. Ashraf Ramelah, leader of the advocacy group Voice of the Copts, was even more pointed, lamenting in a statement that "acts of terror and religious jihad continue to grow unchecked."
"The presence of President el-Sisi in attendance of the victims' funerals," he continued, "does not impress us anymore knowing that his compassion has not yet led him to implement the effective steps to remove Christian Copts from the crosshairs of Islamic supremacy."
"We urge Egypt's government to secure the Coptic community and every community of Egypt by ensuring that justice takes place through full investigations, arrests, and trials in order to deter future acts of terror."
He then went on to note that despite several similar attacks—the burning and bombing destruction of 87 Coptic Christian churches in a 45-day rampage in June and July of 2013; the murder of 23 peaceful Christian protesters demonstrating in Maspero (Cairo) against violence in October 2011; the Two Saints Church bombing and killing of 87 Christians on New Year's Eve, 2010; the forced displacement of innocent Copts after unprovoked attacks upon their homes and community—few perpetrators have been brought to justice, leaving Egyptian Christians without confidence in the government to secure their safety.
According to the Egyptian news outlet Ahram Online, the carnage prompted several hundred Muslim and Coptic protesters to gather at the cathedral, "chanting against the attack on the church in a show of both anger and unity." A group of Muslim clerics joined in the protests.
In the meantime, donations have flooded in to help the victims, and the nation's office of antiquities says it will pay to restore the damaged chapel.
According to Ahram, a woman named Amira who lives close to the protest site said, "We are not worried; our churches are open and prayers are continuing as normal. God is here for us."
Bishop Angaelos closed his statement by noting, "As we prepare for feasts and celebrations—Christmas in the Gregorian calendar, the new year, the Feast of the Nativity in the Julian calendar and Epiphany, sharing them with family and friends around us—there are families that will not be coming together, and communities that will not be celebrating, as a result of this great loss. We remember and pray for them all and assure them that they will not be forgotten. We also live confident that if we, as limited imperfect beings, are moved by their loss and suffering in this way, that our perfect, all-loving, all-powerful and all-just God hears their cries and will by no means forsake or forget them, but strengthen, support and comfort them as only he can."
To see the names of those martyred on December 11, go here. To donate to the Catholic Near East Welfare Association for the relief of the survivors and the victims' families at this holy time of year, Advent and Christmas, go here.
---
If you value the news and views Catholic World Report provides, please consider donating to support our efforts. Your contribution will help us continue to make CWR available to all readers worldwide for free, without a subscription. Thank you for your generosity!
Click here for more information on donating to CWR. Click here to sign up for our newsletter.
---