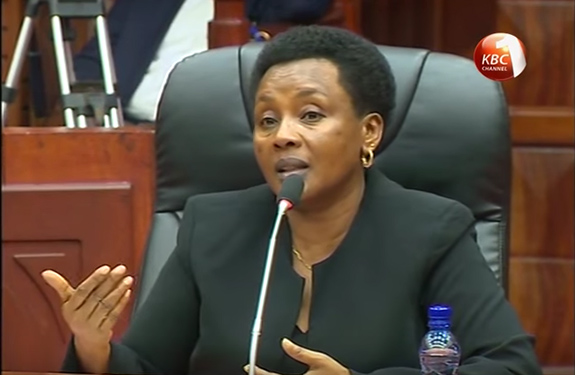 Kenya's National Assembly voted on Thursday afternoon, to approve the appointment of Lady Justice Philomena Mwilu as the country's next Deputy Chief Justice. This means Mrs. Mwilu automatically joins the seven member Supreme Court bench.
Three members of Kenya's Supreme Court, including the Chief Justice and the Deputy Chief Justice, had retired earlier this year, necessitating their replacement in a process that has generated immense national interest. What was peculiar in the parliamentary debate regarding Justice Mwilu's suitability was the element of religious views, with all key protagonists being Catholics.
Before the vote a lively debate ensued, with two Catholic Members of Parliament, Mr. Irungu Kang'ata and Mr. Chrisanthus Wamalwa, taking opposite views regarding the suitability of Justice Mwilu for the job.
Judge Mwilu, herself a Catholic, had been recommended for appointment by the Judicial Service Commission as the most qualified candidate, from a pool of thirteen individuals who had gone through a rigorous interview process. Following her recommendation, the departmental committee on justice and legal affairs of the national assembly vetted her and submitted a report to the national assembly, in favor of her appointment. 
Mr. Kang'ata, Member of Parliament for Kiharu constituency in central Kenya, and a member of the justice and legal affairs committee, dissented with the report of the committee. Mr. Kang'ata began his contributions by describing himself as a "strong conservative Catholic", and went on to claim that during the vetting session, he found "the philosophical bent of the judge, does not rhyme with my philosophy of a person who believes in strong religious grounds." He was basing his argument on the answer that Justice Mwilu allegedly gave during the parliamentary vetting, about her views on gays, claiming she did not oppose same-sex relations. Mr. Kang'ata described Justice Mwilu as someone who "brings a demarcation between private values and so-called legal values", which according to him is a "fallacious demarcation in jurisprudence". 
He added that, as a Christian, he loves gay people but he hates what they practice and would not want for them to "escalate their evil ways to my children". He further argued that the Supreme Court was critical in the interpretation of the constitution, and urged fellow members of parliament to rise above other divisions and to consider "the larger interests of Christians or people who are strongly religious" in ensuring that the philosophical leanings of judges does not threaten the moral fabric of the Kenyan society.
Arguing in support of Judge Mwilu, Mr. Wamalwa also introduced himself as a Catholic, and proceeded to point out that he is a member of the same parish church as the judge. "Justice Mwilu is a Catholic, as indicated in her CV," stated Mr. Wamalwa. "She is a member of the CWA, Catholic Women Association, an association in the Catholic Church composed of women, who promote family values." He went on to indicate that the judge is a member of the Catholic Justice and Peace Commission, whose objective in Mr. Wamalwa's words, "is to promote peace and justice". 
The MP, who also serves as the Vice-Chair of the Catholic Parliamentary Association, further claimed that since Justice Mwilu is "a practicing Catholic" it is inconceivable that she would promote "issues to do with gayism". In defending the judge, Mr. Wamalwa said that Catholic members of parliament had prayed for the judge to be approved by parliament, and to rise to the position of Deputy Chief Justice during their Wednesday weekly Mass. He described Justice Mwilu, based on his interactions with her at the parish level, as being a humble and courageous lady, and the right woman for the position of Deputy Chief Justice. "I don't know where the Honorable Kang'ata got the notion that Justice Mwilu supports gay rights. She only mentioned, in line with chapter 36 of the constitution, that there is freedom of association, so whoever they are, they have their freedom of association. But that does not mean she supports or subscribes to the gay rights", said Mr. Wamalwa in response to Mr. Kang'ata's argument.
Legal scholars in Kenya and beyond offer differing interpretations of the constitution in the matter of same-sex marriage. Article 27 of the constitution guarantees equality and freedom from discrimination, with clause 1 stating: "Every person is equal before the law and has the right to equal protection and equal benefit of the law". Clause 4 goes even further, saying the "State shall not discriminate directly or indirectly against any person on any ground, including race, sex, pregnancy, marital status, health status, ethnic or social origin, colour, age, disability, religion, conscience, belief, culture, dress, language or birth."
Advocates of same-sex marriage point to these clauses in making their case that prohibition of same-sex marriage is a direct affront to the constitution. However, Article 45 of the same constitution states: "Every adult has the right to marry a person of the opposite sex, based on the free consent of the parties." Clause 1 of the article describes the family as "the natural and fundamental unit of society and the necessary basis of social order," recognized and protected by the State.
In the lead up to President Obama's visit to Kenya in 2015, Mr. Kang'ata had threatened to organize demonstrations if Mr. Obama's intended to push the gay and abortion agenda.
If the debate witnessed in Kenya's parliament on these matters is anything to go by, it seems highly probable that the Supreme Court, its new leadership and rulings, will be closely monitored in months and years to come.
---
If you value the news and views Catholic World Report provides, please consider donating to support our efforts. Your contribution will help us continue to make CWR available to all readers worldwide for free, without a subscription. Thank you for your generosity!
Click here for more information on donating to CWR. Click here to sign up for our newsletter.
---