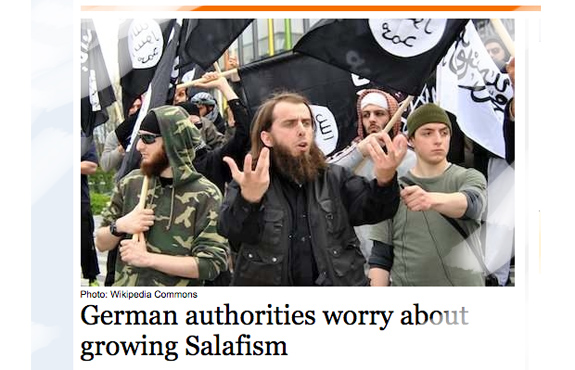 In a coordinated raid conducted on Wednesday, November 12, 2014, police in several German cities, most of them in North Rhine-Westphalia, searched forty houses and arrested nine radical Salafists who are suspected of robbing churches and schools to fund jihad. All but one of the men are German citizens between the ages of 22 and 35; the other is a 58-year-old Pakistani. Reports of the crackdown were confirmed by law enforcement officials in Düsseldorf.
The head of the Intelligence Service of North Rhine-Westphalia, Burkhard Freier, told journalists that the Salafists who were apprehended will be charged with breaking and entering to steal valuables that were then sold in order to support Islamist terrorists. The network disrupted by the police also allegedly made arrangements for militant Salafists to travel from Germany to war-torn areas. Currently the Intelligence Service is monitoring several dozen "Salafist scenes" in the Rhine and Ruhr Valleys; the authorities reckon that there are currently 1,800 Salafists in North-Rhine Westphalia; of them, 250 men between the ages of 18 and 29 are considered militants.
In the past, besides recruiting, the Salafist networks have concentrated on collecting funds "under the cloak of philanthropy", Freier said. In recent months Salafists in Germany have sent the jihadists of ISIS in Syria "several hundred thousand Euros". At least part of this six-figure sum allegedly came from the sale of property stolen in a series of break-ins that began last winter.
In the opinion of the NRW Intelligence Service, there is "no specific danger of attack" in Germany by Salafist terrorists. "But we must be vigilant," Freier said. There is a potential danger of militants returning from the war zones in the Middle East. With the crackdown on the loose radical Salafist network centered in Cologne, "a swamp was drained," Freier said, "not the only one, but a big one."
This article is based on reports by KNA, Kath.net and Die Welt
---
If you value the news and views Catholic World Report provides, please consider donating to support our efforts. Your contribution will help us continue to make CWR available to all readers worldwide for free, without a subscription. Thank you for your generosity!
Click here for more information on donating to CWR. Click here to sign up for our newsletter.
---