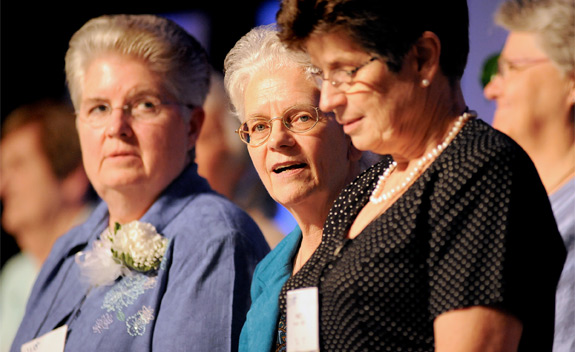 The National Catholic Register recently published a piece, "LCWR 2013 Assembly: Little Evidence Yet of Any Reforms" (Aug. 20, 2013), by Ann Carey, a CWR contributor and author of the recently published Sisters in Crisis: Revisited—From Unraveling to Reform and Renewal (Ignatius Press, 2013). Remarking on the 2012 mandate of reform from the Vatican Congregation for the Doctrine of the Faith (CDF), which some LCWR leaders and members claim to have not yet read, Carey writes
The mandate directs the bishop delegates to take no more than five years to direct a revision of the LCWR's statutes; review and reform LCWR plans and programs; create LCWR programs to help member congregations receive deeper formation in Church doctrine; review and guide application of liturgical norms and texts; and review LCWR links with the affiliated organizations NETWORK and Resource Center for Religious Institutes.
Reportedly, several meetings and/or teleconferences between the bishop delegates and LCWR leaders took place over the past year, but no information has leaked out. From all indications, none of the mandated reforms have yet begun, even something as simple as taking the LCWR "Systems Thinking Handbook " off the LCWR website. The CDF mandate had directed that publication to be "withdrawn from circulation, pending revision."
Rather, this sentence in the Aug. 19 LCWR press release indicates that the sisters continue to look for a "third way" to avoid reform of the LCWR while still retaining status as a canonically erected superiors' organization:
"Although we remain uncertain as to how our work with the bishop delegates will proceed, we maintain hope that continued conversations of this depth will lead to a resolution of this situation that maintains the integrity of LCWR and is healthy for the whole Church."
A similar message was issued at the end of the LCWR 2012 assembly: "The [LCWR] officers will proceed with these discussions [with the apostolic delegates] as long as possible, but will reconsider if LCWR is forced to compromise the integrity of its mission."
---
If you value the news and views Catholic World Report provides, please consider donating to support our efforts. Your contribution will help us continue to make CWR available to all readers worldwide for free, without a subscription. Thank you for your generosity!
Click here for more information on donating to CWR. Click here to sign up for our newsletter.
---