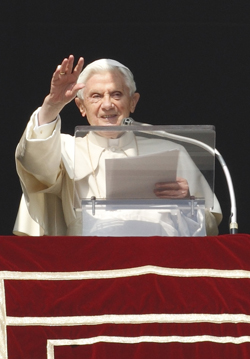 Since Pope Benedict's announcement last week that he'll be stepping down as Supreme Pontiff, there has been some discussion in the Catholic blogosphere and elsewhere about whether it is most appropriate to say the pope "resigned," "renounced," or even "abdicated" his office. For example, on the day of the announcement, George Weigel told NBC News he thought "abdicate" would be a better word: "A resignation is something that someone hands to someone else. Popes have no one to resign to, so this is an abdication."
Bishop Thomas Paprocki of Springfield, Illinois, who has a doctorate in canon law and who serves on the USCCB's Committee on Canonical Affairs and Church Governance, has weighed in on the discussion; on her blog, Pia de Solenni has posted some remarks from Bishop Paprocki on the terminology of when a pope steps down:
The official English translation of the Code of Canon Law translates "renuntiatio" in canon 332, §2 as "resignation." ("If it happens that the Roman Pontiff resigns his of­fice, it is required for validity that the resigna­tion is made freely and properly manifested, but not that it be accepted by anyone." In Latin: "Si contingat ut Romanus Pontifex muneri suo renuntiet, ad va­liditatem requiritur ut re­nuntiatio libere fiat et rite manifestetur, non vero ut a quopiam acceptetur.")
Accordingly, I believe "resign" is a more accurate translation in this context than "renounce" and certainly not "abdicate" (a term used by royalty when a monarch steps down from the throne). It does seem odd that someone could resign without submitting that resignation to anyone, so the canon specifically addresses that question by saying that for validity it is required that the resignation must be "made freely and properly manifested, but not that it be accepted by anyone."
Although "renounce" has been used even in the Holy See's translation of his announcement and letter of resignation, I think that "renounce" is a literal but not necessarily accurate translation of "renuntio" in this context. Since the Pope wrote and spoke in Latin, it is a question of translation. Parallel passages in canon law regarding bishops and pastors stepping down from office use the word "renuntiatio," but we never speak of a bishop sending in his letter of "renunciation" when he turns 75 or a pastor "renouncing" his office. So my interpretation as a canon lawyer is that "resignation" is the proper translation of "renuntiatio" in this context.
Bishop Paprocki also has some thoughts on what the Holy Father will be known as once he leaves office:
Of course, it would be best to know what Pope Benedict himself wants to be called after February 28 and I hope he will tell us. We can get some idea of that from the name under which his books about Jesus of Nazareth have been published: "Joseph Ratzinger – Pope Benedict XVI." In his forward to the first volume, he made it clear that "this book is in no way an exercise of the magisterium, but solely an expression of my personal search 'for the face of the Lord' (Cf. Ps 27:8)." So, writing in his personal capacity and not as Supreme Pontiff, he called himself, "Joseph Ratzinger – Pope Benedict XVI."
Some have suggested that he should return to being "Cardinal Ratzinger." That does not seem correct. If he had resigned before reaching the age of 80, after which a Cardinal may no longer vote in a papal conclave, I do not think he would have, should have or could have donned a red cassock and entered the conclave in the Sistine Chapel to vote for his successor.
Instead, at 8:00 PM Rome time on February 28, 2013, Pope Benedict XVI will have a new identity to which we will have to become accustomed: His Holiness, Joseph Ratzinger, Pope Benedict XVI, former Roman/Supreme Pontiff, Bishop Emeritus of Rome.
---
If you value the news and views Catholic World Report provides, please consider donating to support our efforts. Your contribution will help us continue to make CWR available to all readers worldwide for free, without a subscription. Thank you for your generosity!
Click here for more information on donating to CWR. Click here to sign up for our newsletter.
---