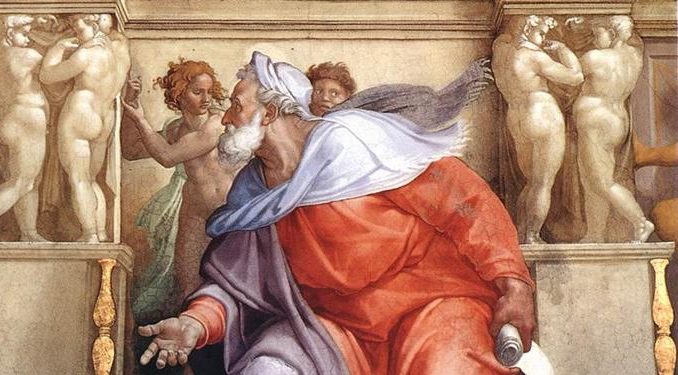 Readings:
• Ez 2:2-5
• Psa 123:1-2, 2, 3-4
• 2 Cor 12:7-10
• Mk 6:1-6
We've all heard of "thankless jobs." Consider the following job description: "Requires spending endless hours with people who dislike, dismiss, or reject you completely. Must be able to defend a product that few want and many hate. No vacations; few apparent benefits. Poor pay. Chances of bodily harm, torture and death very high."
Anyone interested?
That thankless job was the job of the prophets — men such as Jeremiah, Amos and Ezekiel. And, of course, Jesus Christ.
The pattern in the Old Testament is quite consistent. A man was called by God to proclaim a message of warning, exhortation and potential judgment to a people who were, with few exceptions, very stubborn, disagreeable and even violent. The prophet was to declare the name and word of the Lord God so the "rebels who have rebelled" would not be able to say, "We weren't warned! We weren't given a chance!"
The prophets were self-sacrificing messengers of God's love. They were the righteous ones who would have understood well the cry of the Psalmist: "Have pity on us, O Lord, have pity on us, for we are more than sated with contempt; our souls are more than sated with the mockery of the arrogant, with the contempt of the proud." The essential problem and core sin was that of pride, that self-love which can think only of itself at the expense of everything else, but especially God.
In Mark 5, Jesus encountered faith and humility in the hemorrhaging woman who touched his hem (Mk 5:25-34) and the ruler of the synagogue whose daughter had died (Mk 5:35- 43). But when he returned to Nazareth, "his own country" (Mk 6:1), the people who knew him as a youth refused to consider the validity of his powerful teaching and miraculous acts of healing. We see how the rebellious nature of pride is often masked by attacking the truth and truth-bearer. Their astonishment was not one of genuine marveling, but of sullen dislike. Their questions were not honest, but dismissive: "Where did this man get all this? What kind of wisdom has been given him? What mighty deeds are wrought by his hands!"
They were offended, in part, because their selfish notions of the Messiah were threatened by the lowly, "ordinary" Jesus, a mere carpenter and son of Mary. They seem to have forgotten the greatest King of Israel was also a nondescript lad with a modest upbringing (1 Sam 25:10). Rather than even consider the evidence or ponder the miraculous, they "took offense at him." That is the attitude and approach of skeptics and "free thinkers" and atheists today, who angrily declare, "Miracles are impossible!" or "Jesus was not divine!"
The word for "offense" is skandalizō; they were scandalized by the words, actions, and person of Jesus. Not being able to make sense of him, they sought to be rid of him for good. The signs performed by Jesus attest to his divinity. "They invite belief in him," states the Catechism of the Catholic Church. "To those who turn to him in faith, he grants what they ask. So miracles strengthen faith in the One who does his Father's works; they bear witness that he is the Son of God" (No. 548).
The prophet without honor in his own house did not force his miracles on the people — he moved on to other villages, pursuing the thankless job of loving mankind.
(This "Opening the Word' column originally appeared in the July 8, 2012, edition of Our Sunday Visitor newspaper.)
---
If you value the news and views Catholic World Report provides, please consider donating to support our efforts. Your contribution will help us continue to make CWR available to all readers worldwide for free, without a subscription. Thank you for your generosity!
Click here for more information on donating to CWR. Click here to sign up for our newsletter.
---