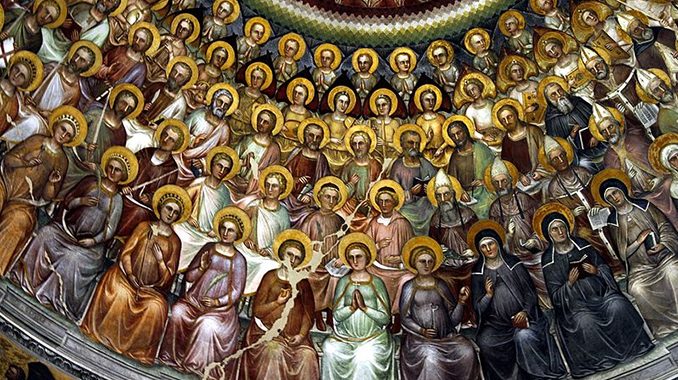 On April 24, Pope Francis used the process of equipollent canonization to declare Margaret of Castello to be a saint of the Church.
What did he do, and why does this process exist?
To answer that question, let's review the development of the process by which the Church declares someone to be a saint.
When St. Paul wrote his epistle to the Church in Rome, he addressed it "To all God's beloved in Rome, who are called to be saints" (Rom. 1:1). In these and other letters, it was clear that Paul was not using the word "saint" in the sense that we use when we call someone a canonized saint today. Instead, he was referring to the entire body of Christian believers as saints (for example, see Rom. 15:26, 1 Cor. 1:2, Phil. 4:22).
But the bitter persecution of the Church by the Roman Empire for more than two hundred years gave us a new word to remember: martyr (from the Greek word  meaning "witness"). The heroic witness of so many men, women, and children led the Church to recognize that those who were willing to die for their faith had earned the title of "saint" in another way.
Martyrs were not the only men and women who were respected by the early Church for their holiness. Those who lived ascetic lives in the desert, such as Antony the Great, inspired Christians, as did many of the great apologists for the faith now known as the Fathers of the Church. Later, the men who defended the teachings of the Church against heresies (such as Augustine of Hippo) and bishops who led their dioceses like true shepherds (such as Martin of Tours) seemed to Catholics to be worthy of the title of saint, even though they did not die as martyrs.
As pagan Europe became Christian Europe, more men and women lived thoroughly Christian lives generally without risking their lives, relocating to the desert, or writing brilliant treatises. King Louis IX was a thoroughly committed Christian who also happened to be the ruler of France. On the other hand, Catherine of Siena was a lowly merchant's daughter whose holiness made it possible for her to lecture popes. The saintly founders of the Benedictine, Cistercian, Franciscan, Dominican, and Norbertine orders also lived holy lives and were soon popularly called saints.
In the sixteenth century, the Protestant reformers argued against Catholic veneration of the saints. They claimed that Catholics were worshiping saints, which is relatively easy to disprove. They also pointed out valid reasons to question the Catholic veneration of some local heroes whose actions were not always above reproach. Although popes had been addressing this latter complaint for centuries, reforms were instituted during the Catholic Counter-Reformation and afterward to ensure that the lives of those whom the Church called saints had been rigorously investigated. That process has been refined over the centuries, and we now have a comprehensive process, beginning at the diocesan level and ending with the pope, identifying four different titles for holy men and women of the Church: Servant of God, Venerable, Blessed, and Saint.
Typically, the Church's canonization process works well in promoting the cause of a modern person to be considered for sainthood. If a person lived in the past few hundred years, there should be documents, witnesses, and other resources available to determine whether he or she lived a virtuous life in conformity with the teachings of the Church.
What about the holy men and women farther back in time? For such individuals in particular, equipollent canonization is an option. When a pope declares someone a saint by equipollent canonization, he is saying that the person in question meets three criteria, which can be paraphrased as three questions: 1) Have Catholics been calling upon the intercession of this holy person for a long time? 2) Since the person's death, is it still indisputable that he/she lived a virtuous, faithful life? 3) Has devotion to the person since his/her death resulted in any miracles?
If the answers to any of these questions is no, perhaps the words of the Pharisee Gamaliel about the works of men passing away, but not God's works (Acts 5:33-39), are applicable. But if the answers are all yes, then perhaps the Church is dealing with a holy person who "fell through the cracks" of today's comprehensive process.
The newly sainted Margaret of Castello is a good example of this. Her own family abandoned her as a teenager because of her physical disabilities, yet she became a holy woman as a lay Dominican in the fourteenth century. Could there be a better time to call upon the intercession of Saint Margaret than in a world which condones the death of disabled children through abortion? The life of Saint José de Anchieta (also recently canonized by the equipollent process) similarly counters the lies of our culture. Far from harming the indigenous people of Brazil whom he served when he left Spain in the sixteenth century, José spoke out against their enslavement, learned native languages, and is considered a father of Brazilian literature.
One might argue that Pope Francis was showing his Jesuit background when he made Blessed Peter Faber, one of the first Jesuit priests, into Saint Peter Faber. But Pope Benedict XVI did something similar when he used this process to name Hildegard of Bingen a saint. Both Peter and Hildegard were so widely venerated and influential in their own lifetimes that it is almost embarrassing that it took so long.
Do we really need equipollent canonization? If the examples of these saints—and others like them—can inspire us to respond with holiness to the challenges of our culture, then yes, we do.
---
If you value the news and views Catholic World Report provides, please consider donating to support our efforts. Your contribution will help us continue to make CWR available to all readers worldwide for free, without a subscription. Thank you for your generosity!
Click here for more information on donating to CWR. Click here to sign up for our newsletter.
---